The scaling system itself was unveiled by a Reddit user over the long weekend after other posters had noticed that that the in-game experience bar seemed to be taking more time to fill after repeated activities, despite displaying consistent numbers.
The controversy, however, stems from the fact that, in the post-game, in-game experience points are used to earn Destiny 2's cosmetic 'Bright Engram' loot boxes, which can otherwise only be purchased with Destiny's microtransaction-dependent 'Silver' currency. The hidden system reduces the amount of experience players receive when grinding or completing activities in quick succession, slowing their progress toward those free boxes.
Additionally, the discovery also sparked concerns that players were getting less experience than advertised after spending silver in-game experience boosters or buying Red Bull or Pop-Tarts to redeem a promotional experience boost.
Using the third-party app Destiny Item Manager (DIM) and a spreadsheet, Reddit user EnergiserX calculated how much experience the game said they were earning versus how much progress was actually being made on the in-game progress bar.
According to EnergiserX's tests, roughly 130,000 experience points were lost over the course of three hours. At its worst, the hidden scaling system eventually awards only 4 percent of what is being reported.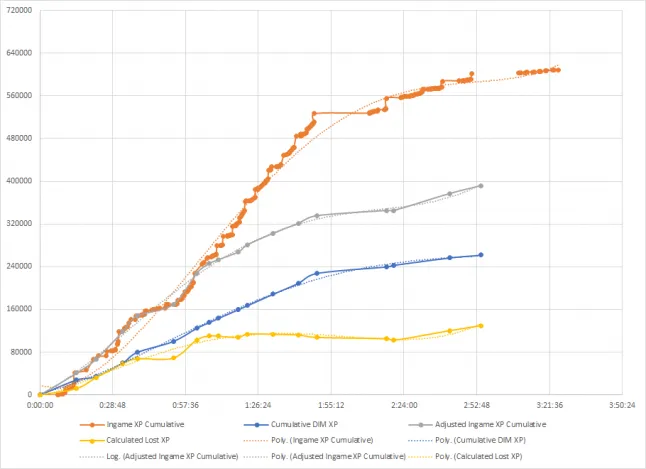 Following that data, Bungie confirmed that it did have a system in place to scale experience gains behind the scenes, but that the system was "not performing in the way we'd like it to." According to Bungie's post, the now-removed system scaled up experience points for players participating in lengthier activities like PvP matches or the raid and scaled experience down for shorter, grindable activities like public events.
"We are not happy with the results, and we've heard the same from the community. Effective immediately, we are deactivating this system," read the post. "As a result, players will see XP earn rates change for all activities across the board, but with all values being displayed consistently in the user interface. Over the course of the next week, we will be watching and reviewing XP game data to ensure that these changes meet our expectations, as well as yours. Any additional updates to this system will be communicated to you via our official channels."
As of Sunday, the system has been removed from Destiny 2 though players were once again up in arms after noticing that the experience needed to earn a bright engram was quietly doubled from 80,000 to 160,000 in the same patch. Bungie later confirmed this quiet increase over Twitter, noting that displaying the now correct 160,000 value will require a coming API update.