Convention season is winding down...which means that it's time to start nailing down travel plans for next year's convention season!
We spoke to several devs at PAX Prime and the Boston Festival of Indie Games to get some booth management tips that draw on their specific skills and instincts of game developers. Whether you're making a puzzler, an RPG, or a roguelike, your development instincts can help to make a fantastic boothing experience for you and your players. (We also culled some tips from Gamasutra dev blogs, which are an excellent source for insights on everything from booth equipment recommendations to cost management strategies.)
TIP ONE: Pace yourself
Gabe Telepak's game Butt Sniffin' Pugs is about exactly what you think. The custom controller consists of a giant tennis ball and a dog butt (see picture).
Telepak says that when you're making a high-energy game about such a crazy topic, it's easy to yield into the role of the wild and crazy indie dev. But then 6PM hits, your voice is going, you realize that you missed several meals, you remember that have a press appointment tomorrow morning, and you feel like you're about to die.
"Don't do that," he says, laughing. "Indies often want to go in pants first and just say 'I'll just show my game!' But there's a lot of other stuff that you have to keep in mind." You will be explaining your game to every player you can find with talking at length to media. You need to hold something in reserve so you don't flame out early.
He also stresses the importance of being realistic about money, and advises against going to a show if it doesn't fit your promotional needs or is outside your basic costs. For budgeting, he suggests using apps like Simple to keep a little bit of money stowed away for shows.
While he emphasizes the importance of doing a cost/benefit analysis of which shows to attend, he also says that small shows like Bitbash or Fantastic Arcade can be worth the time and the financial investment if they help to keep your enthusiasm alive. Says Telepak: "Indies need to be able to relax and go to a show where you're surrounded by friends, surrounded by community, and get an experience that is different and provides different players."
TIP TWO: Remember that booth design is an extension of game design
Kelly Wallick, self-declared Commanding Officer of the IndieMegaBooth, has been coordinating with indie developers for several years to act as a buffer between them and the paperwork, payments, and union demands that come with setting up at large conventions. Her best of advice for developers who want to showcase with her organization: think about using your space as an extension of your existing game design.
A classic example of this philosophy is when Antichamber first showcased at the IndieMegaBooth in 2012, says Wallick. "[Developer] Alex Bruce had this down to a science," she says. "When people were playing the demo, nobody could look over their shoulder. But pre-recorded playthroughs of other sections of the game were shown to the passing crowd by an overhead monitor. That prevented people from feeling nervous or self-conscious while solving the puzzle, and kept players in line from knowing precisely how the puzzles in the demo were solved."
"It was one of the first times I saw people do booth design based around how people interact with the game. So be sure to think about how people play your game when setting up your booth space."
TIP THREE: Make your booth feel like a home
Nate Flynn of Too Many Games is known for titles like Haberdashery and Welcome to Undercog. He's also known for his untraditional show choices.His booth at Boston FIG is filled with pink lamps and obnoxious green carpets that he picked up on Craigslist. "Setting up a good booth," says Flynn, "is about creating a place that's cool to hang out. We want people to have good engagement, so we created a funky, quirky place to play games."
So far, he's showcased at Boston FIG, Magfest, Too Many Games, and Otakon. Despite the space constraints and the widely varied setups at different locales, he's always able to create a distinctive personalized feel.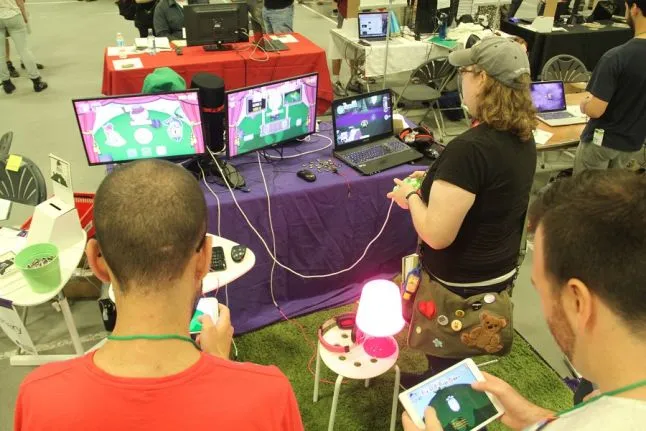 Nate Flynn of Too Many Games has mobile versions of his game for people standing in line.
Flynn's other suggestion: if at all possible, give yourself the ability to add assets to your game on the fly. "We'll throw up a whiteboard, see what people think should be in the game, and just build it. At Too Many Games, we added a hat to our game Haberdashery while people were playing it."
TIP FOUR: Have a variety of setups available for VR demos
Jono Forbes, developer of Archean World Builder, says that even if you're unable to mount the sort of expensive VR experience that a Valve or an Oculus might be able to stage, you can still manage crowds and player experience by using multiple VR platforms to your advantage.
"VR kind of sells itself," Forbes explains. "people want to see that stuff, but we try to make sure they can get some prep time so they don't go in unprepared." He totes around a Google Cardboard device that he shares with people in line at his booth. "We'll show people one of the less complicated platforms first," he explains, "so they can get to know the interface a bit before they have to deal with hands."
Once he's familiarized attendees with the basics, he can direct them to a demo best suited to them. His booth is divided between an Oculus Rift with custom hand controllers and one with a traditional Xbox controller. Forbes adds that multiple setups won't just help you deal with VR-hungry lines, but help you gauge a players' tolerance level for VR to minimize chances of motion sickness.
TIP FIVE: Conference demos are a great chance to playtest, as long as you don't lose sight of player experience
For Julia Keren-Detar of Untame Games, showing puzzle game Mushroom 11 taught her that while show experiences can be a great way to increase visibility and interact with her potential audience, it can also be an incredible chance for playtesting.
"We orient the booths the same at all our shows," she says. "The only difference is we have A/B tests between our two computers, to try out different sets of puzzles. Each computer has a key to test variations on those sets."
Testing like this can give you valuable data, but switching puzzles on the fly comes with possible consequences. Some players will roll with you while you're "doing weird stuff," she says, while others won't like having to start their playthrough over again. Never lost sight of the fact that conference attendees are not paid QA engineers.
TIP SIX: Never forget that big conferences and small conferences deliver different things
For developers Andrew and Brian Allanson, creators of Yiik: A Postmodern RPG their boothing experience has run the gamut from intimate gatherings like CampFanGamer to large shows like PAX. Their advice to new developers trying to prioritize which shows are most worth their time and effort: pick the one with the kind of audience you want, and the kind of experience you need to showcase your game.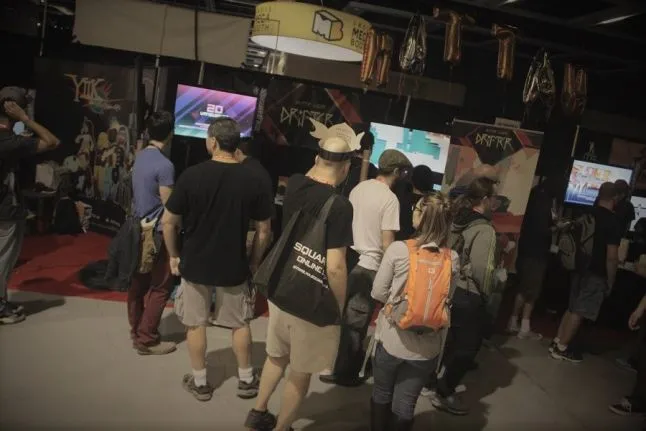 Brian and Andrew concede that just seeing their game on the floor at bigger shows can drive up player interest. "For some reason, people don't think your game's real unless they've seen it in person," says Brian. "Seeing it on a website isn't enough for some people. We find our sales are boosted significantly when we show at a big event."
"But at a smaller venue, you get more direct feedback," says Brian. "Because people can sit for a half hour and play the actual game. They can really pay attention to details, and you can find out what they like and don't like." The sort of invaluable insights that can yield could easily make up for the fact that there are fewer players to market to.
In either case, Brian advises you study up on all the booth logistics you can, from crowd management to proper signage, and prepare yourself for the certainty that everything can--and will--go wildly off course once the show starts.