Today, we've brought the most-requested new functionality to Gamasutra's blogging tools: Comment notifications via email.
We've had a lot of requests from bloggers for some way to know when someone comments on one of your posts. As of today, you can opt-in -- it's your choice -- on whether you would like to receive a simple email containing the text of the comment and a link to your post. Once you get the email, you can quickly jump back into the discussion.
It's great news for those who want to catch up on all responses to their posts, and should help make sure that newer comments to older posts don't get lost, too.
This is a fully optional service. Since it's turned off by default, you'll have to turn it on if you want to participate. There's more good news: You can turn this functionality on and off at a per-post level, meaning that you can get notifications for some of the posts you publish, but not others. You can change this setting at any time.
If you're already a Gamasutra blogger, follow these steps to get notified via email when someone comments on your post. (If you aren't, but you're interested in learning more about our blogs, you can get started here.)
How to turn on comment notifications
1. Start by clicking on "My Profile" in the green box at the top left of page.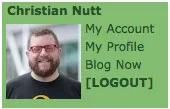 2. Click "Edit Profile"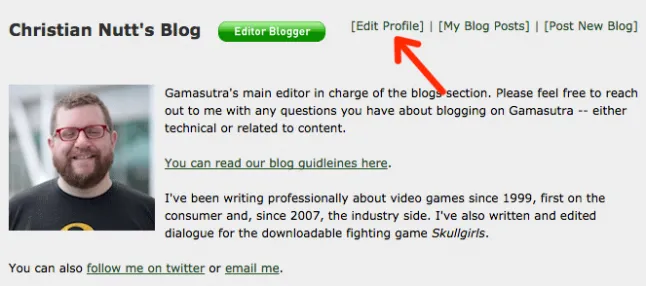 3. On your profile editor page, make sure to turn on comment notifications with the radio button. If you would like to receive comments at a different email address than your account's registered email address, you can enter an alternative address here.

4. By default, your older blog posts will have comment notifications turned off. New posts will default to on -- but only once you've opted in at the global level.
Since you can turn notifications off or on for any individual blog post, we've added a new option to the blog post editor, which you can change at any time:

Note: As the image states, your global comment notification setting must be set to "on" in your profile to receive comment notification emails. And, once again, any blog posts put live before you opt in to comment notifications will default to off. If you want to receive emails for old posts, you'll have to go and change that option on each post.
Any questions -- or comments -- about this new functionality? Please feel free to leave them below or email Gamasutra blog director Christian Nutt.