Today, eSports-focused streaming site Azubu launched a beta of its 3.0 version -- along with a changed mission and a direct challenge to the space's biggest competitor, Twitch.
Previously, Azubu didn't let just anyone stream. Its differentiator was that the content was curated: It pursued deals with eSports stars for their exclusive streams, while barring just anyone from broadcasting.
But while those deals will continue -- "we are going to continue with groups, individuals and eventer providers hopefully on an exclusive basis," CEO Ian Sharpe told Gamasutra in a new interview -- the gates will soon be open for anyone to broadcast from Azubu.
Azubu will be retaining its focus on eSports, though it won't mandate that streamers showcase competitive games 100 percent of the time. Azubu is "for people for embrace and love the eSports lifestyle," Sharpe says. "The bias is going to be toward competitive gaming and eSports."
"The star teams and the engagement that they attract enables the up-and-coming broadcasters to be aspirational, broadcasting alongside them," Sharpe said. (The company needs more star streamers, but Sharpe is hoping the redesign will attract them, too.)
Nuts and bolts of a redesign
Another big part of the update is that user pages can contain a variety of very customizable "modules" -- be it a Twitter feed, blog, a link to a sponsor's site, or a players win-loss stats. Viewers will be able to gather data about their favorite players directly from Azubu, alongside the stream, and the player can manage what info is put forward.
"Broadcasters who have their microbusinesses should be able to show things in the way they want, and merchandise, or sell, or just impress people with how they create their page," Sharpe says. When looking at a streamer's page, says Sharpe, "I want to see how he's showcasing himself and understand his position in the universe."
This is good for multiple reasons: It means that idle channels can remain informational hubs for viewers. Sharpe also hopes that presenting useful information might help keep chat from devolving into a "toxic" mess, and instead help viewers focus on relevant topics -- for example, a player's win-loss record provides talking points.
In concert with opening up the platform to any and all to stream, Sharpe also hopes it'll increase the amount of time viewers stick with Azubu. Even Twitch admits that players rarely surf from channel-to-channel. "Hopefully the stickiness is there," Sharpe says.
Other upgrades include an all-new HTML5 video player with improved functionality; a "My Azubu" page where users can customize what they want to see every time they visit the site; and upgrades to the site's existing analytics dashboards for the streamers. This dashboard "has been an important part of our legitimacy for people who have worked with us," Sharpe says.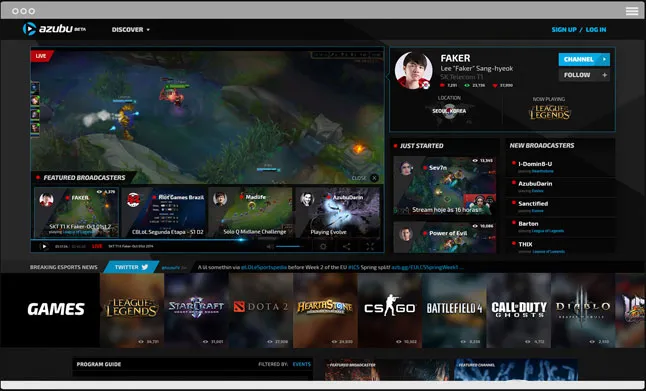 A ways to go
He admits that the launch version (which is in beta) has a ways to go. The full implementation of some of the newest features (including wide-open streaming for all users) is still weeks away -- "the all-signing, all-dancing version of the site" will come live "over the course of this month," he says. Sharpe also alluded multiple times to wanting feedback from Azubu's users to guide the path forward: "We don't have all the answers, and we want to enable the community to find those answers."
Still and all, it marks a major upgrade and, with luck, a turning point for Azubu. There's little doubt that streaming and eSports are still attracting major attention from both audiences and investors; all the same, the site has a lot to prove.
With the power of Amazon and a huge incumbent audience, Twitch is still the one to beat. But that site also has obvious weaknesses -- a lack of sharp focus on a specific audience, and a bland, basic design -- that Azubu is set to compete on. Time will tell whether the company can do a good enough job at that to have a viable future, but this new beta is a step in the right direction.