"The paid market on mobile is shrinking.
EPOCH
and
EPOCH 2
have been very successful on iOS, but the rate at which the paid market is shrinking means we have to look for other revenue streams." The last decade saw Ed Orman building games like
BioShock, Tribes: Vengeance
and
Freedom Force
at Irrational Games, before moving away from PC platforms and into mobile indie development. But after a few years of making premium games for mobile, Uppercut Games is going back to its roots, releasing its first game for PC, a souped-up port of cover-based shooter
EPOCH
. Going multiplatform in the current video game industry climate is pretty much essential, says Orman, as it helps to mitigate risk of failure on a single platform, and potentially bring in a bigger audience for Uppercut's releases. Plus, it allows Orman and co. to figure out how this whole Steam thing works. "Uppercut has never shipped a game on Steam, so there's a heap of benefit just learning the quirks of their system and launching a game on the platform," he says.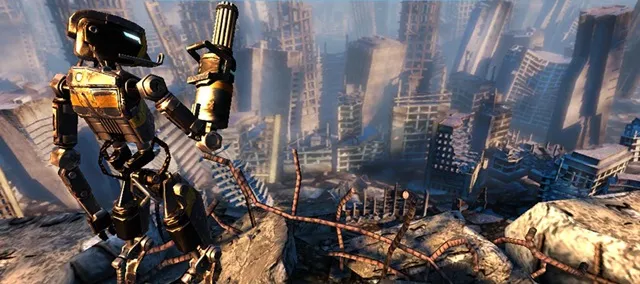 Of course, whenever you see a studio moving from mobile to PC, the question of porting touch-screen controls to more traditional control schemes always comes up. "It's been interesting taking a game designed for touch screens to PC," Orman tells me. "We've been very fortunate in that Unreal 3 has made the transition to PC extremely straightforward." Talking to PC developers has been a key part of making this transition. "We have had our head in mobile for a few years now, so we needed some reminders about what PC gamers expect out of their games," he admits. "We may not have been able to do everything we wanted, but we added a huge amount of PC-specific functionality because we know that's what PC players would demand."
"The more platforms we support, the more word of mouth there is for our games. Discoverability has become the big-ticket issue for us."
The issue that Uppercut had when porting
EPOCH
was that the game was built specifically with touch-screen controls at its core. Porting to PC meant completely ripping the controls out and starting again. "We completely redesigned the control and aim system to be player controlled, using the mouse - a more typical PC aiming scheme that also adds a level of skill not present in the mobile game," Orman says. The UI system also received a completely overhaul, while all your usual PC options had to be added -- multi-resolutions, key bindings, that sort of thing. And updating the graphics from mobile to PC "included updating all the shaders for PC, and implementing all of UE3's graphical bells and whistles, dynamic lighting, shadows and post processing." In other words, Uppercut's transition from mobile to PC was a lot of work. The question now is whether or not the move will be worth it. "In general we'll be aiming to be multi-platform from now," Orman notes. "We're moving to Unreal 4 development and as a rule, we follow Epic onto any platform their engine supports. That includes PS4, Xbox One, Android, and browsers. It's the order of which platforms come first that we'll be experimenting with to see what works best for us."
EPOCH
is due for release on Steam on June 5, while
EPOCH 2
is also on the way.