This post is a response to a post on Gamasutra post from last month which said "Death of the app keyword - what's next?"
We, at All in a Days Play, believe App Store Optimization (ASO) has got tougher in the last few years but it is still not dead. And developers should use ASO to increase their discoverability. With the recent App store changes by Apple, discoverability has become even more critical for success.
Why should you listen to us? We have been able to get over 9 million players to play our mobile games without any platform feature or paid UA, only on the strength of ASO and a little cross promotion. So we know ASO works and doing it well will lead to success.
We will use our game Guess the Restaurant Quiz as a case study. Google play and Apple app store behave slightly differently, so this case study will be useful for the Google Play Store primarily, but the steps will apply to both. It is currently ranked #5 trivia game in US Play Store. Below is a snapshot of its most recent ranks for important keywords. A note here, we use Mobile Action and the screenshots below are from it's dashboard, however Sensor Tower and App Annie also have similar tools.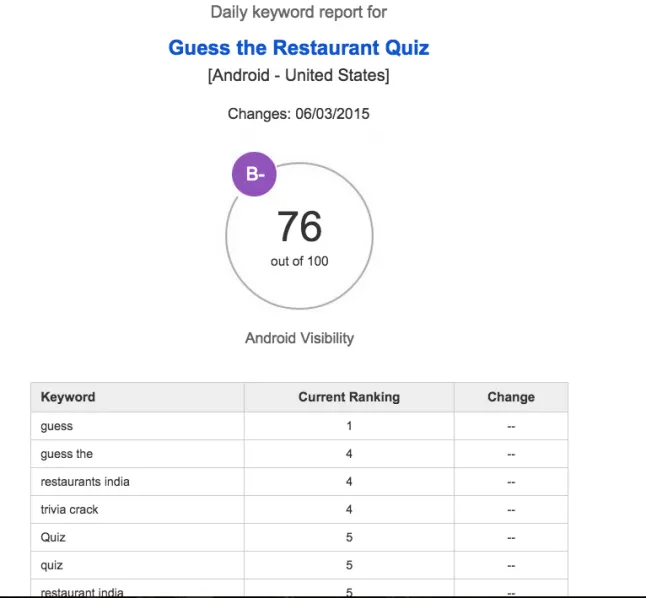 "Current Ranking" gives the ranking of the game for a specific keyword in the US Google Play Store. As you can see, the game ranks highly for some very important keywords like "guess", "guess the", "Quiz", "quiz", etc.
First Step
First step in ASO is to track keywords important to your game. By default, Mobile Action will suggest 200 keywords to track. I will suggest ignoring any keyword (unless it is very important) where the rank for your game in less than 100 for the first iteration. Note the remaining keywords.
Second Step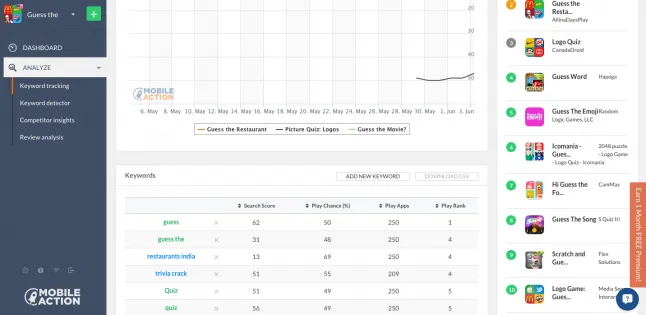 Second Step is to find which keywords are searched more often. The "Search Score" gives an estimation of how many people are searching for a given keyword. Higher "Search Score" means more people are searching for that keyword. So a higher rank on that keyword will lead to more downloads.
Mobile Action also gives a list of competing apps which rank high for each keyword. Comparing your app with your competitors will show you more keywords which might be important for your app. Make a note of keywords which your competitors are using and which have high "Search Score" An example below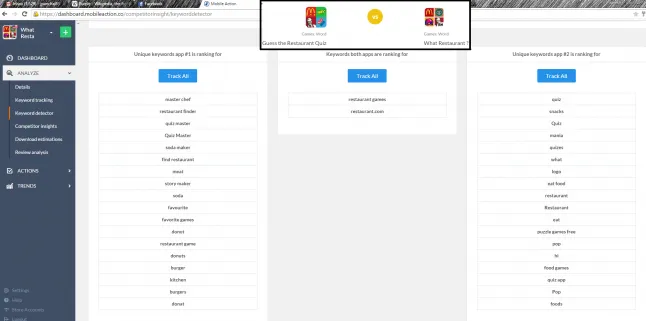 Third Step
Third Step is to take the keywords which a lot of people are searching for (high Search Score) and which are relevant for your app, and focus on ranking higher for these. For a start, increase the frequency of these keywords in the Play Store Description page. 4-5 mentions is a good number.
Check the description of competing apps to see how they incorporate these keywords.
Most important keywords should go into the app name and short description too.
If a keyword has 2 words, try to keep the same order in the description field too.
Conclusion
Your rankings for these keywords will not change overnight, but slowly and surely as more people start coming across your app and downloading it using these keywords, you will start to see an increase in rankings.
More importantly, just being mindful of different keywords will be useful. A keyword's search score might increase in the future, thereby making it more attractive to target. A competitor might have found a set of low competition keywords on which he might be ranking very high. Knowing this will allow you to keep updating your ASO strategy and keep ranking high for important keywords.
ASO can be a powerful marketing tool in your arsenal. Ignore it at your own peril.