China has one of the most complex and fragmented Android app store ecosystems in the world, with over 500 stores, servicing a fast-growing audience of smartphone users projected to exceed 400 million (and likely to reach 500 million) before the end of 2013. During my last US trip to speak at GDC San Francisco, I met with over 100 Western mobile game developers, who all asked me the same basic question: "Which app stores should I work with in China, and what differentiates each app store from their hundreds of competitors on the market?"
So by popular demand and with the assistance of Gamasutra, this is the first in a series of pieces that I'll be writing on the Android app stores of China, each post taking a deep dive analysis of the country's stores, closely looking at what kind of games are best suited for each store, how much volume they drive, as well as how well they monetize different kinds of games in the China market. In this first installment, we'll survey China Telecom's carrier app store, which offers unique opportunities for game developers looking to reach a highly monetizable audience of Chinese mobile gamers. As you'll see, some Western developers like Popcap and Zeptolab are already doing really well in this app store; I'll explain how others can follow their example.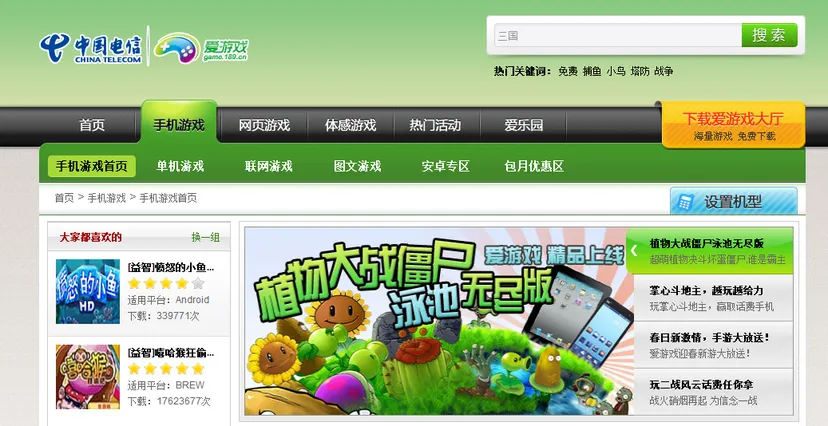 China Telecom's Aiyouxi, a Specialty App Store for Chinese Gamers…
Aiyouxi (meaning "Love Gaming" in Chinese) is the app store of China Telecom, one of the three licensed mobile carriers in China, boasting over 165 million 3G mobile subscribers. Though large by international measures, China Telecom is actually the smallest of China's three carriers, with China Mobile being the dominant force, with close to 700 million mobile subscribers, followed by China Unicom with around 300 million mobile subscribers. That said, China Telecom is gaining a substantial share of new 3G network subscribers, almost matching the other carriers toe-to-toe in terms of new acquisitions.
When it comes to gaming monetization, however, Aiyouxi punches way beyond its weight class, with a loyal user base of primarily non-tech savvy white collar workers who spend a disproportionate amount of their disposal income on mobile games, primarily through micro-transactions charged directly to their mobile phone accounts. With a registered user base of 100 million gamers and an average of 30 million monthly actives, even single-player casual games that have been optimized on Aiyouxi can achieve free-to-paid conversion rates as high as 30% plus, and monthly grossing levels of over US$500,000. Not bad when you consider that most top Western game titles see nowhere near this level of monetization in China, even if they get tens of millions of downloads there. (And China Telecom reports that the very most successful games on Aiyouxi see conversion rates as high as 50%!)
How China Telecom Became So Big in Gaming - It's About Loving Games
Aiyouxi has always been game-focused, and its management team has designed the app store with gaming in mind. Originally launched in late 2009 with a focus on Java and Brew-based mobile games, Aiyouxi has embraced the Android revolution with a passion, now deriving over 85% of their monthly download volume and revenues from Android games. Through Aiyouxi, China Telecom markets directly to gamers, running regular competitions and game events through both their app store application (pre-loaded with all China Telecom handsets), and its website, along with SMS messages to their sizeable user base. Since inception, Aiyouxi has earned over 400 million game downloads from a network of over 600 app developer partners.
The Top Western Games of China Telecom - and How They Became So Big
Every month, Aiyouxi publishes a partner newsletter that provides a wealth of metrics and detailed analysis gathered by their app store team. Pouring through Aiyouxi's latest partner newsletter for the month of February 2013, you might be surprised to learn that six of the Top 20 downloaded games for the month were actually Western titles. Take a look:
Cut the Rope listing on Aiyouxi
Western Titles Among the Top 20 Most Downloaded Single Player Games (Feb 2013)
Rank - Title - Developer
2 - Cut the Rope - ZeptoLab
3 - Ski Safari - Defiant Development/Yodo1
6 - Temple Run 2 - Imangi Studios
12 - Fruit Ninja - Halfbrick Studios
16 - Where's My Water - Disney
18 - Plants vs. Zombies Chinese New Year Edition - EA/Popcap
As you probably guessed, most of these Western games are actually the Chinese versions of the original titles, heavily localized for the Chinese market. (I talked a lot about working with Defiant Development to add Chinese-themed content to Ski Safari in my GDC talk last month, which you can watch here.) The rest of the games in the top 20 are from Chinese developers.
Now let's take a look at the Western titles in the top 20 grossing charts for single- player games in February:
Western Titles Among the Top 20 Grossing Single Player Games (2/13)
Rank - Title - Developer
2 - Temple Run - Imangi Studios
3 - Cut the Rope - ZeptoLab
6 - Ski Safari - Defiant Development/Yodo1
8 - Clouds & Sheep - HandyGames/Yodo1
12 - Fruit Ninja - Halfbrick Studios
14 - Where's My Water - Disney
As you can see, 5 of the 6 top downloaded Western games also made their way into the top 20 grossing charts, showing that when properly culturalized for the market, Western casual games can not only drive downloads, but can effectively monetize in Aiyouxi's gamer-focused app sore. Another interesting point: Amongst the Top 20 grossing is the Yodo1- published title Clouds & Sheep (developed by our good friends at HandyGames in Germany), and even though the game never reached the Top 20 download charts, ranked # 8 on the February grossing charts. Based on our analysis of actual data for the game, we believe the primary reason for this anomaly is that the game targets a narrower gamer demographic (primarily young females), driving lower download volumes, but a proportionately higher ARPPU (50% above the Aiyouxi app store average) as well as having a higher free-to-paid ratio (again, 50% above average).
Analyzing Consumer Behavior on Aiyouxi - Knowing Thy Customer
One thing the Aiyouxi team arguably does better than most of their competitors is understanding the behavior of their customers, and then effectively marketing to the needs of their high-value user base to optimize monetization. For example, in one set of user behavior metrics released by Aiyouxi, where they tracked game download and monetization behavior of different user segments, they found that "premium" gamers who spent the most money on games downloaded a smaller number of higher quality games (i.e., games from the Top 20 charts).
On average, premium gamers downloaded 0.48 games in February, versus an average of 3.75 games for other users during that month. However, the premium gamers were three times more likely to spend money on games. Using this information, Aiyouxi continuously refines its promotion strategy, focusing the bulk of promotional spots on high quality titles in game genres most downloaded by this premium gamer base.
Furthermore, Aiyouxi frequently provides detailed analysis of the top games on the app store, summarizing key metrics and providing commentary on the key success factors or inhibitors for these games, and sends those to all their developer partners. This is very significant, because other app stores rarely let developers on their platform see how other top games are performing. Below is an example of such an analysis for two games in their February top charts, with "Plants vs Monsters" (a Plants vs Zombies clone from a Chinese developer) on the left-hand side, and "Chinese Zodiac – Year of the Snake", a single-player strategy game, which were #8 and #20 on the February download and grossing charts respectively.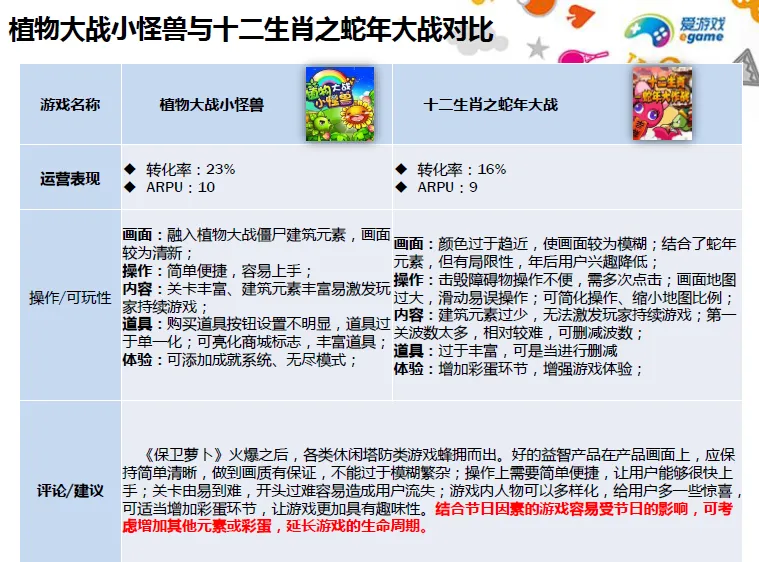 Above, 23% and 16% refer to the conversion rates of these games, while ARPU actually refers to ARPPU in Chinese Yuan (1 US$ converts to roughly CNY6.2). The five bullet points in bold below are China Telecom's analysis of each game, based on its art style, user navigation, content, virtual items, and overall gaming experience. Below that, the analyst provides a summary of recommendations and best practices gleaned from these gamesfor other games developers to consider.
The Android Handsets Chinese Gamers Own -- And What This Means for Mobile Developers
China Telecom also tracks the make and model of the mobile handsets that are most active amongst their user base, and it's important data for developers to keep in mind, when developing games for the Chinese market:
In February 2013, the top 20 handset models on the carrier were dominated by three Chinese manufacturers: Huawei, ZTE, and Coolpad, which accounted for 16 of the top 20 active devices. (Samsung had three models; Lenovo, just one.) Among the top 10 new handsets shipped that month, six were from Huawei and Coolpad; 3 were from Samsung, with the final one a Brew based handset selling for under $50. The two top selling Android handsets from Samsung include the Galaxy Note II, which sells for around $900 in China, and the low end Galaxy Trend, retailing for about $200 US here. The majority of new phones from Chinese manufacturers retailed for between $100-200.
Why is all this important? Because if you're developing games for China, it's important to make sure your games run well on these relatively low end-handsets -- they make up to 80-90% of China Telecom's market volume. Another key takeaway: Since most of these models are made by Chinese manufacturers for the China market, they're not easily available outside China. So if you're serious about your games doing well there, I strongly recommend you find a local partner who can test and QA your games on all the popular Android models. (As my own QA team can tell you, that means repeatedly testing each game across dozens of local devices.)
You might have noticed a conspicuous absence of Android tablets on the list of top devices above, and there's a good reason for that -- because most Android tablets in China don't have a SIM card slot, they are unable to process carrier billing. Consequently, a carrier like China Telecom isn't likely to aggressively promote them due to the lack of long-tail carrier billing revenue from games, as well as other voice/text related services. We'll probably see more SIM card-enabled tablets in China in the near future, but until then, there's another takeaway for game developers: Don't optimize your Android games for tablets (yet), because in China, they won't monetize anywhere near as well as phone-optimized games.
So How Does China Telecom's Aiyouxi Stack Up Amongst China App Stores?
With over 500 app stores in the market, how big, really, is China Telecom's Aiyouxi, and how does it rank among its peers? Various industry research reports have ranked Aiyouxi anywhere between #3 to #5 in China, in terms of size of their registered users and revenue. As those familiar with the China Android market know, however, the pace of change can render traditional market research methods irrelevant and out-dated almost as soon as they are released.
More important considerations for developers to consider are the app store's user demographics, and whether or not it is a strong fit for your game. As the CEO of Yodo1, a company that specializes in helping Western game developers distribute and monetize in China, my personal experience is that for monetizing single-player casual games, few other app stores can match Aiyouxi in terms of providing developers with a highly monetizable audience.
Aiyouxi has built a user base of premium casual gamers who are willing to pay for well culturalized, high quality casual games, and the free-to-paid conversion ratio of their user base is among the highest in the market. Aiyouxi's core differentiator is that they've mastered the art of understanding what their users want to play and how their users want to pay, directly marketing to their premium casual gamers to drive higher monetization rates. They may not be the largest app store in China in terms of driving volume downloads (our data would suggest that they rank within the Top 10-15 among Android app stores by download volume, depending on the month), but they definitely have the most monetizable audience for free-to-play casual games.
Next month, I'll give Gamasutra readers an in-depth look at another major Android app store, to continue building out our profile of Chinese mobile gamers -- and what you need to know, to sell your games to them.