Media and technology analyst firm Omdia believes the next-gen console race is Sony's to lose, despite Microsoft putting itself in a much stronger position this time around.
The company predicts the PlayStation 5 will have an install base of 64 million consoles by 2024, compared to an install base of 42 million consoles for the Xbox Series X and S.
As the graph below shows, Omdia expects the PS5 to build on the momentum from the previous console generation by taking a small lead in terms of console installs in 2020. After that, the PS5 begins to pull away from the Series X and S as the years roll by, creating a substantial gap of around 22 million consoles by 2024.
It claims PlayStation is better positioned thanks to year one exclusives like Spider-Man: Miles Morales, Ratchet and Clank, God of War: Ragnarok, and Horizon: Forbidden West -- all of which are slated to launch by the end of 2021.
Microsoft, meanwhile, has been working to expand its stable of first-party studios, but chose to launch the Xbox Series X and S without a flagship exclusive by delaying Halo Infinite earlier this year -- although Omdia acknowledges the long-term value proposition created by Xbox Game Pass and major acquisitions, such as Microsoft's recent $7.5 billion Bethesda purchase.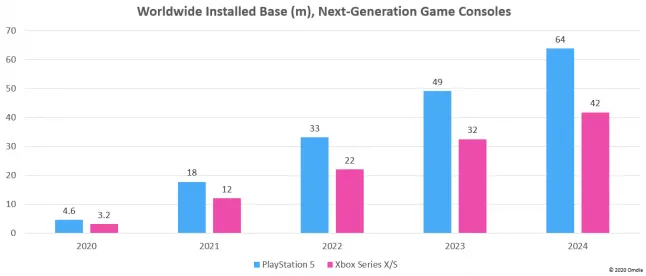 "This forthcoming generation is ultimately PlayStation's game to lose. Strikingly, whereas in the fourth full year of the previous generation, Xbox was only selling 41 percent as many consoles as PlayStation, this time around we predict Xbox to be tracking at 63 percent of PlayStation's numbers in 2024," commented Omdia senior analyst George Jijiashvili.
While those predictions puts Sony in the driving seat, Jijiashvili notes that Microsoft is now "primed to pounce" on any mistakes thanks to its "coherent long-term vision surrounding cloud and content-library subscriptions."
Jijiashvili also explains that COVID-19 has impacted Omdia's expectations by placing "downward pressure on what we previously presumed would be achieved by the launch of these new consoles," and that the uncertainty caused by the pandemic could create more challenges in the future.
Both Gamasutra and Omdia are subsidiaries of Informa PLC.