App Annie has published an interesting report that looks at data from the past ten years to track the growth and evolution of the iOS App Store.
The report's findings are broken down into 10 key highlights and while not all of them relate to iOS games, the short report is packed with information on player spend and overall platform growth that devs will no doubt find interesting.
One tidbit found shown in the report is the fact that games often fall behind other apps on the platform in terms of total downloads but make up for it by grabbing a larger slice of the 'consumer spend' pie. In 2017, for example, games made up 31 percent of all iOS downloads but accounted for 75 percent of all consumer spend for that year.
The report also points out that over 4.5 million apps have been released on the iOS App Store since 2008 and, while the majority of all apps are still games, mobile games are losing some ground in recent years. In 2011, for example, roughly 85 percent of the 700,000 apps on the iOS App Store were games. Now, in 2017, only 77 percent of the 4.5 million are mobile games.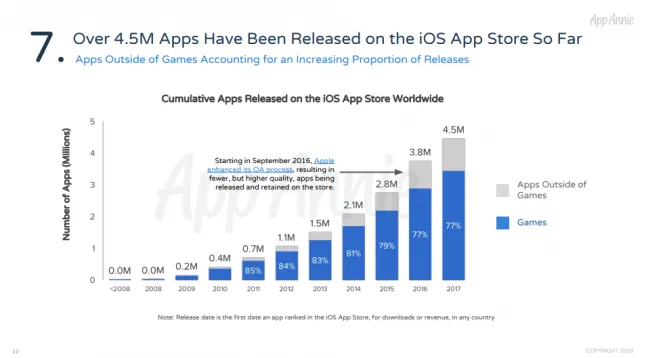 There are a handful of other useful takeaways for developers to peek it in the full report, which can be downloaded for free on App Annie.