The analytics firm Canalys says that, for the first time since the tech's introduction, more than 1 million virtual reality headsets were shipped in a single quarter.
Between Sony, HTC, Oculus, and other smaller headset manufacturers, Canalys reports that over 1 million VR headsets were shipped globally in Q3 2017, with 49 percent of those being PlayStation VR headsets.
While it's important to note that the 1 million represents units shipped rather than sold, the milestone potentially bodes well for the tech that some devs say is still bouncing back from its 'inflated expectations' phase.
All in all, Canalys reports that HTC, Oculus, and Sony were responsible for 86 percent of total headsets shipped during the Q3 period. Sony's PlayStation VR represented the biggest chunk, with roughly 490,000 shipped while Oculus moved 210,000 Rift headsets and HTC moved 160,000 Vives.
The numbers notably exclude what Canalys describes as 'simple viewers' like the Gear VR and Daydream View, noting that it counts a VR headset as a device with a head-mounted display that runs its own operating system.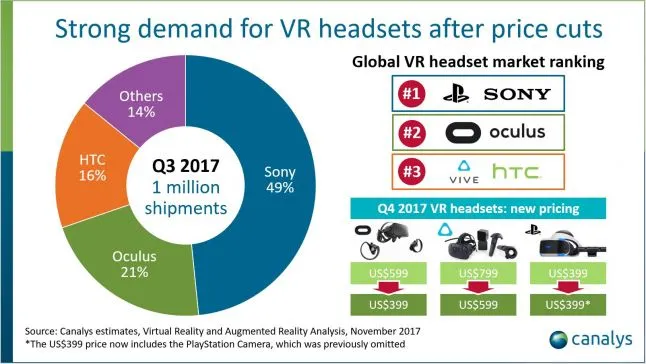 The analyst says that the powerful push was thanks in no small part to the recent price reductions major PC virtual reality headsets have received of late. Back in October, the Oculus + Touch headset and controller bundle received its third price cut of the year, dropping to $399. Just months before that, the HTC Vive trimmed $200 from its own price tag to come in at $599.
While Sony's PlayStation VR makes up roughly half of the total headsets shipped globally, Canalys says that 80 percent of the VR headsets picked up by Japanese players have been PlayStation VR headsets as well.
Going forward, the analytical firm expects to see VR continue to grow into 2018 as the tech expands beyond video games to become a more commonly used tool in other industries, partially thanks to the upcoming suite of Windows Mixed Reality headsets being developed by companies like HP, Lenovo, Acer, and Dell.