[
As part of his monthly NPD Group physical game sales analysis, Gamasutra analyst Matt Matthews looks at how EA's delay of its latest Madden title helped drive a rebound for software sales.
] When Electronic Arts pushed the release of its
Madden NFL 12
to August 30, 2011, that forced the title out of the NPD Group's August reporting period (four weeks ending August 27) and into the September period (five weeks ending October 1). So in addition to the general lack of new releases in August of this year, the biggest title of the month had its sales recorded for the subsequent month. That led the retail industry to record its worst month of software sales since the beginning of the latest hardware generation, a month of older releases leading sales. By contrast seven of the top 10 titles on the all-formats chart for September were new releases, and
Madden NFL 12
led at #1. According to notes from analyst Doug Creutz of Cowen and Company,
Madden
's total across all platforms came in over 2.3 million units for the 33 days it was on sale during the NPD Group's reporting period. When asked for comment on
Madden
sales, analyst Michael Pachter of Wedbush Securities noted that purchases during the initial five weeks this year were "just under sales in the first eight weeks last year". He elaborated that that means during
Madden NFL 12
's first eight weeks in 2011, EA will see "overall sales [...] up at least 5 - 10% for the comparable first eight weeks" of 2010. In a nutshell, it appears that the late launch didn't affect sales of
Madden NFL 12
and EA can expect another year of growth. Because of the differential in release times, a direct comparison to any previous year is difficult, but we provide the following chart of Madden release sales for historical context.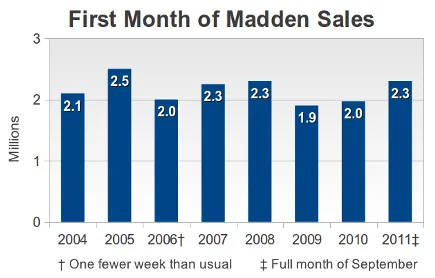 Previously we have been able to provide a platform breakdown of
Madden NFL
sales, but such information was regrettably unavailable this year. When asked to elaborate on the platform breakdown, Liam Callahan, an analyst for the NPD Group, pointed out that "unit sales of
Madden NFL 11
were split fairly evenly across the 360 and PS3 in Aug 2010" and that "when adding the PS2 they favored the Sony consoles." On the subject of this year's release, he explained that "with the launch of
Madden NFL 12
in September 2011, unit sales leaned towards the 360." That is an interesting shift, and one that highlights just how consistently Microsoft has built its platform and consumer base to sell huge quantities of software. Not only did Xbox 360 owners purchase nearly a million units of
Madden NFL 12
, but they also found the money to buy 2 million copies of Epic's
Gears of War 3
. Put a bit more simply, one out of every five units of software sold during September 2011 were either a copy of
Madden
or a copy of
Gears
for the Xbox 360. Now add the Xbox 360's share of
Dead Island
and
FIFA 12
sales and it becomes clear just how well Microsoft has executed on its plan to make its platform the dominant platform for HD-class games. (According to Cowen and Company's Creutz, those titles moved nearly 1 million and over 400,000 units, respectively, across all platforms.) The net effect is that Microsoft has started its hot holiday sales streak a month earlier this year than everyone else, to paraphrase a comment made by a colleague about the launch of
Halo 3
back in September 2007. Regardless of how one feels about a game like Insomniac's
Resistance 3
, a PlayStation 3 exclusive which also launched in September of this year, its inability to strike a chord with the PS3 audience is indicative of Sony's failure so far to catch lightning in a bottle this generation the way its main rival has. According to
comments that the NPD Group's Anita Frazier made to Eurogamer
,
Resistance 3
sales came in at around 180,000 units. Based on comments made by analysts, and our own estimations, we have pieced together a picture of what we feel is a reasonable view of the software sales picture on the three main consoles over the past three years. In the following we only consider software revenue during the first nine months of each year. This neglects several factors, including some hit titles whose sales are concentrated during the last two months of each year, and the price differential among Xbox 360, PlayStation 3, and Wii software.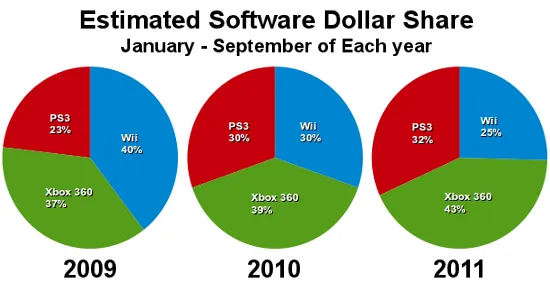 This graph reminds us of the comments made, half-seriously and half in jest, during and after the launch of the original Xbox from Microsoft. At the time people who had long watched Microsoft cautioned that it wasn't the first iteration of a Microsoft product that was a threat, but rather successive iterations in which the company had learned from experience and honed its strategy. Looking at the picture above, we see Microsoft besting the winner of the last two generations of console hardware (Sony) and then outlasting the ostensible winner of this generation (Nintendo, as measured by installed hardware base, for example). What we cannot see in these pictures is the additional revenue that Microsoft and Sony and Nintendo generate from sales through their online console services. The NPD Group is attempting to capture that data in its new Total Consumer Spend report, and we wish to examine that data next.