ICO Partners has opened up access to a 2017 report documenting the overall media coverage of mobile games in 2016, for the first time offering the in-depth study as a free download.
While recent reports suggest that mobile games have picked up a decent amount of momentum even in just the past few years, the free report released by ICO Partners still offers developers an insightful look at what factors helped 2016's mobile games capture the attention of the media and readers.
Armed with a year of data on mobile game coverage from 970 websites, the report seeks to break down how much coverage mobile got in English, French, Italian, German, Spanish (EFIGS) games media, what the comparative level of that coverage was across different languages, which platform received the most coverage, and which individual games caught the most media attention.
Something that might be interesting for developers to see is what ICO Partners found were the most impactful websites for mobile news, based on a formula that weighs the popularity of a media outlet and the volume of mobile-related articles published.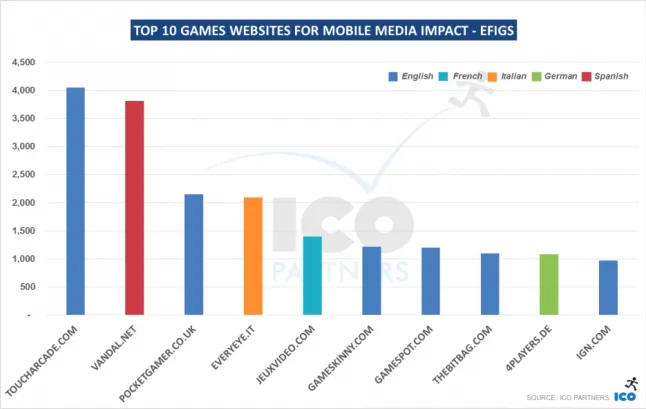 The year covered in the report most notably includes both the launch of Pokemon Go and Mario's debut on mobile devices through Super Mario Run but curiously, outside of a blip caused by Super Mario Run's announcement, the number of articles covering mobile games in 2016 remained fairly consistent.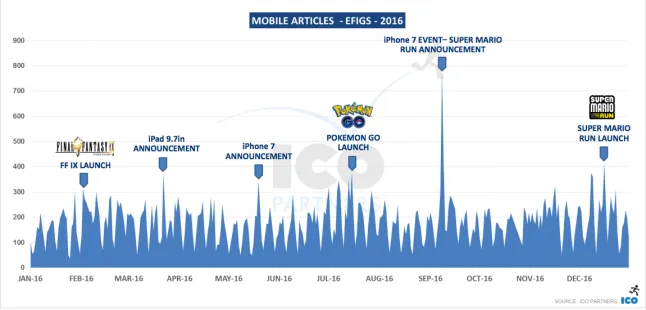 The y-axis represents the number of individual articles published per day.
One of ICO Partner's' main findings for the year pointed out that mobile game coverage tends to focus mainly on well-known gaming brands. Pokemon Go unsurprisingly captured the most media attention during the year through nearly 60,000 individual articles written by EFIGS publications. Super Mario Run came in second place for the year, with just shy of 8,000 articles, followed by Miitomo with around 5,500. A handful of other games from known game franchises like Fallout, Hitman, Tomb Raider, and Minecraft also fell within the top ten covered games for the year.
Overall, the report found that mobile game coverage in 2016 was very low compared to console and PC game coverage, that English, Spanish, and Italian were the most popular languages for mobile game articles, and that, excluding Pokemon Go, there was little difference in the top games covered across all EFIGS countries, For a more in-depth look at each of these findings, as well as individual case studies on the leading games, check out the full ICO Partners report.