There's clearly a lot riding on the launch of Dragon Age: Origins. Its name very much implies a franchise in the offing, and Electronic Arts' high-frequency stream of promotion for the game also shows its success to be a top priority for the publisher.
It's been painted, to hardcore gamers, as a hearkening back to BioWare's old days of epic fantasy in the Baldur's Gate vein. But there is much about the game that also pushing forward into new territory for the developer.
In an interview conducted in late June, BioWare co-founder and EA RPG/MMO group general manager Ray Muzyka talks about the thinking behind the game -- which debuts in November on PC, Xbox 360, and PlayStation 3 -- and its development process, which includes a heavy focus on its innovative single-player social community.
He also discusses how the group structure recently embraced by EA, which places him above the RPG efforts coming from Mythic, BioWare Edmonton, and BioWare Austin, impacts the company on a development level.
You've said that Dragon Age is intended to be a social experience. There are of course all the user mod tools on the PC, but what else do you mean by that? "Social" is an interesting word to describe a single-player RPG.
Ray Muzyka: The thing that I've always been intrigued by is the concept of a hero's journey. A roleplaying game actually is really well suited to showing that, because you have all these key moments: Quests you've completed, choices you've made, consequences to those choices, progression, customization.
You look different at different points in the game, you get badass armor, equipment, or items. Your party members are alongside you, traveling around. You take screenshots of who they are at different times, of different people, of where you've gone in the world. And there's how the world map gets explored -- the narrative of an explorer.
These are all different types of narrative, the way I see it. There's the narrative of combat -- which creatures you defeated and how, what tactics you used to defeat them. The narrative of progression and customization -- how you look at different points in time, what equipment you have. The narrative of the story -- which quests you've done, which stories you've unlocked, which choices you've made. The narrative of the social -- which characters you have with you.
If you can surface those to other players, you've effectively created a social environment, an online-enabled offline experience. That's what we're trying to do with Dragon Age. We're trying to surface some of those.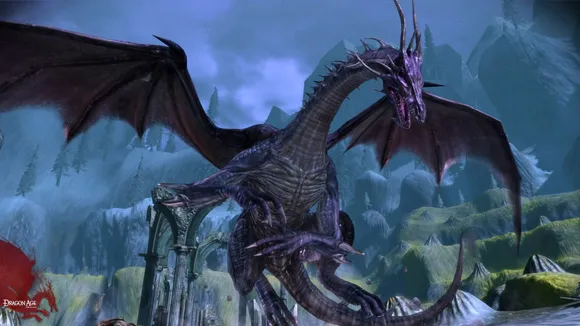 We'll have more to show on what we're planning, but I think it's really cool. We're creating a community site that's going to enable the fans to get revved up about what each other is doing. They're showing their choices and consequences to friends. Even though it's single-player, you can still reveal those choices to each other and have fun doing it.
It enables some of that stuff that occurs anecdotally amongst friends at the water cooler: "Hey, did you play this yet? Did you go this way?" "No, I didn't run into that. I did it this way." "Really? I didn't run into that at all!"
You can meet people who are across the world and enable them to see those kinds of things, too, which I think will lead to a lot of fun discussion and collaboration in the community. Imagine that getting broader when you have post release downloadable content that expands the game as a platform concept, or community-driven content that people can play through and maybe the fans embrace this and make content that can even be expanded further with even more choices in it.
There are a lot of possible extensions to this, but I always thought the idea of a hero's journey being shown through an RPG would be really cool. So, with Dragon Age, we're going to try that.
---
That water cooler analogy does seem to fit this genre. I remember when Oblivion came out, I was at Shacknews, and we would post daily news stories dedicated solely to people dicussing what they were doing in the game, sharing their choices and experiences. But that was totally decentralized, whereas you're trying to really get the whole community together in a hub.
RM: You have to plan for it really early, and you have to embed it in the game at a deep level. We've been planning for a long time and been building it. We have a separate team that's working on the online community, and that works in parallel with the main dev team. It's really part of that main game dev team.
We're seeing the game as a service, as a long-term value-added offering to our friends that isn't just a launch, a fire-and-forget. Instead, you launch it, then the community evolves over time much like an MMO evolves over time. And post release downloadable content, we'll continue to make that for a long period after launch. Different kinds.
We're obviously going to listen to fan feedback. We've got a plan now, but we're going to evolve depending on what they tell us to make and what they make themselves, too. Maybe they'll complement what we're making, and then we'll focus on what people aren't making.
We'll figure it out as we go, but you have to really be ready to respond in real time. In "internet time," you evolve over time. That's exciting, because I think RPGs historically have been very much a matter of, "Here's your disc. Bye bye. See you later."
I think the possibility of space for the communities for RPGs is much more than that if you approach them as a value-added service, and think of them as an ongoing content offering and a social networking opportunity. They can be social even if they're single-player. MMOs even moreso because they're multiplayer at the core anyway.
Have you had any collaboration with the [MMO-focused] Austin studio about how to best develop those components, either from a technological, structural, or design standpoint?
RM: Yeah. We talk all the time between our various studios. That's just going to be even more than that now with Mythic as well, talking between Edmonton, Austin, Montreal, and Mythic. There's already a lot of dialogue that goes on back and forth between Bioware Edmonton and Bioware Austin. A lot of people from Edmonton have moved down to Austin or are working virtually. There's a lot of back and forth.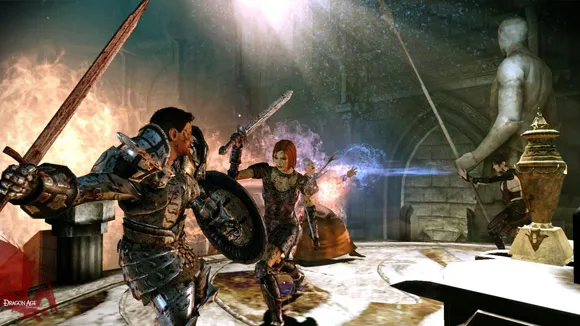 People in the tools have been creating content for a while now. Have you seen much of it?
RM: Yeah. I think it's open in that people can sign up for it if they want. We want to help them, so we want them to register who they are and start posting them in the forums.
We have telemetry built into them so we can actually link together groups that are doing different kinds of content -- you know, if they want it. They don't have to. If they want it, then we can help create virtual teams of people making different kinds of content.
So you have that kind of team-fostering mechanic built into the system?
RM: Yeah. And, obviously, at launch, it'll be wide open. The tools are available, just go for it. One of the reasons we wanted to provide the tools in a beta form pre-launch was so that we had hopefully a large body of content created by the fans available at launch, along with the stuff we're planning to do soon after as post release downloadable content purchases as well.
Are you going to be highlighting interesting fan-created content yourselves?
RM: Yep. One of the aspects of the community site is a place to dock fan content, rate it, review it, share it, embrace it, kind of reflect on it, and discuss it.
---
The PC and console versions control pretty differently. I noticed that on the PC build, I gravitated towards the pulled-out tactical view, because that's available there.
RM: About half the people that play on PC do that. I actually play down on the ground behind the shoulder all the time even on the PC, and I really enjoy that view. I normally do what you do, pulled back, but occasionally you'd like to just to get a lay of the land.
I like the intimate feeling of feeling like you're that character, kind of like up close and personal, which is actually the way the console plays, too. But those console players may want to play more top down, and we enable them to do both.
Although both the PC and console versions basically allow you to be more up close or more pulled out, there's a pretty big difference in range, and in how the interface works, much moreso than in most multiplatform games. Did you just start over when designing the console one?
RM: That was actually really hard. We had a lot of challenges making the cameras work in all the areas. It's such a big game. That was a difficult decision, but we thought it was important for players to have that choice, so it's another aspect of choice in a way in kind of the moment-to-moment gameplay.
When I saw the game during GDC, it seemed like the console controls hadn't even been conceived yet.
RM: We've been working on it with nonstop usability testing every week basically, with a couple different [groups] coming in and playing it. We get a wave of feedback and completely change the controls, then we kind of get more feedback, completely change it.
Now, we're actually at a point where we're just tuning specific systems that we're getting feedback on. But we're still going to keep working on that right until it ships. We're feeling pretty good about making sure the console controls are just sweet.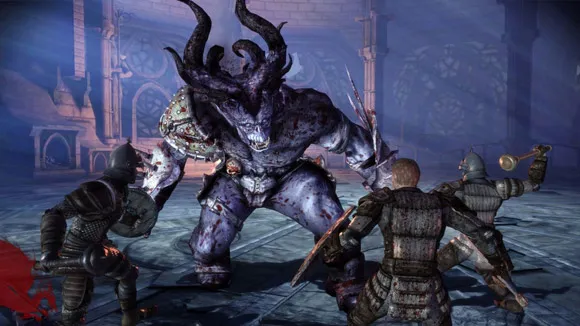 You mentioned Mythic earlier -- what are the practical ramifications of the [recent] BioWare and Mythic reorganization?
Ray Muzyka: Structurally, each of the organizations remains intact. They're working on the same projects they were working on before, I just have another studio that reports into me. It's not that BioWare or Mythic is changing; they're retaining their brands, their unique cultural identities, their projects they are working on. I'm really excited about what we're doing; we have great people at each location.
Rather, a new group is being formed that is more of a reporting structure of Rob Denton, the GM of Mythic; Richard [Vogel] and Gordon [Walton], who already report to me from [BioWare] Austin; Yannick [Roy], our studio director at BioWare Montreal, who already reports into me; and then BioWare Edmonton, and I already manage that studio myself.
It's a collaboration opportunity. Each of the groups continues to make the same thing in their [own locations]. But it's fuelling and enabling more communication, collaboration, best practice sharing, encouraging each other to play each others' games -- but no formal change per se in what anybody's doing. It's a recognition that there's a lot of synergy between them already. I'm going to make sure everyone at each location knows who the others are, and their comparable roles, and to make sure they talk.
---
So it's not so much about actual tech sharing or co-development?
RM: Not to start with, but we're already looking at it. A variety of studios across EA tech share, for example. We're all part of the same company at the end of the day. We're studios within the same organization, which is a group now within the EA Games label.
But in the future there could be co-development. There's nothing actively planned there right now, but I know the guys at Mythic, and in Edmonton, Austin, and Montreal are all really excited about this. They get along already, they've already made a bunch of trips back and forth before this thing was planned. We sent a gift to Mythic when they launched Warhammer. We love those guys. They're great people.
Speaking of Mythic, it looks like you and Greg [Zeschuk] are taking the banner roles in this group, and of course Star Wars: The Old Republic is the big centerpiece MMO EA is trying to push. Is Mythic being overshadowed?
RM: I look at it as, I have a new role now that's additive to the past and current role. My new role is the group general manager of the RPG/MMO Group, and that's the name I wanted to have for it. It's not called BioWare, it's not called Mythic; it's called the RPG/MMO Group.
The outward brands that are still very much the consumer-facing identities, the cultural identities, are Mythic and BioWare, and I'm really proud of those two brands. They're storied brands, they're award-winning studios. Very much they're going to be partner studios. There are three BioWare studios already -- Edmonton, Austin, and Montreal -- and one Mythic studio, but Mythic is very much a strong identity and voice and brand and group. I'm really happy with that. That's the way I want it, that's the way they want it.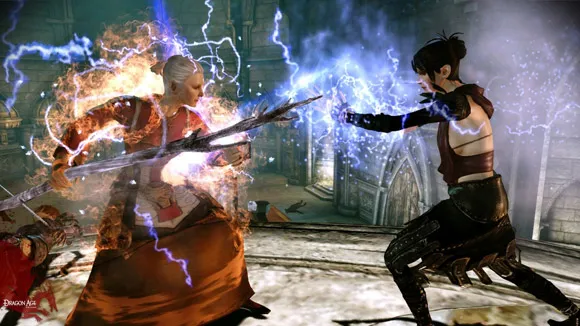 When you were setting this up with the larger EA, did you look at EA's history with studio acquisitions? It seems like under the current leadership there's more attention paid in some cases to allowing studios to retain their own culture and identity -- where even the overall reporting group is genre-specific -- whereas I would say EA in the late 90s and some of the 2000s had a reputation for not being sensitive to that.
RM: Yeah. This is the first example within the games label of a genre-focused group being formed, which I think is awesome. I think it creates a lot of collaboration opportunities.
The short answer is that I joined EA with BioWare knowing that, with John Riccitiello at the helm, there was a new orientation to the city-state concept, to studios with strong brands and identities -- consumer-facing brands that mean something, that represent quality to the fans. That's valuable.
I didn't join the old EA. I joined the EA that had that orientation right from the start. So my experience with EA has always been that.