Product Manager Sergey Sorokin from Nekki shares his experience from launching Shadow Fight 2 on KakaoTalk.
The mobile game market in South Korea is attractive in general (and there is nothing surprising about that, given the fact that the Korean Google Play store is third in terms of revenue, right after the American and Japanese one). The most influential platform here is being represented through KakaoTalk.
Launching your product on Kakao – is a difficult, but realistic task. The most important thing is to know all details and nuances, which, partly, can stretch the process up to several weeks, or even months.
A little bit about the platform itself – at the moment, Kakaotalk is the most popular messenger in Korea: The app is installed on more than 90% of all smartphones in the whole country. But the messenger is not just popular in Korea, so your potential audience rises to more than 120 million people.
Let's take a look at the important things, which can help you with the process of launching.
1. Starter kit
So, you decided to head to KakaoTalk – what to begin with?
For starters you have to fill in a simple form, where you send an inquiry for review of your app. The answer on our reachout comes promptly…completely in Korean. As it turned out, it was an automated-reply. The answer in form of a human E-Mail arrived around two weeks later: "We are happy that you chose us – we reviewed your app." This was direct feedback from a representative from KakaoTalk.
After another month of waiting, a rejection with the following wording came in: "Your game is of high quality, but possibly won't attract interest from our players – the chosen art and setting are not near enough to our users."
A rejection, of course is no reason to give-up and so after several months and a lot of updates, we submitted again. But this time, we got our sights on the Korean manager, and, as consequence, on "all Korean gamers".
It's difficult to tell, what influenced the change of direction regarding our project. Possibly, this decision was made by another manager? Possibly, the new content in our game – new chapters, introduction of magic and ranged weapons, changes in the storyline…
But whatever, we were happy.
The answer also contained:
The minimum of documents to provide (NDA, contract, etc.)
A guide "what to do to get the Kakao SDK and begin with porting". In detail, the requirements of this document lead to filling in the dashboard – name of the game, name of the company, etc.
Advice: When you get all necessary logins to start with the work, I recommend you the next following section, to ease your following work. Here you can find the full (partly excessive) information about how to release best on KakaoTalk.
2. Checklist
Right after filling in all necessary paperwork, you will encounter the checklist. The managers from Kakao pay a lot of attention to this. Content-wise this is a regular check-list, which is being used in the majority of companies – a standard chart with the fields pass, failed, etc.

But there are some specific features. For example, the fields "must" and "selective". – "Must"- points that are marked with this, are required to be finished, and "selective" are additional ones, on which you can close your eyes if you need to.
In other cases, those can be used as well:
N/A – if this can't be checked, or simply different information;
Not tested – didn't test;
Failed – I guess there is no need to include Fail in the own check-list.
According to the check list, the checking process takes place and when ANY of the points isn't filled out, your test-build will be rejected.
3. Submission for testing
When you prepared the check-list, you can proceed to the next phase – sending the test-build to the staff of KakaoTalk for testing purposes. For this, the next form is being used:

First you submit for testing, for example, only for the check-list or for the finished build, but it makes sense to note, that within a working week, you can only submit a test-build twice.
But I was actually lucky – making 4 requests – I succeeded in getting feedback for each of them. But this aside, I wouldn't count on my luck – therefore try to get the most of every request.
3.1. A little bit about check-boxes
You see those check-boxes which you have to tick when requesting a test?

Let's talk a little bit more about them:
Security inspection – is c checking routine if the user information is kept (name, mail, age, KakaoID – and if it's encrypted or not);
Policy inspection – this inspects for the test-build itself and the check-list;
Sales log verification- isn't that critical for the check of the test-build, but the build doesn't go out for release inspection without it.

The document named SalesLog_VerificationRequest which you get when receiving also the SDK for development, you have to display an in-app list of your app and fill in the purchases, in short, make a report about the payments.
As for the only thing that isn't obvious, that's the field Service_user_Id, which stands for KakaoUserID.
KakaoUsedID is a unique ID, which will be assigned to every of your players in your app, who will log in over KakaoTalk

From my personal experience I can say, that the app has been rejected because the data did not match (meaning we filled in one information, but the server sent back slightly different one). We prepared ourselves better for the next review, when we noted WITH CAPITAL LETTERS, that the prices from Google Play differ because of changing foreign exchange rates, therefore making for small differences. Only then we passed the inspection successfully.
Advice: If you want to submit your app for release inspection…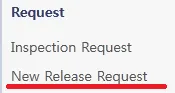 ...all three of the named checkboxes have to be tested in the Inspection request.
4. Feedback
We have to give out a big compliment for the team from KakaoTalk here – the feedback on any question happened quite operative. At least, if you ask them within the working hours. The support doesn't just tell you what is wrong, but also helps with testing, extracting logs and other minor issues. The communication happens over tickets.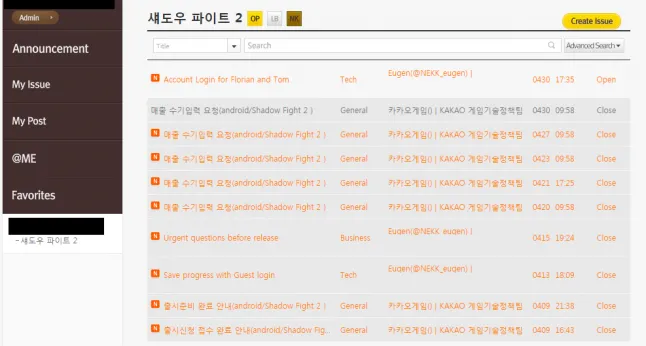 The ticket system represents itself like a forum: There you will get either positive or negative feedback on your inspection requests.
To create a ticket, you have to go to the "Ask"-section and select your app.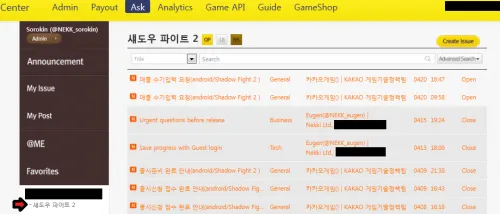 5. The dashboard
In the dashboard, any minor thing needs to be approved. Be it the addition of a screenshot or replacement of the face of the contact person.
After the addition of any changes, the dashboard "saves" everything and sends it for approval. And here the following is being noted: if even one comma does not fit with the requirements of your Korean counterparts your request is being declined and ALL changes, which you have sent with the request, won't be saved in the given request.

I would suggest to fill in all fields, where you are sure, and then proceed to the ones you have doubts, to save on time.

Advice: The dashboard doesn't work well with Mozilla, so better choose another browser right away, to avoid a nervous breakdown.
6. Internal functionality
There are some things which you will face for sure when you are porting, so I'd like to mention them shortly:
6.1. Login and Guest Login
There are two ways to start a game in KakaoTalk: Login with your own Kakao Login, or login as "Guest".
The guest login MUST NOT save any progress of the user in the game, so if your game had an internal plan to save the progress all the time, or has the function to restore lost progress, so you will have to modify that aspect in your game. Keep this in mind.
6.2 Payments
KakaoTalk hasn't ist own payment system, but any revenue you make (be it in app purchases or ads) has to be provided to the platform. This thing is mentioned in the SDK and can be made quite fast. When a successful payment happened and the log has been sent, you see in your log "status: 0", which means that KakaoTalk received your log about the payment.
6.3 Korean language
This one is quite easy: Your localization has to be flawless. Of course, the testing won't go far beyond the first 10-15 minutes of gameplay, but even if you have a mistake in one sentence, for example in the check-list – you will get rejected. So better don't risk on that one.
CONCLUSION
If you simply want to get approved, while modifying the game at a minimum, it's enough to set up the following:
KakaoTalk Login;
Sending over the payment reports
That's it, your game will be approved.
But additionally, when the mods love your app, it can get featured in the Top Grossing charts. If you want to get and keep a place in several featurings and support the platform, then you have to include an in-game chat and the ability to invite friends into the game.