The indie game space is diverse, sprawling, and competitive—fiercely competitive. Steam Greenlight is brimming with newly greenlit titles, Kickstarters are being successfully kickstarted, and it's harder than ever for an indie title to stand out.
Finji founder Adam Saltsman addressed this dilemma in a talk at this year's GDC. "There are indie games that were huge hits five years ago that just wouldn't stand out today," he said. "Weird games got way weirder. Polished games got more polished. Big games got bigger and small games got smaller."
Saltsman points out that marketing has become crucial, and not just the sort of marketing that publishers of AAA titles have dedicated teams to help with. To break out in this crowded landscape, an indie game has to market itself. It needs the sort of instantly grokkable kinetic appeal that can be captured in an arresting trailer, or even in a GIF. It needs graphics that stop people in their tracks because they look unlike anything else out there, or convey the central gameplay elements in a single screenshot. It needs a plot or high concept that can be grasped by simply looking at a promo image, or reading a single line of description, or hearing a friend drunkenly describe it at a party.
Saltsman exhorts indie devs to consider whether a game concept has these kinds of innate saleable features before they decide to pursue it. He says fine tuning how your game communicates itself and differentiates itself is a natural and integral part of the design process--something he dubs "exposure design."
So what are some recent or upcoming indies that are a model of this kind of self-marketing? What games help their creators by essentially sell themselves? We reached out to Saltsman and several developers for their nominations and suggestions of instructive examples.
SUPERHOT: A NEW TWIST ON SHOOTERS THAT YOU CAN GRASP IN JUST A FEW SECONDS
Walk around, pump baddies full of bullets. That's the basic formula for most first-person shooters. But this minimalist FPS that came out in February adds a temporal twist: Time only moves when you do.
Superhot offers a captivating twist on the genre formula. And just as important, it's a twist that's easy to convey to potential players. Nigel Lowrie of Devolver Digital, says, "It has a singularly unique mechanic that is understood instantly in just a few seconds of gameplay."
Games have explored the mechanic before, namely in RPGs and roguelikes, but the dynamic works quite differently in a shooter—a genre that hinges on quick scrambling and strategically ducking into corners for deadly sniping or defense. A fan of shooters who sees Superhot's core mechanic has an instant sense of what they'll be in for, and their mind starts racing as they imagine all the ways that typical FPS scenarios will play out differently in this game.
[Sidenote: The game's rough prototype, which is free to play and works in a browser window, also does a great job of imparting a quick and dirty sense of what the final game could be like.]
FACTORIO: COMPLEX GAME SYSTEMS THAT EXPLAIN THEMSELVES WITHOUT WORDS
"I thought this Factorio trailer was brilliant," says Sarah Northway of Northway Games. "It just pans and zooms around one massive factory… with no text or voiceover needed to explain what this game is about."
Factorio is a new resource management and building sim that puts you in charge of erecting factories, laying out assembly lines, and deploying flying robots that help you construct it all. The overhead view and 2D world comes straight from SimCity.
The devs did a great job of orchestrating the trailer to tell as much of the story in 90 seconds as possible, ratcheting up drama by simply showing a gameplay event that requires no explanation: In the middle of all your scorched earth industrialization, a swarm of huge bug-like animals native to the region descends on your creations, ready to destroy. And so the conflict begins.
But it wouldn't be possible to make a coherent and compelling trailer like this if the "exposure design" of the underlying game wasn't so solid. Look at how the function of each of the complex interlocking systems are readily apparent, with nary a line of narration or a single piece of text.
DEVIL DAGGERS: A NEW TAKE ON A CLASSIC GENRE THAT'S READILY APPARENT IN A SINGLE SCREENSHOT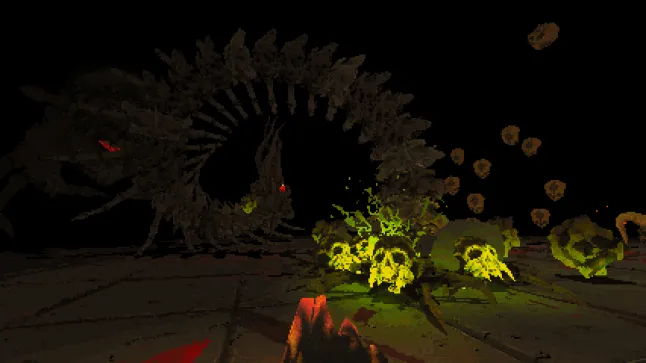 Devil Daggers is a first-person shooter in the vein of classic 1990s FPS games. It's the sort of game where bolts of deathly destruction fly from your avatar's fingertips and obliterate wave after wave of nightmarish demonic enemies. But you don't need me to explain any of that if you simply look at a still image of any random moment of gameplay.
Everything about the look of Devil Daggers, from the color palette to the demon design to the perfect level of pixellation, conveys that this game aims to be an homage to (and apotheosis of) vintage Doom-style action. "The screenshots have a pretty clear identity, and they show most of what you do in this game," Saltsman says. "Now, does this mean that all arena shooters are a good idea? No, but the mix of ingredients and ideas on display here is very strong."
ASTRONEER: AN OPEN WORLD THAT CAN BE QUICKLY CONVEYED
Saltsman also points to the intergalactic exploration game Astroneer, which hits Steam later this year, as an instantly grokkable example of what he's talking about.
Again, part of the impact of this trailer comes from the fact that it is artfully edited. But core design elements that can be conveyed with no outside explanation are what really sell the game. A faceless, player-controlled hero combs vast landscapes, which are both barren and beautiful in a way we've never quite seen before. The player can sculpt this landscape to help traverse it, or to uncover things. Viewers quickly grasp the game world, the core gameplay elements. They also get a sense of the general mood and tone, which seems calm and contemplative, almost like Journey. (The similarities to thatgamecompany's masterwork are reinforced when a second character appears, and the promise of cooperative multiplayer becomes apparent.)
Unique aesthetic. Kind of reminiscent of Journey. That simple takeaway can be all you need to generate buzz or reel in YouTube views.
Saltsman stresses that the real challenge here is making a game that instantly communicates and conveys what it's trying to do. This sort of exposure design take a lot of time and thinking and work. Studying why some games blow up on social media months before release might help put you on the right track.
THE WITNESS: CREATING A UNIQUE NEW EXPERIENCE THAT'S ALSO COMFORTINGLY FAMILIAR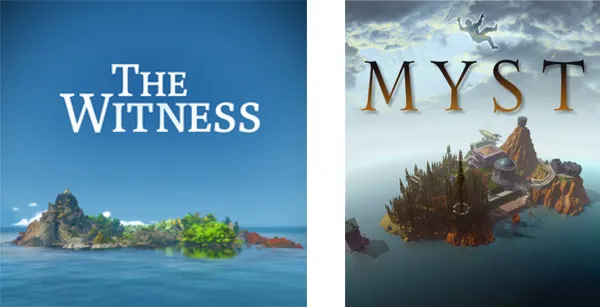 "It's not complicated," says Schell Games founder Jesse Schell, who recommends Jonathon Blow's The Witness. "It's all about games that are obviously different, have someone famous attached to them, or are obviously appealing in a new way."
Blow shot to fame with 2008's Braid, one of the titles that brought indie games worldwide respect almost a decade ago. So when Blow, already considered something of a celebrity and forefather in the indie game world, released Witness for Windows and PlayStation 4 earlier this year, the game was certain to have something of a built-in audience.
But the magnitude of the game's success suggests that it was not merely preaching to the choir. Star power aside, The Witness also takes clear cues from a seminal video game, making it quickly recognizable to players who never saw Indie Game: The Movie.
Just like Factorio with SimCity or Astroneers with Journey, The Witness bears similarities to a beloved classic. In this case, it's the mystery-adventure PC touchstone Myst. It's a new and original game in its own right, but many fans of the enormously popular Myst franchise were surely intrigued by the promise of another island full of puzzles.
NICHE: A HIGH CONCEPT THAT CAN BE SUCCINCTLY DESCRIBED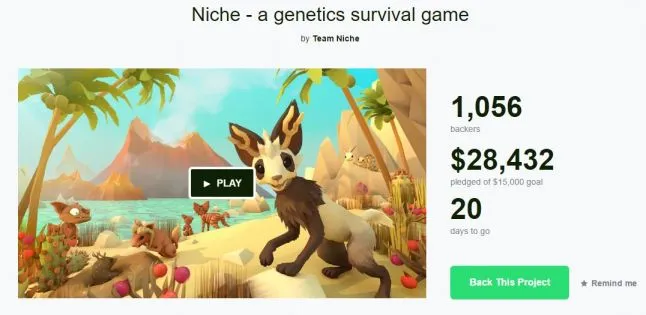 Kickstarter is as overcrowded with indie titles as Steam these days. But standing out on the crowdfunding platform requires the same principle we've been discussing: Combine a unique concept that differentiates your project from the rest, but keep it somewhat familiar, attainable, graspable.
"The tagline for Niche clicked with me immediately: 'a genetics survival game,'" says Northway. "I was sold when they listed the games that inspired it: Creatures, Spore, and Don't Starve. Calling a game 'X meets Y' can be cheesy and some people frown on it, but it can make a games so easy to understand."
The campaign's clearly clicked with more people besides Northway--it has already hit its funding goal. The fact that the game's appeal can be captured in a four-word tagline probably inspired a lot of clicks.
When trying to separate your indie game from the pack, think back to the age-old concept of the elevator pitch: Can you explain what your game is about in ten seconds? Can it explain itself without your help?
(Thanks to Nigel Lowrie, Jesse Schell, and Sarah Northway for their input. Thanks to Adam Saltsman for his input, and for his GDC talk that inspired this article.)