When Team Reptile was putting together its fighting-slash-
Pong
game
Lethal League
, the team knew that one of its main goals was to have the game picked up by the professional competitive gaming leagues. Part of this push was always going to be about marketing, of course, and on what sort of scale they could get the word out about their game to the competitive scene. But just as important was the game's design, and how it was shaped to provide maximum competitive play potential. Dion Koster of Reptile Games tells me that, as a small-scale studio with zero publisher backing, his team aimed to keep as true to the following goals as possible: 1.
The most fun way to play and to watch should be the most effective way to win
2.
Have the core, the 'verb' of the game, be easy to do and understand to gain new players
3.
Expand on the core in hidden ways to keep players constantly trying to improve
4.
Consider the highest level of play and make sure it ends on predicting your opponent
5.
Include mechanics that have or build tension, huge risks with huge rewards
Having said that, Koster notes that building a game for competitive play is not only great for eSports, but also has the knock-on effect of making it better for regular audiences too.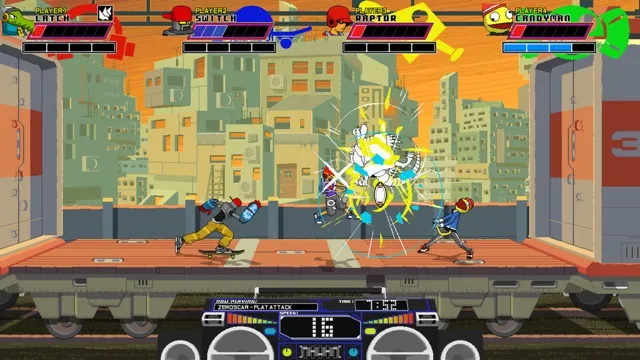 Echoing comments from the Call of Duty team
, Koster notes that, "Regular audiences can still be reached by having surprising and simple interactions in your game. Much in the same way most sports are fun to play, but also to win, which requires it to be fair. The drawback of scaring worse players off because they lose is overshadowed by players training and talking to improve one and another." With these goals in mind, the dev says that with
Lethal League
, the team is aiming for the
Smash Brothers
audience -- that perfect combination of competitive, casual and somewhere-inbetween players. "The bias is towards new players because competitive players tolerate the (fake) simplicity," he notes, "but the new players won't tolerate too much complexity at once."
Lethal League
is available to purchase from Steam.