For Valve Software, Team Fortress 2 isn't just a game – it's a resource. Since its launch in 2007, Valve has continued to update the game with new items, modes, and even a new business model. While these changes have certainly helped satisfy players, they've also helped the studio prepare for the future.

In a recent interview with Gamasutra, Team Fortress 2 lead designer Robin Walker explained that while the game's primary goal has been to grow and maintain its sizeable audience, Valve has also used the title as a testbed for new ideas that could protect the livelihood of the entire company.

"Our secondary goal [with Team Fortress 2] was to see if we could explore specific game and business design spaces that we felt were potentially a requirement for the long-term survival of our company," Walker said.

One of those spaces, as it turns out, was the traditional MMO market -- and Team Fortress 2's persistent item economy came about because Valve was hoping to learn more about what made those games tick.

"[When the game shipped], MMOs were the dominant story in the industry, and one concern we had was that we might not be able to survive if we didn't build one," Walker said. "We didn't think we were ready to undertake that, but we did think that we might be able to build some pieces of one, learning enough so that if or when we did need to build one, we had less risk on the table. We decided that persistent item design and storage seemed like a reasonable amount of risk for us to bite off, and could be made to fit into TF2's gameplay."

Just a few short years later, when traditional MMOs had started to wane in popularity, Valve was beginning to sense another major trend looming on the horizon: the rise of free-to-play and microtransaction-based games.

"A couple of years later... we were starting to feel the same way about microtransactions as we did initially about MMOs: that our company was at risk if we didn't have internal experience and hard data on them," Walker said.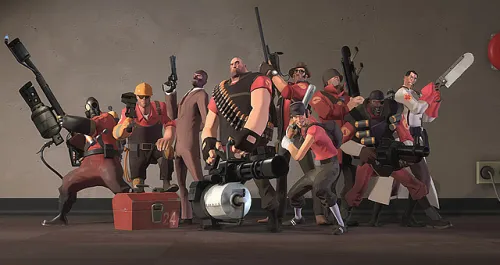 Once again, Team Fortress 2 was chosen as the guinea pig, and in June 2011, Valve made the game completely free-to-play. This update proved to be one of the game's most significant yet, as it both increased revenues by a factor of twelve, and gave the studio the expertise it needed to adopt the free-to-play model in games like Dota 2.

"At the time, one of the questions the fledgling Dota 2 team was asking was whether they should be free to play, and we wanted to be able to give them a bunch of data so they could make that decision with some confidence," Walker said.

Given everything Valve has learned from Team Fortress 2 over the years, Walker says the game's financial success is really just icing on the cake. The game's ongoing updates have allowed the studio to quickly adapt to market changes, making it -- if nothing else -- an invaluable research tool for the studio's future projects.

"In the end, TF2 has been ended up being one of the most useful tools we've ever built to reduce risk in our company's future. It's been really nice that it's also brought in significant revenue throughout that time, but ultimately, the importance we place on understanding our business and our customers has made it totally worthwhile," Walker said.

"The thought that if we hadn't done it, we'd be here today without any data or experience with service based monetization strategies is quite terrifying."