Since their launch in 2015, Steam refunds have been a source of debate for many developers. Some are pleased they have an opportunity to easily refund players experiencing major technical problems with their game, others are disappointed that players can complete their game within the span of the refund window then immediately request their money back.
But however you feel about the refunds, it's definitely helpful to know why players are choosing to refund games. And thanks to developer Garry Newman, we have a little more data on two popular games. (And one lesser-known one.)
Over the holiday weekend, Newman posted a set of images on his Twitter feed from the sales data for Facepunch Studios' games Garry's Mod, Rust, and Chunks. Newman's images highlighted some interesting data on why players were refunding these three games within the last month, which each come with different types of playerbases and development lifecycles that may affect this behavior.
Newman's also asked if other developers were seeing similar results in their refund data, and Out of Ammo's Dean Hall was the only other developer to share similar data in the thread. It's all helpful data to review, especially since Valve generally requests developers remain tight-lipped on the specifics of Steam sales data.
Garry's Mod, Facepunch Studios' popular sandbox game, was refunded 15,419 times in the last month, which amounted to 2.7 percent of its monthly sales. 5,680 requested refunds because the game was "not fun," 3,622 reporting they'd purchased the game by accident, and another 1,042 saying their computer didn't meet the game's technical requirements.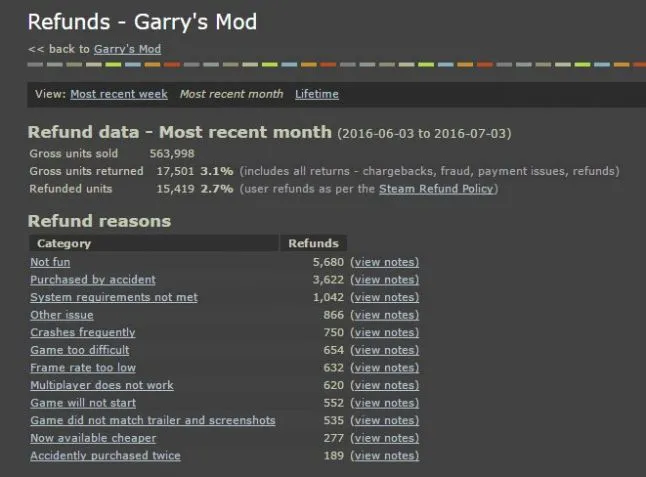 Rust, which is still in Early Access after all these years, was refunded 24,828 times, accounting for 9.4 percent of its sales during the same month. Rust's status as an Early Access game may have affected players' desire to seek a refund, as the top refund reasons include "system requirements not met," (6,811 players) "frame rate too low," (4,4371 players) and "crashes frequently" (2,225 players.)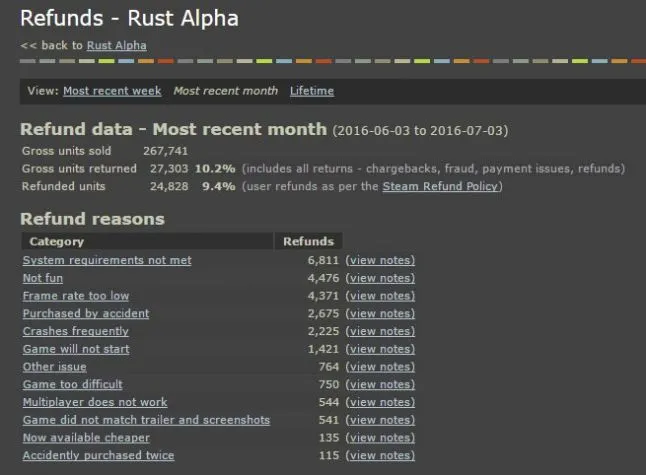 A large number of players still say Rust either isn't fun (4,476 players) or that they purchased the game by accident (2,675 players.) The Steam Sale could be distorting refund data for both games, but Rust's significantly higher refund rate and differing major reasons for a refund do seem rooted in the technical challenges that Early Access games face.
Facepunch Studios' Chunks, an open-world sandbox and building game with extensive modding support that released earlier this year, had far less refunds issued overall, but it also sold less units, making it hard to compare against its larger cousins. 32 of 65 players refunded Chunks because it was "not fun," and the following refund reasons don't seem rooted in technical problems.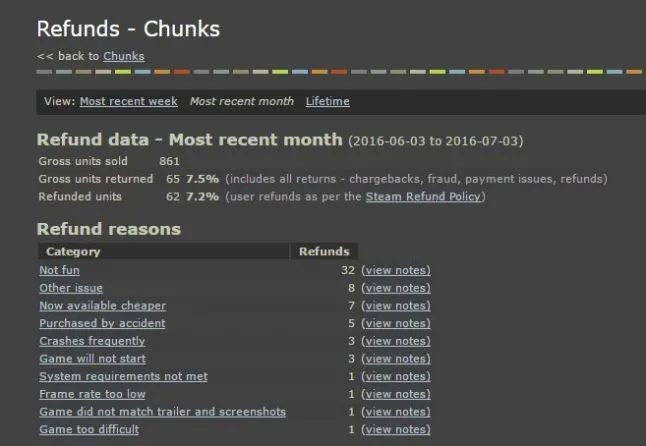 Of course, extrapolating Newman's data is difficult without any comparable games, but if you're selling a game on Steam right now, hopefully it helps adds some context (and helps you feel better) about your own refund rates.