Data culled from mobile analytics firm Apptopia suggests public interest in Pokemon Go is declining, as the daily active users of Niantic's augmented-reality mobile game appears to have dropped by roughly 12 million over the past month.
That's a significant drop from the peak of roughly 45 million DAU Pokemon Go reportedly hit in mid-July, though by Apptopia's metrics the game still maintains a remarkable daily active playerbase of 33 million or so.
Apptopia's data, which has been making the rounds this week after it was pulled by Axiom Capital Management and provided to Bloomberg, describes a striking decline that's well in line with Pokemon Go's meteoric rise last month to become a globe-spanning pop culture phenomenon.
A quick overview of Google Trends data bears this out. As The Outsiders cofounder (and former Ngmoco Sweden chief) Benjamin Cousins noted on Twitter last weekend, Google searches for Pokemon Go have dropped precipitously in the past 30 days, whereas searches for enduring F2P heavyweights like Clash of Clans and Candy Crush Saga remained relatively steady.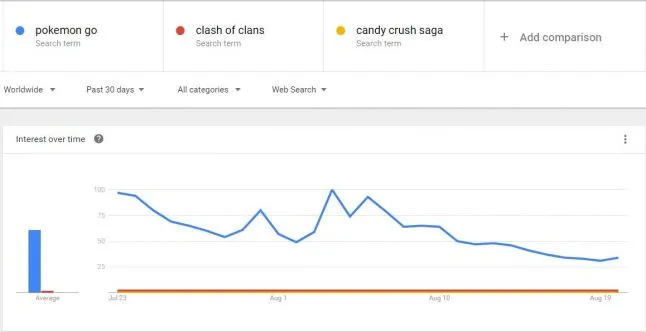 However, it should again be noted that the volume of searches for either game in the past 30 days is still significantly less than the volume of searches for Pokemon Go in the same period, which makes sense: those games have been chart-topping F2P successes for years, while Niantic's latest has been live for less than two months.
Pokemon Go is still not live in some key territories, too -- most notably mobile game revenue world champ China, which has more mobile game players than the U.S. has citizens.