Battlefield V is doing away with its premium pass in favor of Tides of War, a new live-services system which seems will only allow in-game currency bought with real money to be spent on cosmetic upgrades.
This decision makes a lot of sense considering the massive backlash around Star Wars: Battlefront II's loot box system, which lead to outcry over the game's progression system and virtual currency economy.
As detailed in a blog post, Battlefield V developer DICE explains how Tides of War will work. In terms of game economy, there will be two types of currency: "Company Coin" and a currency which can be bought with real money called "Battlefield Currency".
Company Coin can be used to buy skill tree upgrades and new gear, while Battlefield currency can only be used to purchase cosmetic upgrades.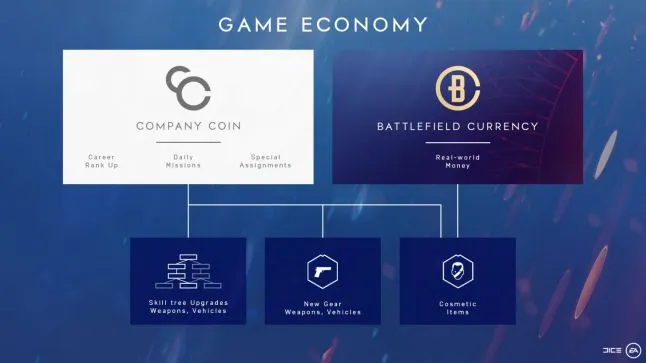 It's worth noting that Battlefield Currency won't be available at launch, with the post going on to explain how first players need "to get hands-on experience with their Company, the progression system, and earning Company Coin before introducing premium currency".
"Battlefield V is made to reward how often you play and how well you play," the post continues. "You will never be able to use Battlefield Currency or spend real-world money to get anything that gives you an unfair gameplay advantage."
It seems DICE is hoping that allowing players to spend real money on cosmetics alone should avoid this issue of pay-to-win, but its not clear if other aspects of the monetization system will arise come launch day.