Though Hello Games' stunt racing game
Joe Danger
is popular on PlayStation Network, the indie series' latest edition is having a tough time gaining traction on Xbox Live Arcade despite its timed exclusivity there.
Joe Danger 2: The Movie
was the second-best reviewed new title on XBLA last month (average Metacritic score of 81) and had the publisher backing of Microsoft, but
leaderboards data for September 2012
provided to Gamasutra shows that the game sold around 6,000 units across three weeks last month. That's even fewer units than the original
Joe Danger
sold on XBLA
during its opening week last December
, which was over 8,000 downloads -- and that enhanced port released a year and a half after the PSN edition.
Joe Danger 2
was also
believed to be an exclusive for XBLA
until late September (three weeks after the XBLA release), when Hello Games announced a PSN version with extra content coming out in October. For comparison, when the first
Joe Danger
game
released on PSN in June 2010
, it had more than 68,000 players after its first month on sale. It's worth noting, though, that
Joe Danger
faces more competition in the motorbike stunt game genre on XBLA from RedLynx's popular
Trials
franchise. Looking at other highlights from September 2012's leaderboards data, Harmonix's multi-platform music game
Rock Band Blitz
sold over 116,000 copies on XBLA, most of that coming from its first week of availability, when it had no other new releases to compete with.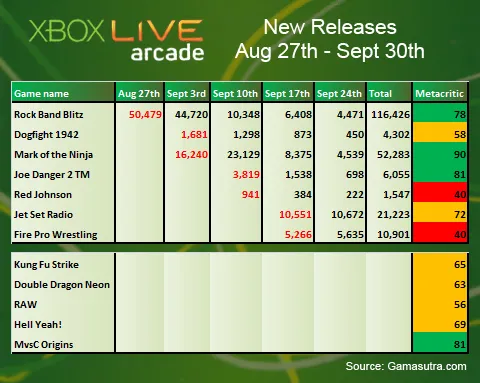 And Klei Entertainment's stealth-based action title
Mark of the Ninja
, the only September release with a higher Metacritic average (91) than
Joe Danger 2
, also performed well, moving over 50,000 copies in its first month. Its second-week sales actually exceeded its opening-week numbers. As for previously released games, Mojang and 4J Studios'
Minecraft: Xbox 360 Edition
continues to sell plenty of copies four months after its release, adding a little less than 100,000 players each week on average throughout September. Hidden Path Entertainment and Valve's multi-platform August release
Counter-Strike: Global Offensive
also sold well, bringing in 106,000 new players last month. Gamasutra contributor Ryan Langley has made
more charts and analysis for XBLA's September 2012 sales available here
.