Reflecting on a feeling of digital déjà vu
Is it just me, or does Netflix's games offering feel like Spotify's failed first foray into video? Data from Omdia and its research partners about the streaming video giant's mobile games and interactive video titles presents a mixed picture.
Spotify introduced video to its platform in 2015, licensing shows from Comedy Central, Vice News, and others and commissioning original series. The move was the result of a secret pet project founder Daniel Ek had been nursing since 2011, according to the book Spotify Untold. Yet the company abandoned its video strategy less than two and a half years later in 2017.
Could the same fate could await Netflix's games strategy?
When the games menu appeared on the app on my phone, I explored how the system worked and made a mental note to play the games one day. But when I do get round to that, I suspect I may just briefly dip in, never to return, just as I did with Spotify's videos.
It's early days for Netflix's big-picture vision
Clearly, Netflix has only just got started with games. Probably no one at the company would say today's rudimentary offering matches its longer-term vision. And management has stressed that now is the time to "learn more about how [its] members value games," with no mention of disrupting the market as some more excitable observers have hoped.
But Netflix's fundamental assumptions seem remarkably like Spotify's.
Like the music streamer with video, Netflix sees games as both a threat and an opportunity. In early 2019, the company told investors: "We compete with (and lose to) Fortnite more than HBO." In mid-2021, on announcing plans to begin offering games, the company said: "We view gaming as another new content category for us, similar to our expansion into original films, animation, and unscripted TV."
Several industry megatrends also play to Netflix's vision.
Playing games is nearly as mainstream as subscribing to online video. Over 63.5% of the over-16 online population in several major markets say they often play games, not far off the 69.4% that watch subscription online video, according to Omdia's latest consumer survey. The percentage of Netflix subscribers that play games is even higher at 71.0%.
1. Figure 1: Playing games is a mainstream activity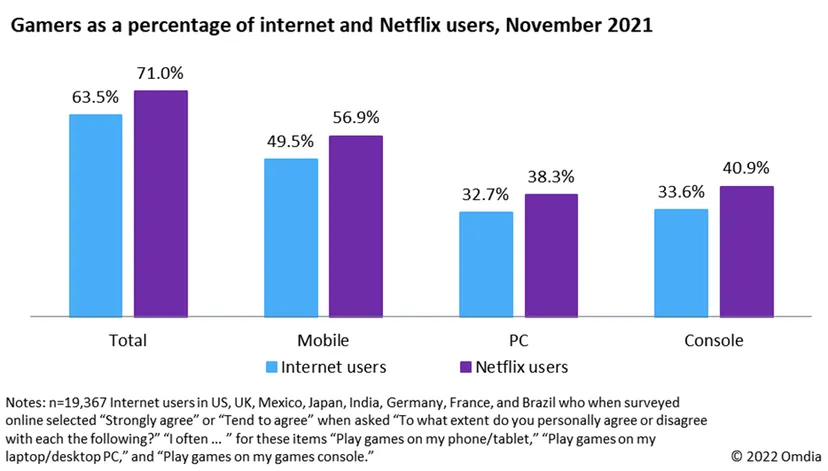 Source: Omdia
There's also the growing popularity of stories that lend themselves to games, TV, and movies, such as superhero adventures, space operas, and fantasy epics. That's part of a wider rise in fandom, where people want to not only watch the movie but binge the TV series, play the game, and generally live in the fictional worlds they love.
The outlook for interactive video remains unclear
Neither should we discount Netflix's ability to deliver breakthrough game content, just as it did with TV and House of Cards, Orange is the New Black, and Stranger Things. But data on viewing of Netflix's interactive TV shows and movies feels ambiguous.
Flagship titles Black Mirror: Bandersnatch and Bear Grylls–fronted You vs. Wild were each accessed by more than 30 million unique viewers, equal to around one in four of Netflix's subscriptions worldwide, according to Omdia analysis of data from research partner PlumResearch. As such, they ranked 14th and 22nd in most-viewed Netflix titles around the time they launched and are likely to be among the most-viewed interactive videos in the medium's entire 30-plus year history.
Other interactive titles attracted viewer numbers that are small in relation to Netflix's overall base but large relative to the numbers that watched conventional movies and TV series based on the same franchises (see Figure 2).
2. Figure 2: US, unique viewer totals and penetration of selected interactive TV titles on Netflix 28 days after launch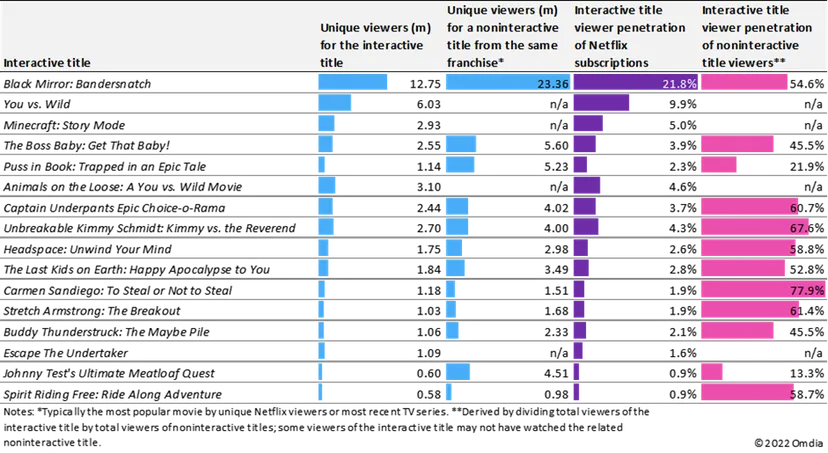 Source: PlumResearch, Omdia
Whether these percentages alone indicate success is debatable. What's more significant: that one in two viewers of Black Mirror: Season 5 accessed Bandersnatch, or that one in two such "fans" didn't?
This question is especially important given interactive video can also be more costly and complex to produce than conventional TV and with a lower rate of critical success. Netflix's interactive titles also tend to have more of a flash-in-the-pan impact than standard titles, with more of their viewing within the first week of release and less gain over the next three weeks, according to PlumResearch.
In any case, few would doubt Netflix's ability to invest its way to success. Omdia expects the company to spend $14.2bn on TV programming in 2022. To put that in perspective, just 5% of that could pay for the development costs of hundreds of well-funded indie games or half a dozen AAA titles. Likewise, we expect that the company could afford to follow its 2021 acquisition of Night School Studios by buying similar indie developers.
But while content is key, so is context
Spotify's fundamental problem probably wasn't the quality of its video but that most people would open its app to listen, not watch. They had the likes of YouTube and Netflix for that.
To reframe that challenge for Netflix: Will people really start opening its app in search of a Witcher "experience," whether in the form of a TV show, game, or other new media? Or will they continue to turn to it when they just want to watch TV? What would the company have to do to make Netflix the place people go for games, instead of Apple's or Google's app stores, Xbox Game Pass, PlayStation Plus, Steam, or other well-established destinations?
In other words, Netflix's most fundamental obstacle to success with games could be one of its own making. Its success with video has been built on divergence, rather than convergence, by unbundling the best things from traditional TV. While its brand is strong, it's also very narrow, known by consumers for a very particular kind of high-quality TV and movie viewing experience.
Early data on Netflix's mobile games provides some indications of how hard the company will need to persevere to expand beyond this perception.
Titles from its catalog were downloaded 6.8 million times in total between the global rollout in November 2021 and January 2022, according to Omdia partner Sensor Tower. Even making the generous assumption that each download was by a single Netflix household, that would equal just 3.1% of the company's subscription base (see Figure 3).
3. Figure 3: A tiny percentage of Netflix subscribers download games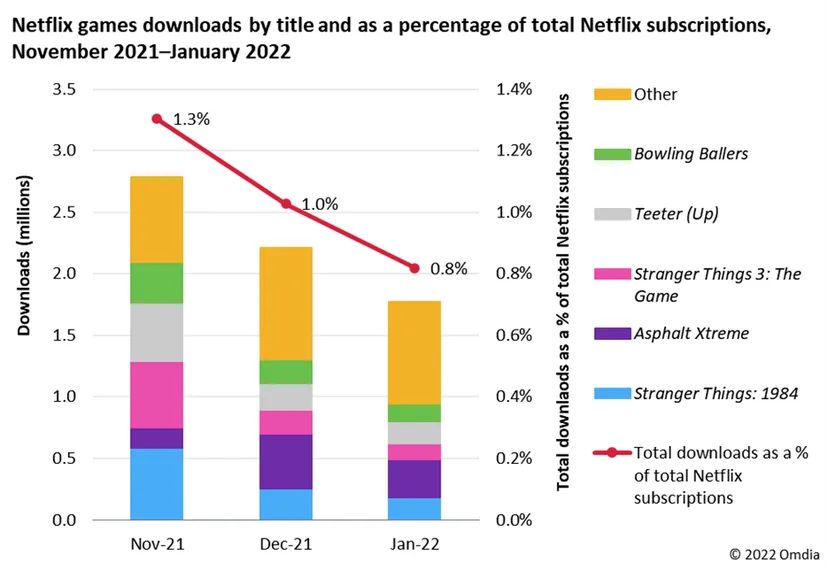 Source: Omdia, Sensor Tower
Despite the addition of new titles, total monthly downloads declined by over a third from 2.8 million in November to 1.8 million in January, equal to just 0.8% of Netflix's subscriptions. The average number per game nearly halved from 199,000 to 111,000.
The fact that Stranger Things titles were among the most downloaded from Netflix's catalog could be seen as a positive sign. But given that PlumResearch estimates that 136.9 million Netflix users watched season 3, that would suggest only up to 1.4% of these viewers downloaded the games.
Finding new sweet spots where games and TV overlap will be key
Again, it's early days. And to answer my earlier question, it could just be me.
I've been an analyst long enough to know not to rely on a sample of one—my own experience alone—to form conclusions. And the difference between watching TV and playing a game may not prove as great as the difference between listening to audio and watching a video, depending on how Netflix crafts and presents its games.
I've also learned not to underestimate the ability of technology to change people's behavior, including mine. Who hasn't recently emerged from a lengthy session on their smartphone having forgotten why they unlocked their screen in the first place?
But the results of Spotify's mass-market experiment with offering video to millions of users surely count for something, and its more recent experience is instructive too. The music streamer is now looking to get into video by offering filmed episodes of its podcasts, the audio format having proved much more popular with its subscribers than conventional TV shows and video clips.
Netflix will also need to search hard to find where games make sense for its brand. Fortunately, the opportunities are numerous: Omdia's report The Games of Netflix highlights 15 ways the online video giant can grow its involvement in games. We expect that Netflix has a runway of another one to two years of dabbling before it has to make a big commitment to some aspect of games.
But that fundamental challenge will remain. To paraphrase an old proverb about horses and water, you can lead a video subscriber to games, but you can't make them play, especially if they came to watch TV.
Appendix
Further reading
Consumer Research - Gamers Visualization (December 2021)
Netflix International Viewing Dashboard (November 2021)
Mobile Games Title Performance Database – Premium (November 2021)
The Games of Netflix (August 2021)
The Gaming Opportunity for Online Video (January 2022)
About PlumResearch
PlumResearch provides deep data and analytics on the viewing habits of Netflix audiences in leading markets around the world. PlumResearch data comes straight from the source: the company's proprietary B2C software and apps obtain data processing consent from panelists to provide clients with the full, device-agnostic picture of content consumption. For more information, please visit PlumResearch.com.
About Sensor Tower
Sensor Tower data provides Omdia with country-level mobile app data to support analysis of the mobile games market, mobile games publishers, and title performance. The combination of Sensor Tower's title-level mobile app data and the extensive expertise of Omdia in the app economy and mobile ecosystems helps to deliver deeper insights into market opportunities. For more information, please visit SensorTower.com.
Author
Rob Gallagher, Research VP, Media & Entertainment
Citation policy
Request external citation and usage of Omdia research and data via [email protected].
Omdia consulting
We hope that this analysis will help you make informed and imaginative business decisions. If you have further requirements, Omdia's consulting team may be able to help you. For more information about Omdia's consulting capabilities, please contact us directly at [email protected].
Copyright notice and disclaimer
The Omdia research, data and information referenced herein (the "Omdia Materials") are the copyrighted property of Informa Tech and its subsidiaries or affiliates (together "Informa Tech") or its third party data providers and represent data, research, opinions, or viewpoints published by Informa Tech, and are not representations of fact.
The Omdia Materials reflect information and opinions from the original publication date and not from the date of this document. The information and opinions expressed in the Omdia Materials are subject to change without notice and Informa Tech does not have any duty or responsibility to update the Omdia Materials or this publication as a result.
Omdia Materials are delivered on an "as-is" and "as-available" basis. No representation or warranty, express or implied, is made as to the fairness, accuracy, completeness, or correctness of the information, opinions, and conclusions contained in Omdia Materials.
To the maximum extent permitted by law, Informa Tech and its affiliates, officers, directors, employees, agents, and third party data providers disclaim any liability (including, without limitation, any liability arising from fault or negligence) as to the accuracy or completeness or use of the Omdia Materials. Informa Tech will not, under any circumstance whatsoever, be liable for any trading, investment, commercial, or other decisions based on or made in reliance of the Omdia Materials.
CONTACT US