[The GameDiscoverCo game discovery newsletter is written by 'how people find your game' expert & company founder Simon Carless, and is a regular look at how people discover and buy video games in the 2020s.]
With things calming down a bit from 'not-E3' - although Steam Next Fest is still in full swing, and there's more info on that later in this missive - it seems like a good time to send out another GameDiscoverCo newsletter.
This time, we're venturing boldly into the sector of the industry that grosses the most revenue (that'd be mobile games!) to ask what methods the top free to play games in the space are using to monetize. (There's relevance for PC/console game creators here.)
[Care to support us & get lots of extra PC and console analysis and data? Yes? Our GameDiscoverCo Plus paid sub has a data-rich weekly PC/console game trend analysis, interactive Steam 'Hype' charts, two eBooks, a member-only Discord & more. Please sign up!]
How do the most competitive mobile games monetize?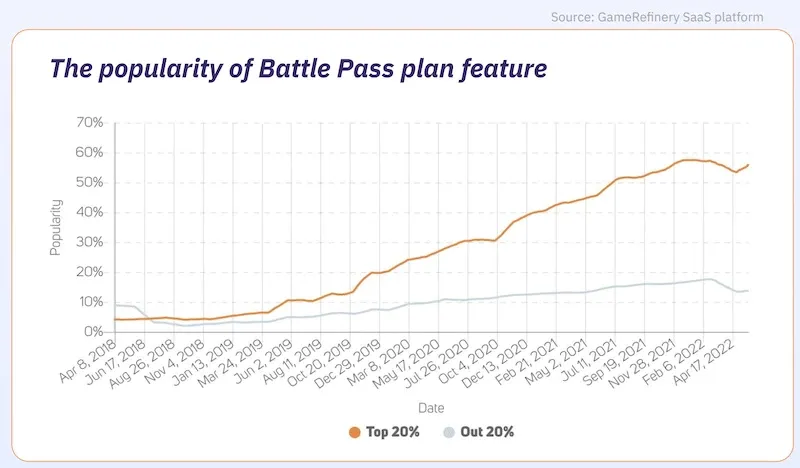 We've recently been talking about looking more at mobile games, as supply/demand in the PC and console space changes - and it becomes more important for games to potentially get additional money from their biggest players over time.
One of the issues has been that mobile game creators are often less transparent on what works, design and monetization-wise. (When I helped run GDC, there were almost no non-sponsored talks on monetization, with one or two notable exceptions.)
This is because it's commercially sensitive information which can materially affect your game's CPA - unlike the PC/console space, which is more 'alchemical'. But as we've seen with the recent furore over 'immoral design' in Diablo Immortal, it can also be super-divisive for the core fanbase - another reason to talk way less.
But there are third-parties in mobile gaming like GameRefinery keeping an eye on trends. They gave me an early copy of their Innovative Monetization Features Snapshot report, which is downloadable for free (reg. required!) via their website. Grab the whole thing for 35 pages of slides on this. But here's my top takeaways:
'Battle Pass' - which has a looser definition than I expected, is getting more and more popular in top mobile games. It's often a special one-off 'Pass' you buy that gets you extra perks like extra in-game currency, unlocks, etc. But sometimes (as in Call Of Duty Mobile) it's a monthly auto-renew payment.
This mechanic means that your most engaged players - the ones who are paying attention to new Seasons/game areas - are going to be shown upgrade options fairly often. There's even social mechanics to Battle Pass buying - your team-mates will get a bonus if you buy, or there's co-op progression for rewards.
Next up: yes, gacha is big. 75% of 'top 20% performing' mobile games in the U.S. use it, and more in Japan and China. GameRefinery notes, perhaps too honestly: "The loop-based mechanics and randomness of gacha rewards – where players pull the gacha in return for an in-game asset, whether that's a character, item or currency – keep players hooked." Co-op gacha with your in-game friends is also on the rise.
IAP offers are getting more sophisticated. GameRefinery notes a recent example from Garena Free Fire - its Change Your Fate limited-time IAP event. It's a bundle of in-game items, but "what makes it exciting is that the players have control over the contents of the bundle, as well as the price of the bundle." So you can refresh the bundle pool, and also 'roll' for the discount percentage of the bundle.
Some of the other notable angles on monetization I saw included: limited-supply IAP purchases (see below example from Dragon City), meta-progression in limited time events (so you could unlock a particular element only after other IAP was bought), and progressive IAP rewards in general (so lifetime spending may unlock exclusive items.)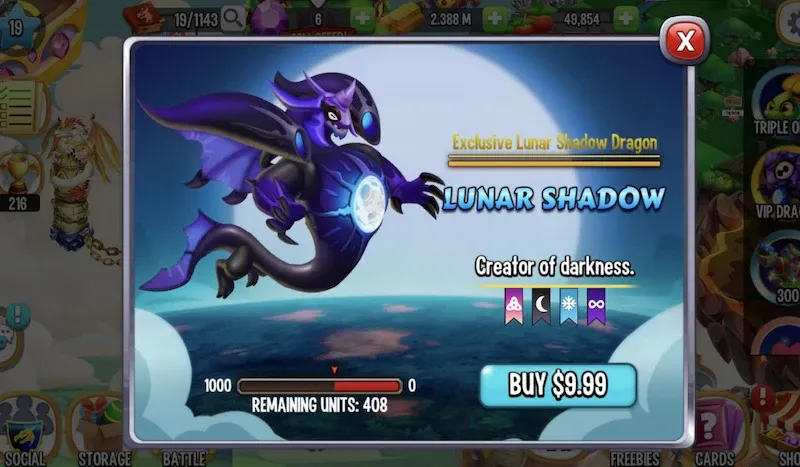 So obviously, if applying this to the PC and console space, we quickly get into the 'how dare these people rip me off?' space. Or, indeed the 'these are Skinner boxes that are essentially legalized gambling, even for minors?' space. I imagine some readers may be mad at me for even leading a newsletter with monetization tactics like this.
But also, quick gut check: do you really want your biggest players - if you have a replayable game - spending $15 to play for 1,000 hours, if the overall volume of purchases is such that you can't afford to make new games afterwards? And when they might happily and optionally pay more to support you?
I don't always agree with how aggressive the mobile space can be. But I think we have to learn, understand them, and work out what post-launch $ we can apply to the PC/console space that players will be fine with. And I'd start with the following three:
DLC for your game: no matter your game, you can put out DLC on Steam and console post-release - and it'll help long-term revenue. We wrote a piece on this in July 2020 - read for more insight. A good current example are House Flipper's $15 DLC, and it's been interesting to see some AAA games (Monster Hunter Rise, Elder Scrolls Online) shift to expensive, $40 (big!) DLC recently.
'Supporter pack' for your game: I saw that V Rising did this recently with its Founders Pack at launch. And I really like it - it includes cosmetic costumes and accessories, as well as the OST. It's also appropriately expensive: only $30, when the core game is only $20.
In-game (non-'pay to win'!) cosmetic skins: this one only works if you have a game where you have characters/vehicles that can be reskinned with new costumes, and some reason for doing so. You can sell those via DLC - as Euro Truck Simulator did with its Ukraine truck designs - or via an in-game shop and Steam Wallet/IAP.
So I guess this is just me trying to gently poke everyone on exploring the space in between 'you pay for my game once and that's it forever' and 'Skinner Box-ish pseudogambling hell'. (Differences between both sides exaggerated here.) Heck - there's probably some room in there for your game, somewhere?
Steam Next Fest - what did we learn so far?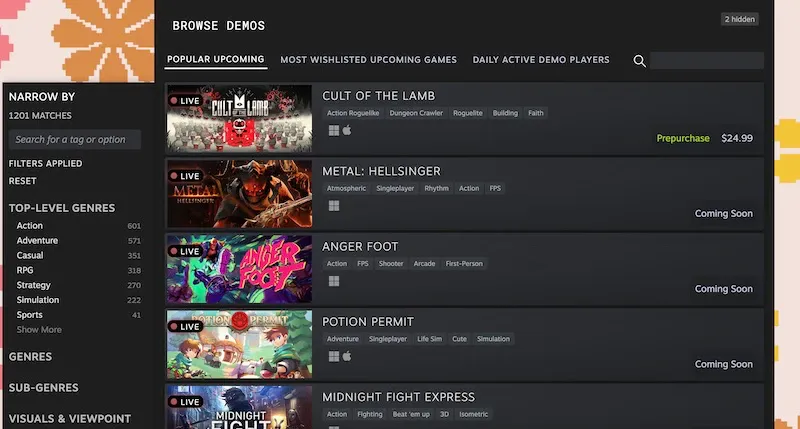 So the latest Steam Next Fest demo showcase has been running since Monday, and it's been an interesting, jampacked time. Here's some things that we noticed from the results so far:
The competition has ramped up - there's just over 1,200 demos listed as available (though you can currently play around 1,050 of them, maybe?) Nonetheless, that's up from 731 listed in October 2021, and 628 at the start ofthe February 2022 Next Fest - though this Next Fest Q&A maybe said it ended closer to 900 in Feb.? Either way, it's busy out there!
If you're seeing game demos get unlikely CCU numbers - such as Terra Nil, which briefly hit 95,000 CCUs, this is likely due to 'badge farming'. Valve says: "Play any demo from Next Fest to unlock a badge you can feature on your Steam Profile. Level up your badge as you try out more demos." And if you're one of the games that Steamgifts recommended you plug into ASF to auto-unlock these badges - hey presto. (But many players are also real!)
After multiple iterations, we dig the three tabs Steam has settled on to showcase the top Next Fest games. In particular, there's a lack of overlap between 'Popular Upcoming' (first tab) and 'Most Wishlisted' (second tab) - less than 50% of titles were the same when we checked. (If you want to know the criteria for each tab, mouseover the headers on the Steam sale page.)
Some of the breakout 'newer' titles in Popular Upcoming? We spotted Free Lives & Devolver's just announced first-person boot-'em'up (?!) Anger Foot, Yo Fujii/FlyHigh Works' Game Boy platformer/ wholesome narrative game mashup (?!!) Goodbye World, and Coin Crew/iam8bit & Skybound's escape room title Escape Academy. Strong, natural visual & concept hook seems important here.
Any surprises for us? Two, actually: people seem pretty interested in Agent 64: Spies Never Die, which is aimed soundly at fans of Perfect Dark and GoldenEye 64. And there's also decent interest in Rhythm Heaven-a-like Melatonin, another example of an under-represented niche genre based on a strong game.
Even just mentioning these titles, we're not focusing on some of the biggest obvious hits of Next Fest so far - Cult Of The Lamb, which is even pre-orderable, Metal Hellsinger, Midnight Fight Express and more. So go and poke around yourselves…