Halo Infinite's multiplayer beta is sumptuous. Like the smoothest lemon curd you'll ever eat or a slice of impossibly decadent banoffee pie, 343 Industries' long-awaited shooter is pure comfort food. Wistful euphoria that recalls a time when blockbuster titles could be chunky, properly gamey affairs that didn't need to be encased in weapons-grade grit or demand players become the last-one-standing to find a home.
Yet, as much as it's a callback to what feels like a bygone era, Halo Infinite has also moved with the times. Sure, you can play rampant games of capture the flag or oddball and convince yourself you're back in that shoebox of a college dorm you used to call paradise, but look deeper and you'll notice there's something off about this eye-rolling tab of nostalgia.
There's an emptiness behind every pistol-popping double kill, heart-pumping gravity hammer spree, and good-lord-did-you-see-that plasma grenade trickshot, and its name is Battle Pass.
Square peg, meet round hole
The Battle Pass in Halo Infinite isn't just broken, it's fundamentally misguided. One of those aforementioned attempts to 'get with the times,' the Battle Pass might feel like a natural addition to Halo Infinite given developer 343 Industries' decision to make the multiplayer side of things free-to-play. In its current form, however, it's a misshapen, dreary abomination that actively damages the core experience.
Before I explain precisely why Halo Infinite's Battle Pass is such an incredulously awful design misstep, I feel compelled to state that I'm not against free-to-play monetisation. Not when it's done right, at least. Apex Legends, a title I've played for hundreds of hours without spending a dime, has a Battle Pass system that feels fair, balanced, and engaging for both paying customers and parasites like myself. Cosmetics are plentiful thanks to Apex Packs that are dished out quicker than cookies at a blood drive, while XP is earned based on how you perform in each game alongside daily challenges that encourage diverse play without undermining the main objective: survive.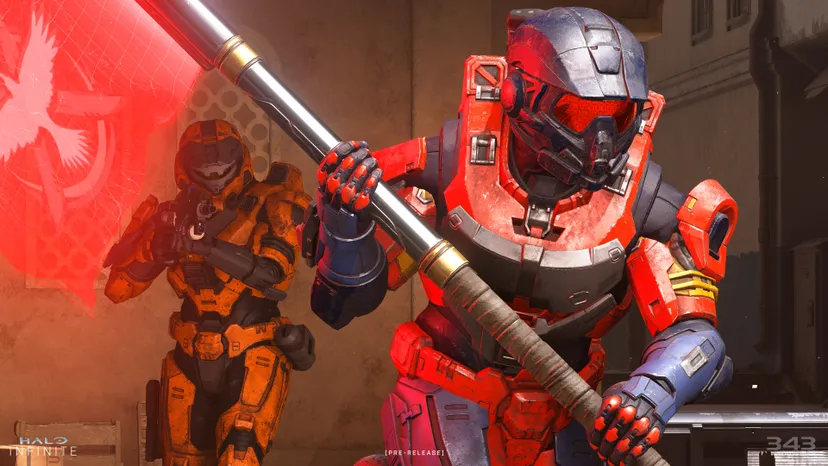 Then you've got Halo Infinite. A game that's essentially a giddy sci-fi diorama in digital form, where players are handed items like laser swords, heat-seeking plasma launchers, and ENTIRE FUCKING TANKS and told "go play." It's chaos, pure and simple. And yet, despite all of the cool, outrageous shit you can do in Halo -- including (but not limited to) using a grapple hook to hijack an alien jet mid-flight or punting an explosive container at some chump halfway across the map like a steroid-filled trebuchet -- its Battle Pass is perhaps the most painfully white bread thing in existence.
As it stands, there's no way to earn XP -- needed to reach the next Battle Pass level and unlock rewards -- without completing pre-defined challenges. All of that John Rambo shit you just pulled? Don't expect to be rewarded unless it was officially sanctioned as part of one of your daily or weekly challenges. Did you lose a game but still play a blinder? Nothing for you, SUCKER. As soon as you hit the title screen between matches, it's impossible to escape the feeling that everything you just did was meaningless. Sure, that's the existential crisis at the heart of most games (and life), but it doesn't get any easier to swallow.
Slay the catwalk
Some of you will say I shouldn't need meaningless cosmetic rewards to enjoy the game, and you're right. Being able to customise your Spartan feels like an essential part of Halo, though. This isn't a new franchise flogging tupperware skins as part of some vague metaverse gimmick. Halo has always allowed players to express themselves in-game, and while cosmetics have forever been locked away behind challenges, it never felt like they were unattainable.
Now, the only way to expand your wardrobe is by playing by 343's insanely specific, preposterously dull rules, many of which actually encourage XP-hunting players to shun main objectives in pursuit of points. Take my current Battle Pass challenges, for instance (pictured below). While there are some that just ask me to 'play games' to earn a modicum of XP, the real heavy-hitters demand kills using specific weapons and vehicles. It's a setup that pushes players to prioritize their own needs in a game where cooperation is paramount.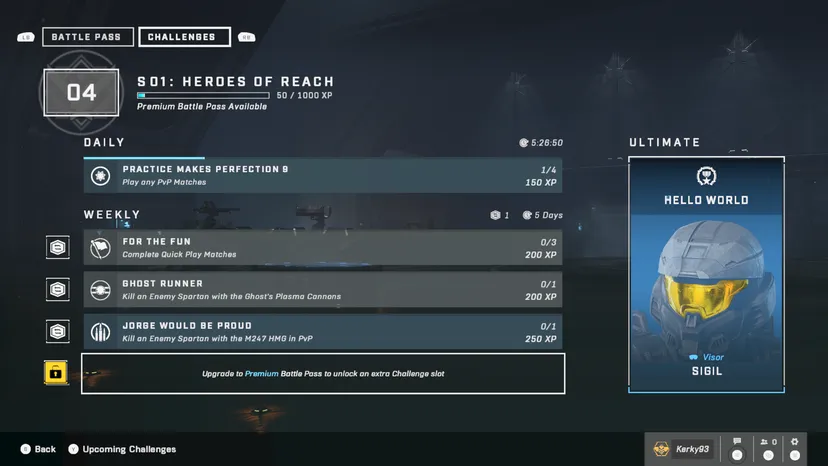 I've been in games of capture the flag where it's clear one or two teammates are simply trying to nab that all-important Battle Pass scalp, consigning the rest of us to an absolute hammering. It's frustrating, but what else can those looking to conquer the all-mighty Battle Pass do? They aren't guaranteed to earn XP from moment-to-moment gameplay -- by capturing or defending objectives, bagging kills, or pulling off impossible manoeuvres -- without 343's expressed permission.
Can players hand over cash for a leg up? Sure. You can nab timed XP boosts, challenge swaps, or even jump 25 battle pass levels if you're a big spender, but trust me when I say progress would still be slow. I've played Infinite for hours upon hours at this point, and I'm currently *checks notes* at Level 4 of the Battle Pass. Those who don't want to pay face an even tougher slog and fewer rewards, as only a tiny handful cosmetics are available to 'non-paying' customers -- which includes those who perhaps bought Halo Infinite outright or subscribe to Xbox Game Pass.
For its part, 343 has already pledged to tweak Battle Pass progression by adding 'Play 1 Game' challenges and removing some weekly challenges in a bid to speed things up. The duration of double XP boosts is also being expanded. As evidenced by the reaction on social media, this still misses the point.
Players want rewards for playing their way. The pre-defined, rigid parameters 343 has imposed are perhaps the most anti-Halo concept they could've dreamed up. Here's a game about unadulterated freedom within a combustive otherworldly sandbox, and it's currently being hamstrung by a progression system that's less exciting than a bowl of cornflakes.