Ahead of its 'Xbox & Bethesda Games Showcase' on 12 June, Microsoft has provided a slew of announcements as part of its effort to "bring the joy and community of gaming to the 3 billion gamers on the planet". Having recently celebrated Xbox's 20th anniversary, the recurring theme of the updates was "building the platform the next 20 years of gaming" – which, unsurprisingly emphasized Game Pass and cloud gaming. The leading news was that it is bringing the Xbox app to Samsung's 2022 range of smart TVs from June 30, 2022.
Xbox ecosystem takes a leap beyond consoles with a smart TV app launch
Last month I had an opportunity to check out Samsung's upcoming Gaming Hub discovery platform, which was first revealed at CES in January. Nvidia GeForce Now, Google Stadia, and Utomik were showcased as initial service partners, and we predicted that it was only a matter of time before Xbox would be added.
Xbox Game Pass Ultimate subscribers with a compatible Samsung TV will be able to play hundreds of cloud-enabled games directly on their TV using a connected Bluetooth controller (see Figure 1). Significantly, Fortnite will also be playable for free, without a subscription.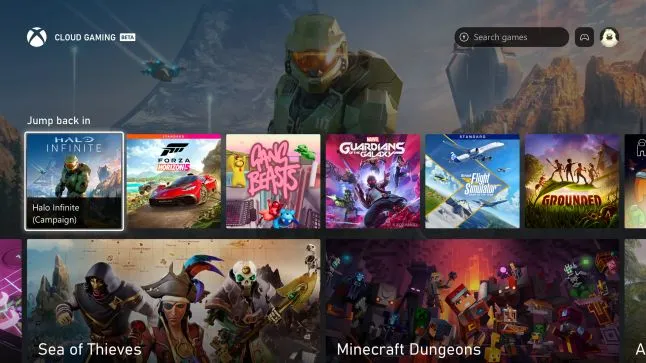 Xbox smart TV app (credit: Microsoft)
Although the Xbox app will initially be limited to the latest Samsung smart TVs, Microsoft is undoubtedly working with other TV manufacturers, as it looks to expand the audience for premium gaming beyond consoles and PCs. Furthermore, in 2021, Microsoft also stated its intention to release dedicated Xbox streaming devices, which would deliver Xbox games to any TV (see: Microsoft's future vision sees premium gaming on every screen).
Xbox focuses on the bigger picture as it lags behind PlayStation in the console race
Unlike Sony, which recently announced that PlayStation 5 had hit the 20-million-unit sales milestone in June 2022, Microsoft continues to play coy when it comes to Xbox console sales figures. Nonetheless, according to Omdia's latest console report, Xbox was able to gain some ground on PlayStation in 2021. This was thanks to Microsoft getting a better handle on supply and its split SKU strategy, which saw it release a cheaper, budget-friendly Series S at the same time as the flagship Series X (see client report: Console Report – 1H22).
By the end of 2022, Omdia predicts cumulative sales of 29.3 million PlayStation 5s and 21.4 million Xbox Series X/S consoles. There are no signs that Microsoft's commitment to consoles is waning, but given its increasing emphasis on cloud gaming (and Xbox Game Pass subscriptions more broadly), it's crystal clear that Microsoft is looking at a much bigger addressable device and audience base for Xbox, which lies beyond dedicated game consoles and PC hardware (see below).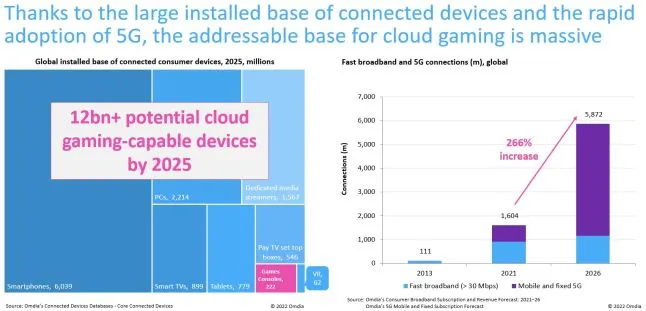 Source: Omdia's Cloud Gaming and Subscription Revenue Forecast Report: 2021-26
With this in mind, Microsoft announced that it was expanding Xbox Cloud Gaming to Argentina and New Zealand. This adds to the 26 existing countries, which includes Australia, Brazil, Japan, Mexico, and South Korea. Additionally, it revealed that later this year it will allow Game Pass Ultimate members to stream select owned games outside of Game Pass library – further increasing the appeal of the game streaming feature.
Microsoft's other announcements
New gaming features experiences on the Microsoft Edge browser. A personalized gaming home page including the Xbox Cloud Gaming library, built-in Clarity Boost feature (previously only available on Edge Canary build), and a Games menu giving access to free browser games such as Solitaire.
Launching Project Moorcroft next year. Encourages developers to release game demos for Game Pass members. It will be an optional feature for developers, who will be financially compensated by Xbox for participating.
Enhancements to the gaming experience on Windows 11. Optimizations for windowed games, a new HDR calibration app, a Game Pass Widget, and an updated controller bar allowing users to access Xbox Cloud Gaming.
Additional color and design options in the Xbox Design Lab. The controller customization service was also launched in 11 new countries.