G4U.dev website calculates that games industry gathered for Ukrainian aid at least $191.7 million as of April 07, 2022.
---
The bloody war in Ukraine touched the hearts of people all over the world. The defiant fight of Ukrainian people against Russian invasion galvanized world-wide support for Ukraine, including contributions from the games industry. We, Ukrainians, are forever grateful to every individual, organization and government, who sends humanitarian and military aid. Though game companies have their own unique and creative ways to assist the Ukrainian cause, which were not talked much about yet.

There were already a lot of immediate efforts, which game companies undertook, including donations and charity bundles on Itch.io & HumbleBundle, employment options for the game industry refugees, and termination of the ties with Russian companies and playerbase. And Fortnite gathered a whopping $144 million for humanitarian aid.

But I would like to talk about creative and long term ways of support for Ukraine, which are much more in line with a day to day game development routine: Ukrainian localization and culturalization of the games, LiveOps for Ukrainian players, representation of Ukrainian characters in games, stories and characters inspired by Ukrainian struggle for freedom and independence.

The game market of Ukraine was worth $311 million in 2021 according to Newzoo Global Games Market Report, January 2022, as shared by Newzoo representative for this article. It's #45 national market worldwide and #18 in Europe by revenue. There are 18.1 million players in Ukraine. Well it's not the biggest market globally but worth paying attention to especially for the companies who would want to mitigate the withdrawal from Russian market, which is #15 worldwide and worth $1.96bn in Newzoo report, or maybe even $3.4bn according to alternative estimation by IDG Consulting.

To know the size of the pie is important, but catering for the Ukrainian games market in this historical moment is not about calculating profits and losses, at least not in the first place. That's what any gaming company can do to support Ukrainian people in their fight for freedom right now and during the tiresome rebuild of the country after the war. After all, game developers are the best not in organizing humanitarian aid or refugee shelters, but in creating and distributing games. So here are some ideas on how you can support Ukrainian players and Ukrainian culture.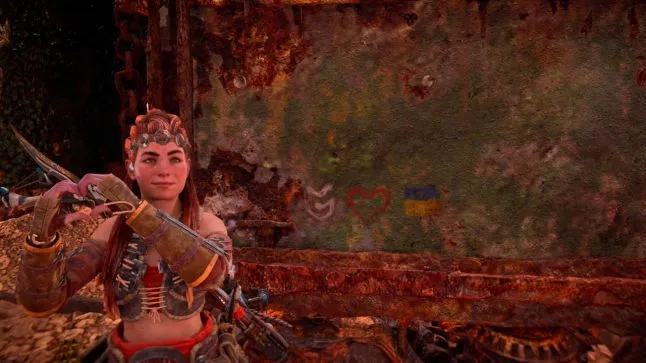 Ukrainian Easter Egg in Horizon Forbidden West was added in patch 1.09 on March 30. Screenshot by Gamedev.dou.ua.
Localization
Uplift Ukrainian language in your current or next project from tier 3 to tier 1 and include alongside major localizations. There are 35 million people worldwide who speak Ukrainian as a native language, 32 million of them are living in Ukraine (Wikipedia). The majority of people in Ukraine also speak Russian fluently, and for years that was an excuse to avoid Ukrainian localization, if Russian is already added to the product. Break the vicious cycle of the cultural discrimination.

Your current localization partner most probably already has contacts with Ukrainian translators and proofreaders. Maybe you are collaborating with one of the numerous work for hire studios in Ukraine, who can also recommend you a localization partner or freelancers. When I asked about Ukrainian localization companies in the major Facebook group with 20 thousand Ukrainian game developers, I was recommended 2 local shops, whose employees are both philologists and game enthusiasts: SBT Localization and UnlocTeam. The founder of UnlocTeam Andrii Raboshchuk estimated in the interview for Ukrainian gamedev website that a game with 20 thousand words should sell 300 additional copies to start making profit on Ukrainian localization. So adding Ukrainian to your project could be not just a tribute to Ukrainian people, but a sane business decision.
LiveOps & Services
Make a gesture of support for your existing players in Ukraine. For example, adding a festive offer on Ukrainian Independence Day (hint: August 24) can gain you not only a loyal playerbase, but additional sales in Ukraine. Or add Ukrainian-themed content, available for a global audience, and channel profits into donations for humanitarian aid. Developers of Ukrainian origin are working all over the world and finding a person, who can consult on activities relevant for Ukrainian market, shouldn't be an insurmountable task.

One of the biggest issues for Ukrainian gamers is the attachment to the Russian market in the minds of distributors and platform holders. For example, Ukrainian players can't play in MMORPG Lost Ark from Smilegate, because distribution rights for Ukraine belong to Mail.ru, which has been under sanctions in the country since 2017. PlayStation Store offered Ukrainian players discounts in February to commemorate "The Day of Motherland Defenders" celebrated on February 23 in Russia, which is considered "the day of the occupants" in Ukraine since the start of Russo-Ukrainian war in 2014. Not coincidentally the bombs and missiles rained over Ukrainian cities at 5 am on February 24. Seemingly a simple action like switching prices from Russian rubles to Ukrainian hryvnias for customers in Ukraine can take years for shops like Ubisoft Connect, EA Origin, and Battle.net. Hopefully the exodus of major gaming companies from Russia will accelerate the realization that Ukraine is a separate market with different currency, language, holidays, tastes, and etc.
Storytelling
The most ambitious and creative way to support a nation struggling for survival is to incorporate Ukraine-related themes into the narrative of your game. Add some positive, diverse, complex Ukrainian characters to the story (you know, like real humans, not just ethnographic illustrations). Throw references to Ukrainian culture into the mix. We are kind of tired that Ukrainians are frequently depicted in movies as criminals, big and small. Are we perceived as a subsidiary of the mythical "Russian mafia" abroad?..

Incorporate Ukrainian values into your game. Any defiant freedom fighting character could be a great tribute to Ukrainian people and to our struggle. In the essence the most important message from Ukraine to the world is FREEDOM! Freedom is more important than wealth, money and comfort. We fight for freedom, we die for freedom, and we kill for our freedom. One of the motto of Ukrainians is "Freedom or Death". Life without freedom is not worth living. Ukraine will not bend, but to win the war for freedom against Russia the country and its people need assistance from the international community.

The creative support of Ukrainian culture by the global games industry will be a powerful sign of hope for the nation in fight and distress, and can inspire those who are standing and fighting for freedom worldwide.