Entersplainers: Advertisement's new normal?
"We need to talk about your balls" and "let's talk about your poop" are the declarations of a unique breed of product advertisements: comical explainer videos we're calling entersplainers. This ad style is growing in popularity among ecommerce and DTC marketers as it gains traction among Gen Z and Millennial consumers.
An entersplainer is just that– an ad that both entertains and explains a topic with the ultimate goal to sell a product. With their educational language and dry, versed talking points, these companies weave their story while successfully driving sales. By harnessing direct address with explanatory language, marketers create an informal and visually interesting presentation that melds both the personal and informative.
Open With Humor
Humor has long been a part of advertisement culture, and entersplainers are first and foremost funny. Depending on brand goals and willingness to experiment, humor can be industry agnostic and effective for everything from health and hygiene to mobile phone networks. As creative teams develop ad concepts, testing a trend like comical explainer videos can unlock new audiences.
If a product is particularly complex or nuanced, producing an informative ad while keeping audience attention is a challenge. Entersplainers are so effective precisely because they keep an audience engaged for the duration. They provide context and introduce topics in a way that doesn't feel like an ad, but rather a comedic skit. This presentational style can extend an ad's reach– especially if it is a skippable ad– and may be shared among peer groups while also helping with ad recollection. A 2022 study in Psychology & Marketing showed humor in advertising positively affects an audience's attitude toward a product and toward the brand, as well as "increased attention and processing."
Hook Them With Absurdity
Entersplainers often start with an unconventional appeal to the viewer: an absurd yet earnest call to action. Thryve, now known as Ombre, provides at-home health tests and nutritional supplements. However their ad creative doesn't start with their product. Instead, they open with the phrase, "Let's talk about your poop." The phrase invites a reaction from the user, already starting a discourse. The surprise of the introduction begs the question: where could this possibly go from here?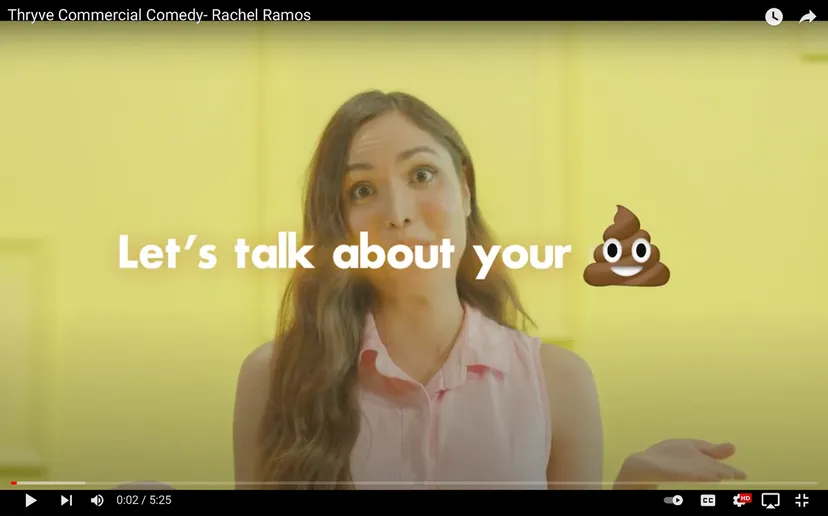 Still from Thryve commercial on Youtube
Thryve's tone is bright, energetic, and curious through the presentation, marrying the topic of gut health with product explanations. The audience is captured by the absurd beginning and then held by the emotional energy. Who does want to talk about poop? Viewers will definitely pay attention now.
As younger consumers increasingly respond to absurdity in advertising, brands are adapting their messaging accordingly. Manscaped offers hygiene products and uses an introduction similar to Ombre: "We need to talk about your balls." Both Ombre and Manscaped grab their viewers with topics, not products. This approach is similar to how influencer-style UGC focuses on people over products.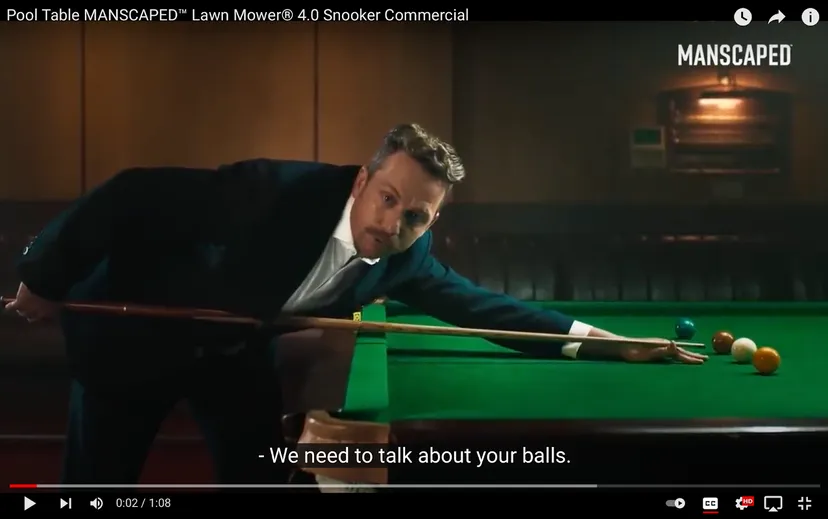 Still from Manscaped commercial on Youtube
Narrators explain the importance of stomach and hygiene care, using both details and innuendos. This approach opens up highly personal and potentially embarrassing topics for discussion. By illuminating these topics, marketers build a sense of community with the target audience. The combination of absurd humor with earnest discussion is a novel break from the ordinary which helps keep viewer attention. Manscaped destigmatizes male hygiene. Ombre normalizes gut health. Dr. Squatch adds a humorous history of soap to help consumers understand why their product is different. Audiences willingly watch for an absurd take on these topics.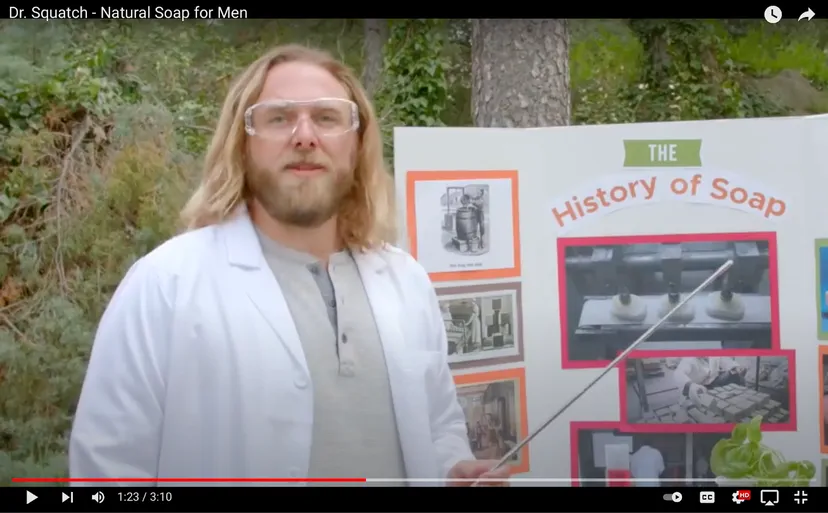 Still from Dr. Squatch Commercial on Youtube
Here are some tactics to embrace the entersplainer ad style.
Find a broad topic that your product, service, or app can be a part of and position yourself within it.
Ensure your narrator is directly addressing the camera with confidence and a well-delivered script.
Mix statistics, science, and history with self-aware humor; bonus points for an unlikely narrator speaking on the topic.
To signify a change in topic, walk to a different location. Movement helps with flow and pacing of the narrative and a pause places emphasis on specific details.
Embed an explanation within a contrasting scenario, such as Dr. Squatch's school report in the middle of the woods.
Create unexpected combinations of locations and props to amplify the absurdity, like the in-house flamingos below.
Still from live action commercial by Consumer Acquisition for Design Home from Glu/EA.