When Imperial Grace first reached out to me to do their Kickstarter's Facebook Ads, they had been reading my outdated
"how to" article from 2020
because it still appears within the top 3 search results on Google.
Currently, there is no top article that describes how to do Facebook Ads for Kickstarter now that Kickstarter allows the Meta Pixel, so here marks the newest walkthrough tutorial that actually works in 2023...
With only a short time to prepare a prelaunch campaign for Imperial Grace, I quickly set up a Facebook Ad funnel that acquired email leads on average at less than $1.70 each: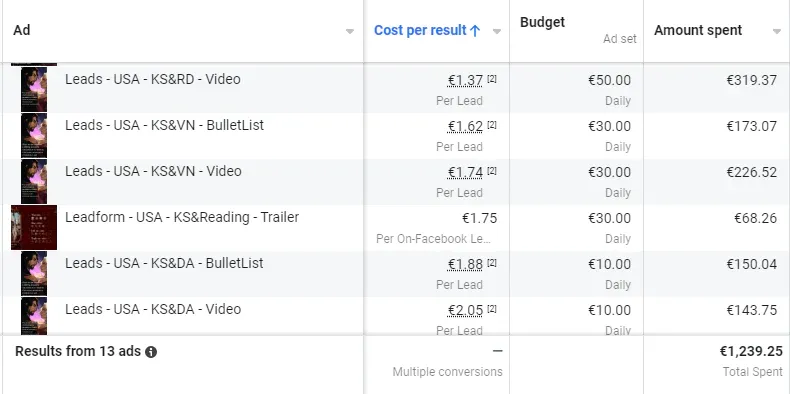 The end results are as follows: 30% of email leads joined our VIP community, and over 30%+ of those VIP members became actual sales and backers during the live campaign.
As of writing, on our live Kickstarter campaign we have spent a total budget of less than $3000 for an overall Return On Investment of 2000%.

I accomplished this using my own web and campaign page templates, pricing strategies, and Facebook ad templates. You can grab these templates, here.

Similarly, if you are struggling getting set up with anything particular, please reach out to me by email and scheduling a free strategy call, here. I am happy to help you move your project forward.
Moving forward, let's do a brief rundown of the process:


Kickstarter Prelaunch Ads


Optimizing the Ads & Landing Page


Transferring Winning Content to the Kickstarter Campaign Page


Live Kickstarter Campaign Ads


Retargeting Ads
The most challenging, yet lucrative part of a successful Kickstarter launch is building out a prelaunch mailing list. I was able to shortcut this task by using my Kickstarter templates, which instantly acquired highly profitable results without the need for A/B testing.

When the prelaunch funnel elements are formatted correctly, you can just copy and paste the winning content into the live Kickstarter campaign to repeat the same success.

Let's go over each part of the system in-depth:


Kickstarter Prelaunch Ads
For the sake of brevity, I will not go through setting up the Facebook Pixel, Domains, and Domain Events in this post. Instead, you can read the step-by-step tutorial, here. [link]
Walkthrough Video
You can watch a walkthrough video of setting up an ad campaign, here.
Audience Setup
Before creating ad campaigns, set up a "Custom Audience" that is used to exclude previous leads or website visitors from seeing your ads again. This will prevent money from being spent on people who have already signed up.
To accomplish this, you must first create a "Custom Audience" which contains your previous visitors and leads.
Go to the Main Menu, then press "Audiences" to go to the Audience Dashboard. Then, press "Create Audience" and select "Custom Audience":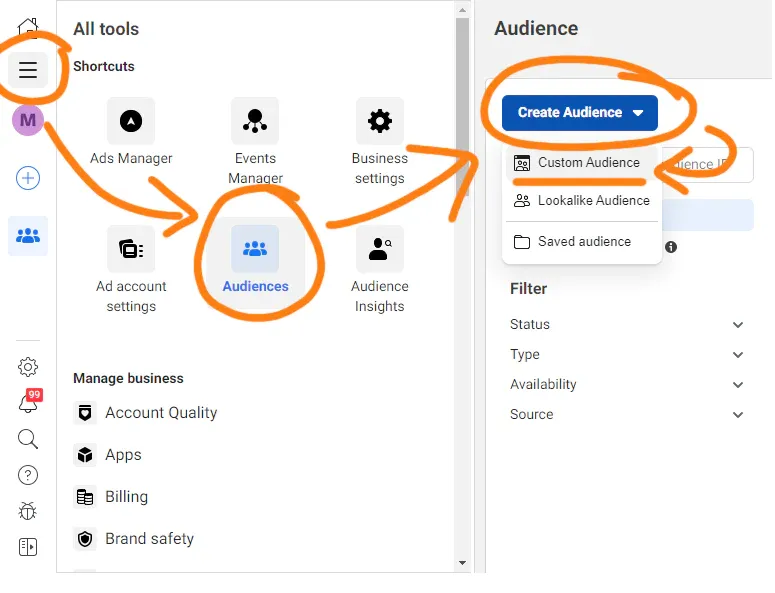 This will open up a pop-up menu. Select "Your Website" as the source, and then press "Next".
Set up your custom audience, with the pixel selected as the source, and set "All Website Visitors" as the event, and then set the Retention to 90 days.
Press the "Create Audience" button when you are done: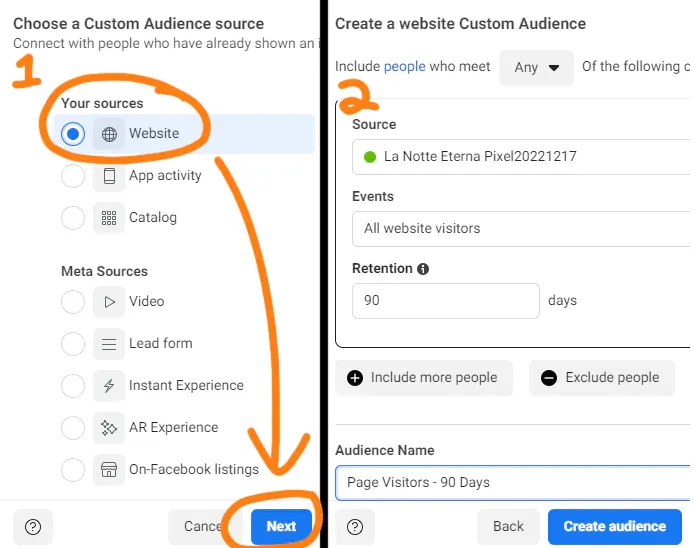 Campaign Setup
Create a new campaign by navigating to Ad Manager, and pressing the "Campaigns" button on the left sidebar (if you aren't already there).

Finally, press the green "Create" button to create a new campaign: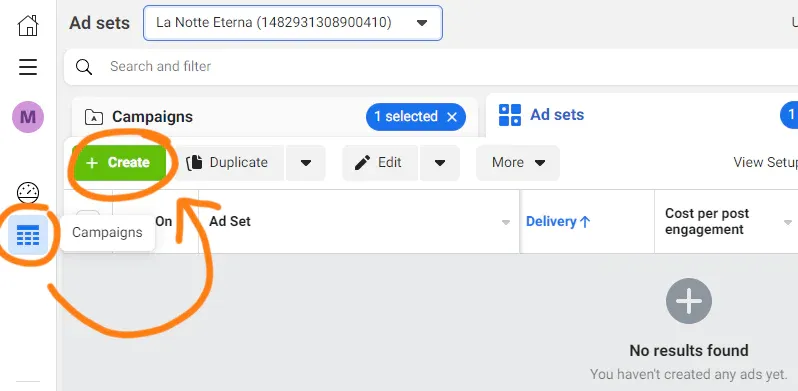 In the Create Campaign window, select either "Leads" or "Sales" as your campaign objective.
If you are using a VIP system to collect paid reservations or subscriptions via Stripe or Patreon, select "Sales" instead: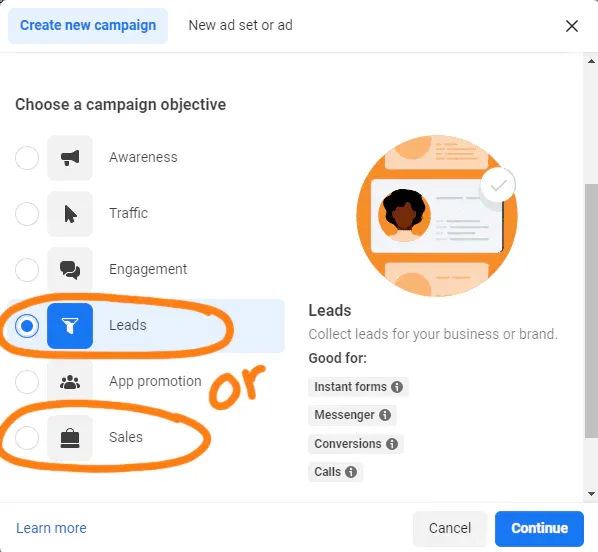 After pressing "Continue", it will create a default campaign with a single ad-set and ad, and automatically open the Ad Editor dashboard.

Within the Ad Editor, you will see a navigation tree on the left sidebar where you can select ads, ad-sets, and campaigns – and, on the right side window, are the selected element's editable settings.

NOTE: In the navigation tree, you can select multiple at the same time by holding the "Shift" or "CTRL" keyboard keys while making a selection.
Ad-set Setup
Navigate to the new Ad Set in the new campaign you have created, and set the Ad Set's "Conversion Event" to either a "Lead" or "Purchase" event.

If you are using a VIP system with Stripe or Patreon, select "Purchase". Otherwise, select "Lead":


Scrolling down within the ad-set's options, you can define the daily budget – a good amount to start the testing sequence is with $20/day per ad-set.
After setting the budget, you will need to scroll down and set the audience.
First, press the "Exclude" button and insert the Custom Audience created earlier during the "Audience Setup" section, which excludes page visitors: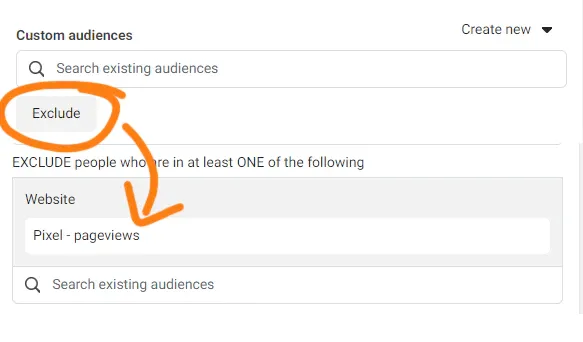 Specify from ages 25 and up to age 54, depending upon your product type.
It is
not recommended
to specify a gender. Facebook will give you cheaper CPMs and therefore cheaper results if you do not specify a gender.
Lastly, specify the detailed interest targeting.
EXAMPLE:"Visual Novel, Otome Game"
After inserting the interests, click the
"Define Further"
option and insert "Kickstarter, Indiegogo, Crowdfunding" into the new second interests field: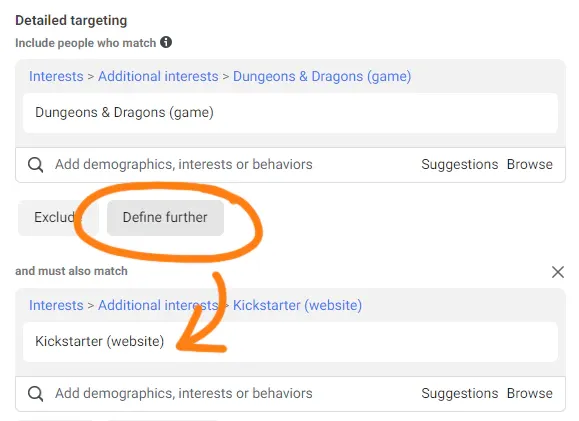 NOTE: You can define even further to build psychographic profiles instead of just targeting by product type, for example, "Fantasy Romance Novels AND Manga or Board Games AND Kickstarter"

Ad Setup
Note: The following images use 'La Notte Eterna', another recent client of mine who achieved a 1200% Return On Investment by using my templates and strategies.

Using the navigation tree on the left sidebar of the editor, navigate to the new ad below the ad-set you were previously editing.

You will first want to select the Facebook Page you are running ads from: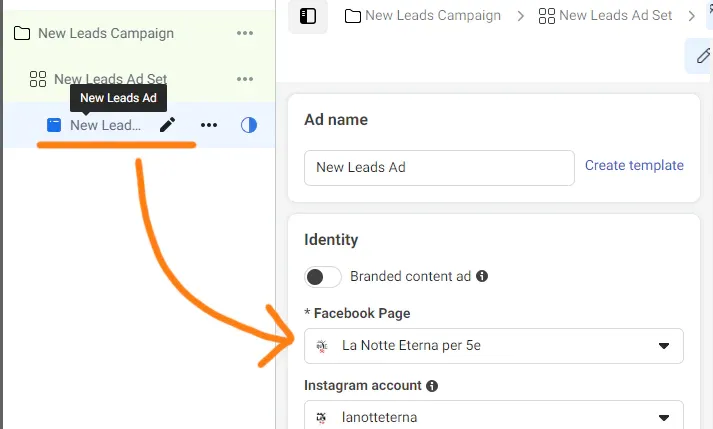 The next step is to scroll down to the 'Ad Creative' section, and press the "Add Media" button. Add an image to the ad: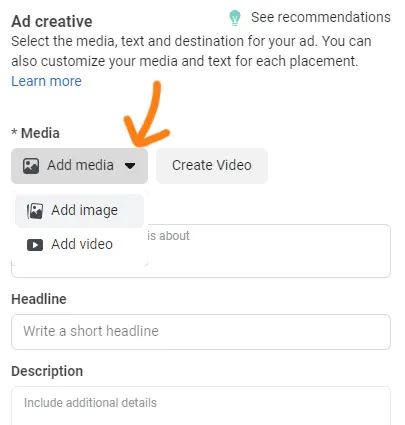 After adding an image, it will present you with the option to replace images on various placements for this specific ad.
It is recommended to press the "Replace" button and replace images for any placements that could benefit from more custom-sized images, such as a tall image for stories, or a wide image for instant articles: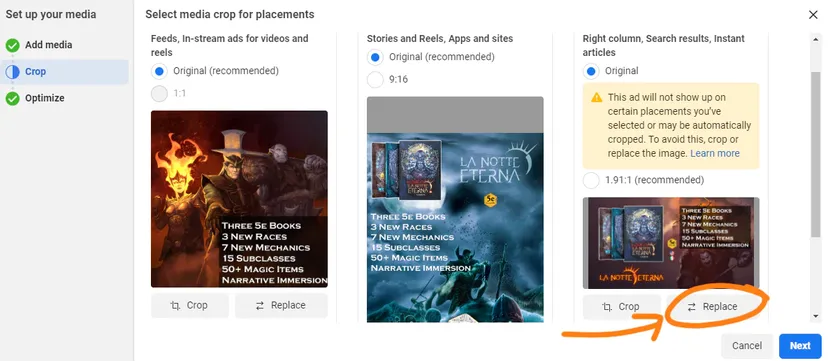 Pro-Tip: You can re-use your winning posts from grassroots efforts, such as TikTok, as advertisements. You've already verified that they work as a scroll-stopper, now make the best of them!

Once done with images, scroll down, and you will next customize the 'Primary Text' which appears above the ad image, and the 'Headline' which appears below the image.

Regarding the 'Call-to-action' button text, the best text for lead generation ads is "Learn More".

The final step is to scroll down to the 'Destination' section, and insert the link to your landing page.

After finishing the setup of the first ad, go back to the navigation tree on the left side panel. Press the "..." button next to the ad's name, and then duplicate the ad up to 4 times for a total of up to 5 ads.

Exchange the images on the duplicated ads with other creative image or video variations that you have planned, and name the ads appropriately:


Your first ad-set and its ads are all set up.

You may now want to duplicate the ad-set, and exchange the audiences to test multiple audiences at the same time.

In the next section, let's give an example on how to test multiple audiences.
Additional Audiences
After finishing your first ad-set, you can duplicate this ad-set 3 times for a total of 4 ad sets, using the same "Duplicate" button covered just previously.
On these new ad-sets, re-assign the audiences on the ad-set using another set of interests, defined further with "Kickstarter" interest.
That's all..
You are ready to press "Publish" in the top-right, and run your ad campaign.
Run your ads for 3 to 4 days for each test.
* Optional: In-app Leadform Ads
Firstly, to test how well your video trailer performs, use In-app Leadform Ads. This will reduce the available information to simply just the trailer for when viewers make a decision whether to sign up. Pay attention to the viewer-retention time metrics, and make decisions about where drop-off occurs or if the first 5 seconds aren't strong enough to hook viewers.
Secondly, these types of ads can also be useful to drive projects with powerful email funnels – use your VIP community to help identify your most popular content, and push that content via email as a monthly highlight. Include a CTA button in this email to join the community, creating a feedback loop between community growth and content refinement.
Thirdly, these ads can be useful early on in the product-development stage, when you don't have enough visual content yet for a proper landing page.
While email leads generated with In-App Leadform email leads are cheaper, they tend to be of lower quality and convert at lower rates into actual sales.
You can verify the quality of leads by uploading the email list to Backerkit, where their Backerkit Launch tool can tell you what percent of those emails have backed a Kickstarter in the past.
To create in-app lead form ads, create a new ad-set (or Lead-Objective Campaign, if needed), and select the "Instant Forms" conversion location: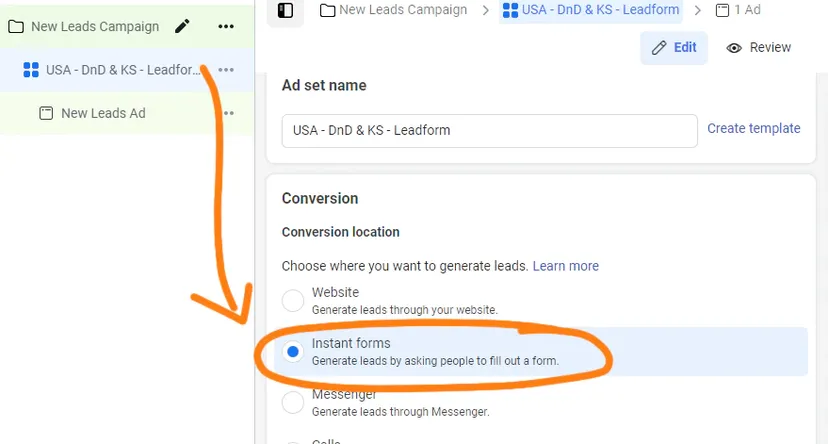 Then, when editing the ad, it will ask you to create an Instant Form.
Here are two common templates for an In-app Leadform:
#1 The Greeting
Follow Our Kickstarter!
Get notified on launch
Find out about Prelaunch Specials (or, "Receive exclusive Prelaunch Gifts")
Subscribe to "[Product Name]"
Get info on deals and sales!
... or...


Sign up for [company name]'s newsletter...
... and get notified when [product name] launches. See you soon!
#2 Prefill Questions
With your permission, we may send you emails about our launches and other updates.
... or...
We will use your email address to send you any offers and updates related to [product name]
#3 Completion
You are ready for adventure!

You can follow our Kickstarter or exit the form now.
[Follow On Kickstarter]

... or...

Welcome! See you at launch...

Check out the preview of the Kickstarter campaign by clicking below
[View Kickstarter]
Optimizing the Landing Page & Ads
Pro-Tip: you can increase the email signup rate and VIP rate by using lead magnets and opt-in offers, such as a free demo, QuickStart guide, art book, digital downloads, an exclusive reward for those who back during the campaign.

When giving special rewards to email leads that become backers, use Backerkit after the campaign is over -- inside Backerkit, you can create segments to upload your email list and filter amongst all your backers, and automatically give them the special rewards.

Recommended Goals
3%+ Click-through-rate (Link clicks)
20%+ Click-to-Lead rate (for email signups)
5%+ Lead-to-VIP rate for paid VIP status, and 20%+ for free VIP community memberships

You can view different metrics on your ads by selecting the "Columns" dropdown menu and selecting various column layouts.

The two most useful column layouts for analyzing lead-generation ads are the "Engagement" and the "Performance and Clicks" layouts:


Testing Sequence
Test each of your ads for at least 3 to 4 days before making decisions.
Do not turn off any ads that are meeting your metric goals.
Turn off any ads that are not close to meeting goals after 2 to 4 days.
Delete any negative comments on your lead ads immediately.
When creating a new ad variation, duplicate an ad within the same ad-set and stay working within that same ad-set.
For example, when you are done testing images, duplicate the best ads into the same ad-set, and exchange the ad headlines with new variations.
You can accomplish this easily by pressing the checkboxes of the ads you want to duplicate, then press the down-arrow next to "Duplicate", and select the "Quickly Duplicate" option:

Once you are done testing the ads and found winners that meet your metric goals, turn off ad-sets whose audiences that consistently performed poorly.

NOTE: Later, when you are finished testing and ready to scale your daily-budget, you can try returning to the old audiences.


Continue forward by testing your landing page using your winning ads.

Split-test down your Landing Page, changing one element at a time every 4 days and gauging the results – following in the order of the visitor's journey:


Hero Banner Headline and/or subtext
Hero Banner Image
Sections proceeding after the Hero Banner and Signup Form

Once you've tested each major element of the Landing Page, you can start improving the Cost-per-VIP by testing the Special Offer page.

On the Special Offer page, you can test the:


Banner image or text

For paid VIP reservations, you can test:


Price, discount amount, and MSRP
Replacing the discount percentage with a dollar-off amount

Finally, you can attempt to achieve break-even on ad-spend by testing VIP Reservation pricing. For instance, instead of charging $1 per reservation, you can charge $5, $10, $20, or $100 to pre-order your product.

This way, if your cost-per-VIP is $20, but consumers pay $20 to place a reservation or deposit, then you can spend as much money as you'd like and you will continually break-even on your pre-launch campaign costs.


Once you are achieving satisfactory results and hitting your metric goals, you can raise the budget by up to 20% every 2 days.

If you raise it more than 20% in 48 hours, your ads may re-initiate the "Learning Phase" or reset the machine learning algorithm behind the ads.
Transferring Winning Content to the Kickstarter Campaign Page
The key theory is to hypothesize and test your content (on warm or free audiences) and carry over the winning content to cold leads, paid traffic, and your campaign page.

You will always win when you know what works best for your unique product and audience, replicating that success down the line in a way that attracts more fans and sales!
Facebook Ads to Campaign Details
It is recommended to reuse your best ad image, headline, and primary text as the Project Image, Title, and Subtitle.
This will have a major impact on organic traffic and organic conversions, as you've already proven them to be most effective!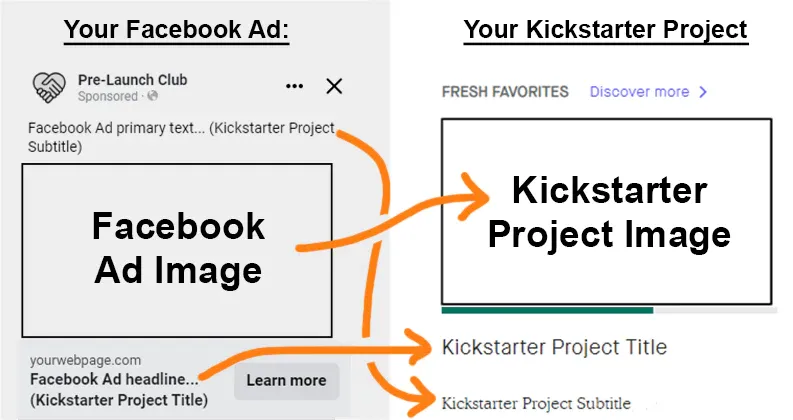 If you need to make minor adjustments – such as a removal of a bullet list or red arrow in the image, or the inclusion of a product shot in front of concept art – make sure to test the new creative variations a week prior to launching your crowdfunding campaign to verify the best variation.
Landing Page to Campaign Page
Once again, it is recommended to re-use the layout, design, and formatting of your landing page as the Kickstarter Page content.

Attach new additional information to the end of the Kickstarter page, such as the description and images of rewards, a reward tier chart, team bios, etc.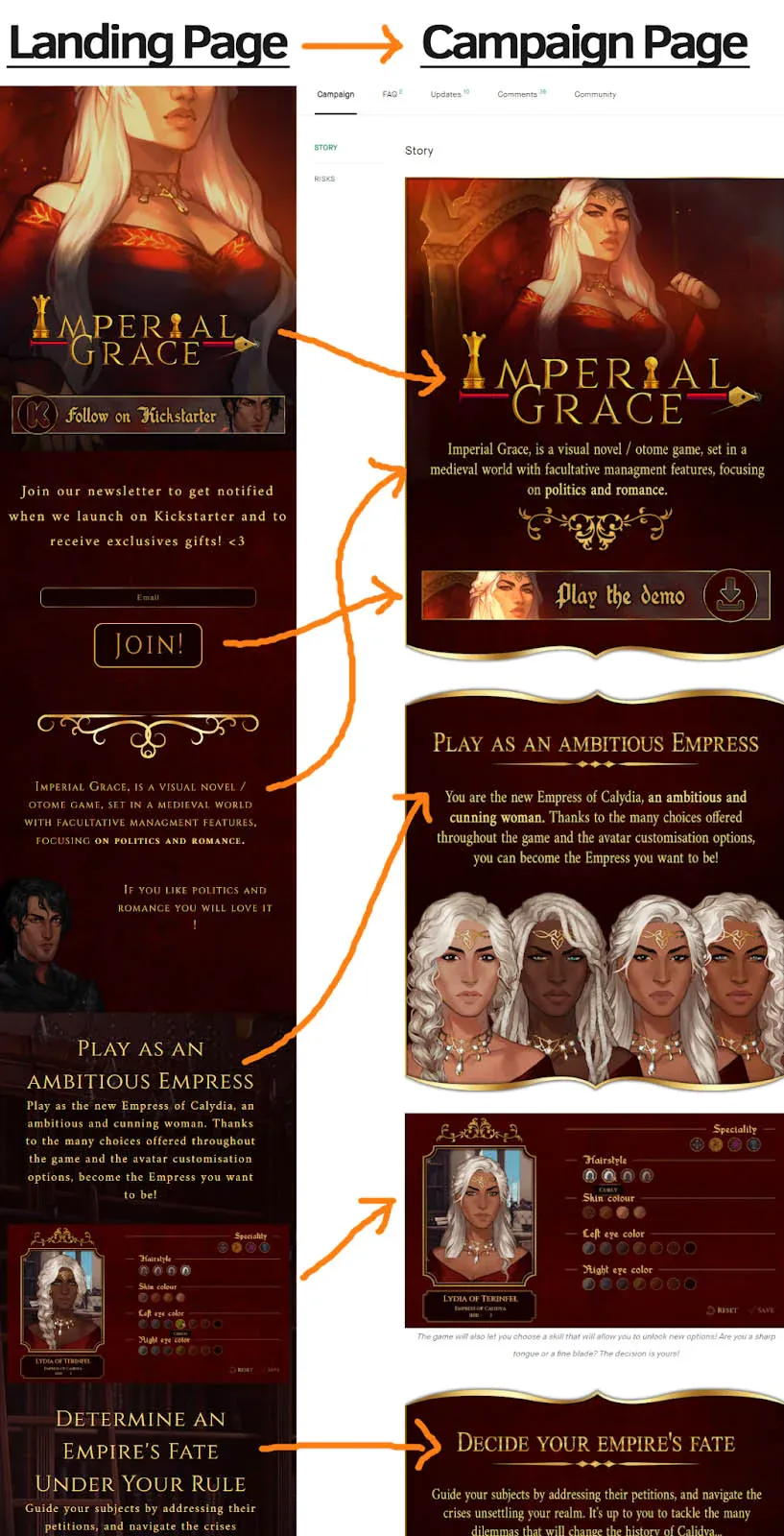 Live Kickstarter Campaign Ads
Walkthrough Video
You can watch a walkthrough video of setting up live campaign ads, here.
Detailed Targeting Ads
Create a new ad campaign, select the "Sales" objective, and then choose "Manual Control":

Use your best audience interest targeting – consider expanding beyond the USA, such as Canada, UK, and Australia.
Schedule the ad-sets to start when your campaign goes live.
Duplicate your best-performing ads from prelaunch. Consider updating the primary text by adding new messaging at the end:
Psst...if you're reading this you may still be able to grab an early bird discount

Psst.. Check out the exclusive Kickstarter rewards!

⬇️ Get X for X% off before the campaign ends

⬇️ Visit now to get a special launch discount

👉 Back NOW on Kickstarter
Add new ad description text with language such as:
Preorder and save for a limited time ⏱️

Get 40% Off on Kickstarter

See it in action on Kickstarter »

Ending soon on Kickstarter. Don't miss out.

Steam. XBox. PS. Switch. Exclusive Kickstarter rewards – Don't miss out.
For the Display Link, either use the product name or add text such as:
kickstarter.com/[product title]kickstarter.com/trendingkickstarter.com/popularkickstarter.com/newest
Look-A-Like Audience Ads
Look-a-like audiences (LAL) are a special kind of audience in Facebook that find people similar to an existing audience, such as your email leads.

It is recommended at this stage to use a Look-a-like audience to expand your reach and increase your daily ad-spend budget in an effective manner.


To begin using LAL audiences, you must first go to the Audience dashboard and press the "Create" button, and select "Look-a-Like".

Then, choose the source as your "Email Leads" custom audience that you have previously created. Select the United States, and use the default 1%: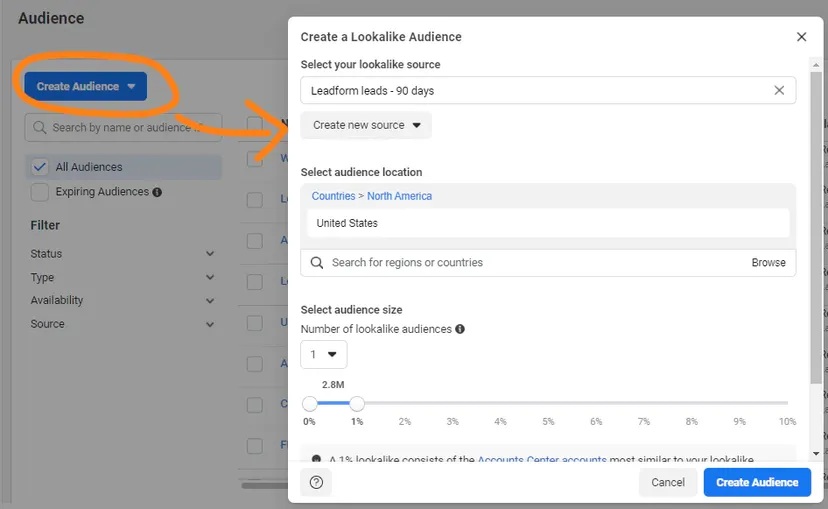 Once your LAL has been created, duplicate the previous ad-set you just made, and swap the original audience with the new LAL Custom Audience: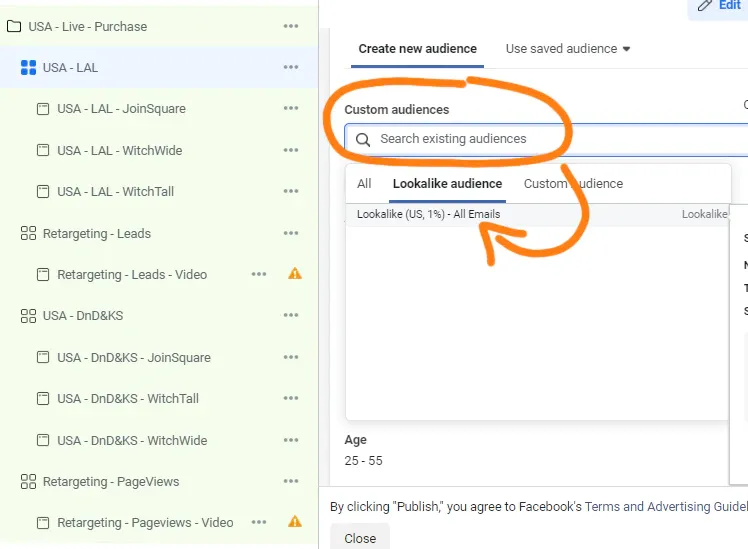 After your Kickstarter campaign has been running for 5 days, consider creating a new LAL based upon website visitors.


IMPORTANT: Always include "Kickstarter" detailed interest targeting.
Retargeting Ads
Remarketing is when you target your previous leads with more ads.
Walkthrough Video
You can watch a walkthrough video of setting up remarketing ads, here.
Step-by-step Tutorial
There are two important windows to spend money on remarketing ads, and it is reasonable to spend up to $1000 per window:
Remarket during the first 2 days when campaign starts
Remarket during the last 2 days before campaign end

Before creating ads, go to the Audience dashboard and create 3 different "Custom Audiences" using your "Website". Set the retention to "90 days":


Traffic (exclude leads & purchases, consider including page engagements)
Leads (exclude purchases, consider including page likes)
VIPs (exclude purchases in last 3 days, consider including page messages and saves)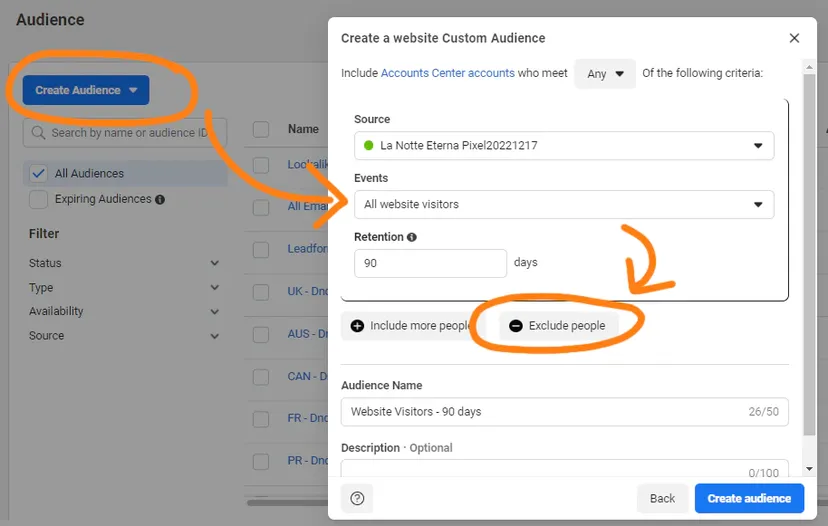 To set up a remarketing ad campaign, create a new ad campaign in Ad Manager and set the campaign objective to "Sales" with "Manual Control".


Create 3 separate ad-sets per Custom Audience.

Assign the Conversion Event for each ad set to "Purchase".


Set the budget to "Lifetime Budget" instead of Daily Budget. Control the budgets for each ad-set separately, and appropriate the budget to each audience from between $0.01 and up to $0.10 per audience member:


VIPs example: 500 VIPs = $50
Leads example: 5,000 leads = $150
Traffic example: 25,000 clicks = $300

Schedule these ad-sets to start and end 2 days after the beginning of the campaign, and similarly another ad-set for the last 2 days of the campaign.

While the campaigns are live, make sure the "Frequency" ad result metric does not rise above 4.0. If it does, reduce the budget on that ad-set (for instance, reduce the budget by 20%).


Assign each Custom Audience to each of their respective ad sets, individually, and set the location to Worldwide (if shipping worldwide).


Re-use your previous winning ad copy, but instead replace the ad creative with the campaign video. This will be fresh content for your warm leads, and also creates a seamless experience between the ad and campaign page.
Campaign Launch Text Templates
Optionally, add to the end of your Primary Text, such as:
[original primary text] Get Early Backer pricing for a limited time! Now live on Kickstarter.

[original primary text] ⬇️ Visit now to get a special launch discount
Add new Description Text to let your leads know it's now live, such as:
Now live on Kickstarter!
Add to your Headline with text, such as:
Now Live: [product title on Kickstarter]

This Gorgeous Indie [Product Name] is Now Live on Kickstarter


Campaign Ending Text Templates
Add new text to the beginning of your ad's Primary Text to let your leads know it's ending soon, such as:
Special Kickstarter price ends soon! Check out the exclusive rewards & stretch goals – [insert here the original primary text]

Final days & 2000% Funded on Kickstarter! [insert here the original primary text]

Final hours with 15+ stretch goals unlocked! [insert here the original primary text] – Special Kickstarter price ends [Date, ex. May 7th], don't miss out.

[emojis] "[reviewer soundbite]" After raising $1,800,000+ and unlocking 15+ stretch goals, [product title] is ending soon on Kickstarter.

[emojis] 10+ Stretch goals with [major goal, ex. "Multiplayer"] unlocked! With $1,000,000+ raised, [project title] is in its final days on Kickstarter – Special Kickstarter price ends [Date, ex. May 7th].
Add to your Headline with text, such as:
1100% Funded: [product title on Kickstarter]

Final Days: [product title on Kickstarter] 2000% Funded

Final Hours: [product title on Kickstarter] – 15+ Stretch Goals Unlocked

10/10 [product quality, ex. "Adorable"] – [product title on Kickstarter] Raises $1,800,000+ on Kickstarter

After Raising $1,000,000+, [product title] Is Ending Soon On Kickstarter
Add new Description Text to let your leads know it's ending soon, such as:
Final days on Kickstarter – Don't miss out.

[Optionally, start out with compatibility, such as "Steam. XBox. PS. Switch."] Exclusive Kickstarter rewards – Don't miss out.

Pre-order yours and save for a limited time. Only on Kickstarter.
Set the Display Link to:
KICKSTARTER.COM/FINAL-DAYSKICKSTARTER.COM/ENDING-SOON
Set the CTA Button to:
Learn MoreOrder NowShop NowPlay Game
Retarget Kickstarter Pageviews
During the middle of your campaign, when people visit your Kickstarter page but did not purchase, you can continue to retarget them with ads.

Create a new Custom Audience that targets Pageviews with a 5 day retention time, and excludes Purchases within the last 30 days.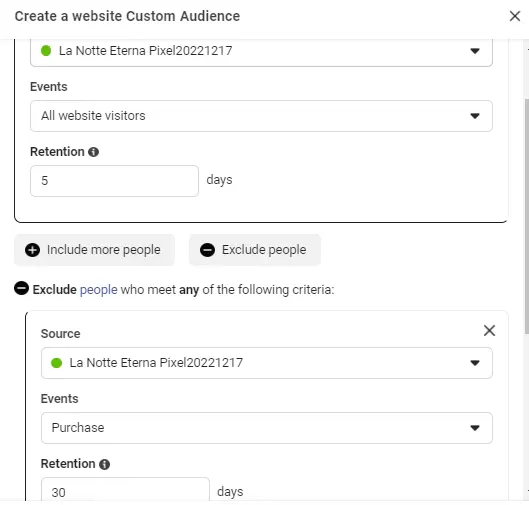 Duplicate the previously-made "Traffic Remarketing" ad-set, and make the following changes:
Change the audience to the new "5 Days Views" custom audience
Set the daily budget to 1/20th of your daily ad spend on other ads (or $5/day or less)
Remove the previous ad creative + text (the trailer video), and add 4 new variations. Consider duplicating your previous winning ads and adding them to this ad-set.
Closing Thoughts
If you are struggling getting set up with anything particular, please reach out to me by email and scheduling a free strategy call, here. I am happy to help you move your project forward.


To get a closer look at what our Kickstarter page looks like, for study purposes, you can visit Imperial Grace's Kickstarter, here.

Make sure to grab the proven Kickstarter templates, here.


I hope you find this walkthrough tutorial helpful, let me know what you think!