The Explosive Growth of Genshin Impact
Genshin's Monetization Structure and Gameplay Mechanics
Growing the Playerbase through Cinematic Ads on Instagram
Analyzing Genshin's UA Ad Creative
How to Leverage Assets Without Cinematics
In an app industry shakeup, U.S. consumer spending in mobile action games rose 69% in 2021 largely driven by one open-world RPG: Genshin Impact. This report analyzes how Genshin Impact attracts high-value users in the United States and how RPG games can leverage that proven success in their own user acquisition.
Launched in September 2020, Genshin Impact quickly became a major contender in the mobile game market. The innovative gameplay combines an alluring open world with long-term RPG progression mechanics, proving to be a very successful formula. As of January 2022, Genshin Impact had earned over $3 billion in revenue from mobile players, while enjoying very high user retention rates by gradually releasing new characters and areas to explore.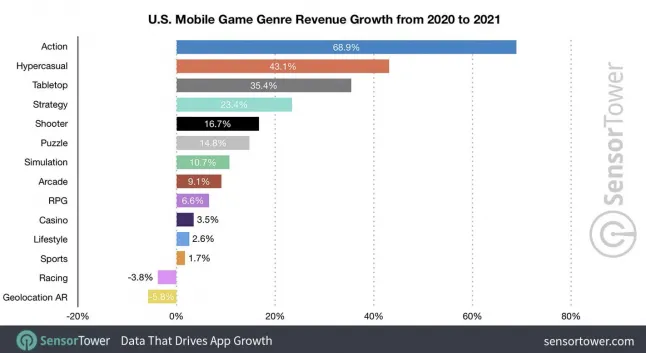 Genshin's main genre competitors in the US are Raid: Shadow Legends and RPGs built on strong IP such as Marvel, Star Wars, Star Trek, and Dragon Ball. Genshin remains the most profitable anime-based game by far, as its main competitors are mostly Western releases. By revenue, Genshin is bested only by Western app giants PUBG and Honor of Kings, reaching a comfortable third place in top-grossing App Store games in February 2022.
The game has had an important influence within the mobile action genre and is largely responsible for the massive boost in mobile action game revenue in 2021, reaching $966.8 million. Player spending in the open world adventure subgenre increased by 3.5x last year, a category in which Genshin enjoys little to no competition whatsoever.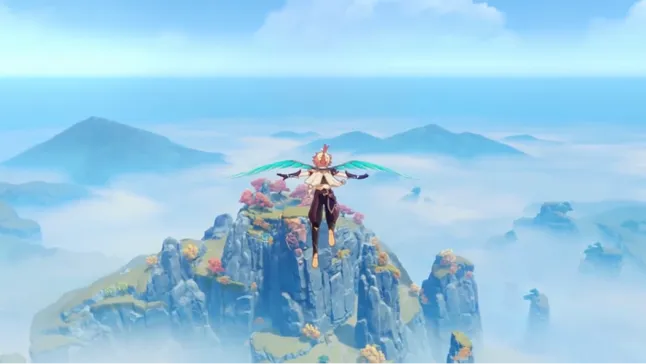 Source: Genshin Impact gameplay
Genshin Impact is developed by miHoYo, a Chinese company that incorporated typical elements from the Japanese video game industry into the game. However, Genshin has a key advantage over most games in the Japanese market: the substantial revenue generated overseas. In 2021, Genshin's US revenue was a whopping $400 million, nearly double its closest competitor in the US market. The New York Times said Genshin's "success points to a shifting balance of power in the $200 billion-a-year global video game industry, which has long been dominated by Japan and the United States."
Monetization Structure
Savvy in current mobile game trends, miHoYo takes a simplified approach to monetizing its free-to-play game. The game caters to both small and large spenders alike, offering few but enticing options that cleverly blend with the game's progression system. Genshin Impact's core monetization mechanic is through the Japanese-inspired gacha, a random lottery where players spend virtual currency for a small chance at getting desired characters, weapons, and gear. The term derives from gachapon, the real-world vending machines that tempt buyers with limited-edition collectible toys in plastic capsules. Gacha monetization is growing in popularity among US mobile games, including those with known IP.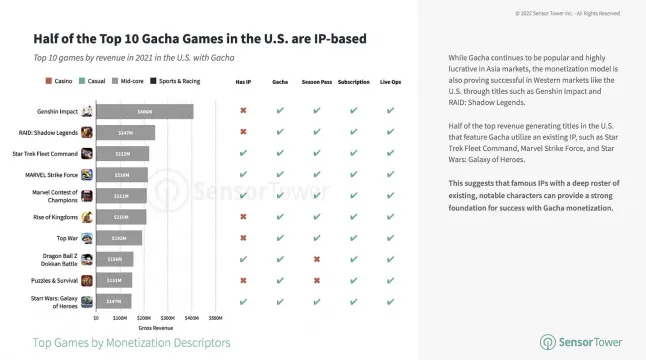 Genshin's currency can be purchased directly in bulk, but small spenders can take advantage of two lower-cost deals as well:
The monthly package lets players earn small amounts of currency every day they play. Players forfeit the reward for any day they don't log in which drives retention and DAU.
The season pass offers substantial in-game resources to facilitate progression, together with a useful amount of premium currency.
Along with gachas, season passes are an increasingly popular monetization mechanic among free-to-play mobile games with half of the top grossing titles currently implementing a season pass system.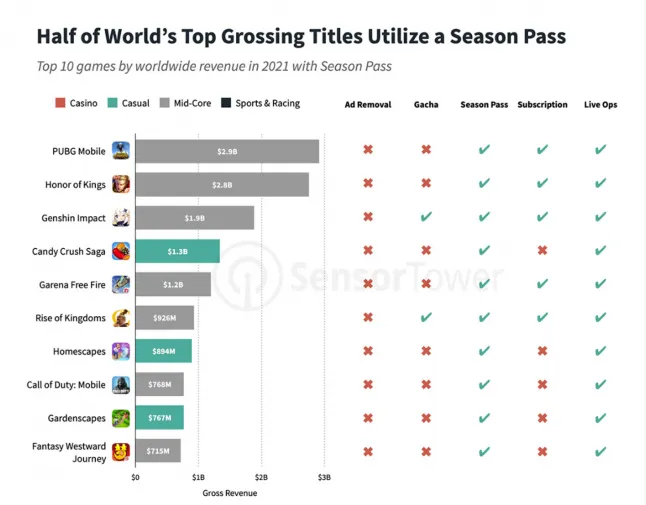 Genshin employs the tried-and-true mechanics of stamina-based progression and the cycling of time-limited content, typical of free-to-play mobile games. With the stamina system in place, players can play the game in short bursts every day, unless they choose to pay. This leads to both higher user retention and monetization, since meaningful progress can only be seen after having played for an extended period of time.

Source: Genshin Impact gameplay
Growing the Playerbase through Cinematic Ads
Genshin Impact is an award-winning mobile game that could easily pass as a AAA release. Irrespective of later-game monetization, the rich world-building and anime aesthetics on their own are striking enough to attract new players. In fact, Genshin has substantially increased its playerbase month-over-month since its release, reaching nearly 60 million monthly active users by March 2022. The quality of the initial open-world experience, heavily inspired by Nintendo's beloved 2017 release "The Legend of Zelda: Breath of the Wild," has allowed the game to reach communities that may not typically engage in mobile gaming.
For years, anime-style mobile RPGs have consistently included the highest quality animated cutscenes and cinematics, often resulting in longer load times than typical mobile games. However as devices, networks, and mobility capabilities evolve (see Nintendo Switch), visually arresting storytelling on mobile will attract more and more players. A clear benefit of in-game cutscenes and cinematics is the ability to use those high-quality assets for user acquisition. And Genshin Impact does just that.
Analyzing Genshin Impact's UA Ad Creative
Based on MobileAction data, Genshin Impact is advertising almost entirely on Instagram and Facebook. Facebook Ad Library and MobileAction show that the ads leverage the most popular creative trends for RPGs, open world, and gacha games. Some of these ad creative trends include:
Cinematic Trailer: Dramatic, high quality story showcasing characters and action, often 3D animation
Gameplay: Game overview showcasing user experience, core objectives, and game features or mechanics
Characters: Highlighting game character personalities, powers, origins, and vignettes
Player Focused: Player types, player interviews, and PVP gameplay
Testimonial: Leveraging player experiences, influencer reviews, and user generated content
Level Progression: Footage of mastering levels, increasing stats or unlocking content
Competitive: Comparing the game against other similar games or gameplay experiences
Genshin Impact uses all of their best in-game assets for their paid social advertising: cutscenes animated in 2D and 3D, resting state 2D character sprites, open-world third-person exploration, game footage battles, and rigged character illustrations. Based on MobileAction, two of their most popular styles of ads are cinematic trailers and gameplay, with a strong focus on character vignettes.
Many of the video ads incorporate several types of assets and art styles at once. The still shots below show several art styles that were utilized in one high performing Genshin Impact cinematic trailer on Instagram. This ad focused on one character's personality, style, and capabilities in battle.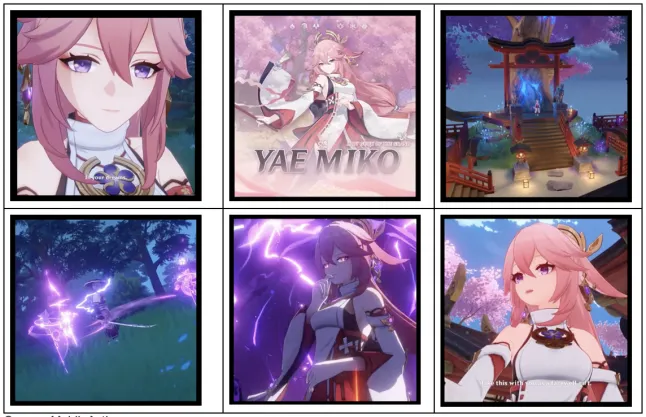 Source: MobileAction
As part of our creative process using our Ad Concept Model, we identify different user motivations within an app category to target users based on their emotional drivers. Below are typical user motivations for games.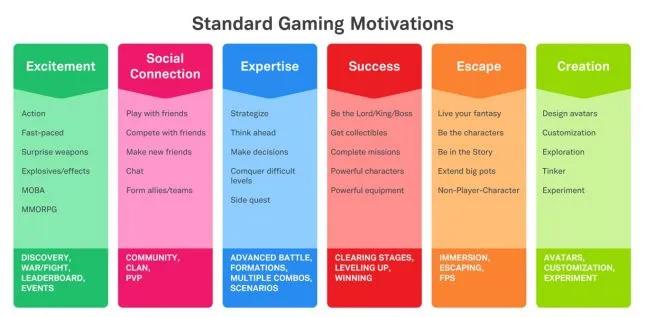 As evident even in the still shots from video ads, Genshin Impact's creative appeals to users driven by many of these motivations.
For players seeking escape, open world ads show an immersive fantasy land to explore; character-driven ad creative offers rich lore and story progression to live the fantasy first hand.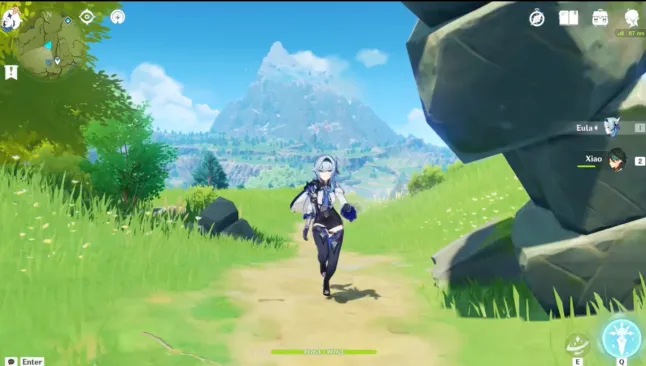 Source: MobileAction
Genshin's gameplay ads appeal to players seeking excitement by showcasing fast-paced battle action and thrilling elemental reactions. For the success-seeker, footage of acquiring and leveling powerful characters, completing quests, and beating bosses are very attractive. Players wanting to exercise their expertise will be drawn to challenging content and mastering game mechanics strategically.

Source: MobileAction
No cutscenes? No problem.
One of the most impactful ad creative trends gaining momentum is the high-fidelity cinematic trailer. More often associated with AAA console games, mobile games are employing increasingly sophisticated commercials for user acquisition. As mobile app marketers diversify their portfolios to YouTube pre-rolls and connected TVs, high quality video is critical. (Interestingly, this trend stands in stark contrast to the massive popularity of ads with user-generated content, which we've reported on as well.)
An anime-style RPG like Genshin Impact naturally lends itself to visually arresting, dramatic cinematic trailers. And, it already has plenty of in-game assets to use. But what if your game has no 3D assets or lacks truly cinematic cutscenes? Then you may need a little help.
2D Assets Get a 3D Makeover
Casual games studio Wooga was seeking compelling ad creative for the soft launch of their first story-driven puzzle match-3 game, Switchcraft. Striving for market differentiation among competitors such as Gardenscapes, Lily's Garden, and Small Town Murders, Wooga wanted to highlight their dramatic relationship-driven storyline, diverse characters, and magical gameplay. In-game assets had a unique painterly art style but Wooga wanted to bring the story to life with 3D cinematics that combined realism and comic-book aesthetics.

Through our creative partnership with Wooga, Consumer Acquisition developed a 30-second CGI game trailer, 50 original concepts, and over 150 videos. We created entirely original 3D computer animation along with motion graphics, 2D animation and FX, text animations, lighting effects, character rigging, illustrations, and character design. View the official Switchcraft trailer below.
Nathalie Wood, Marketing Manager at Wooga praised the results:
"Consumer Acquisition was able to provide us with fresh, breakthrough ad creative that performed to meet different goals, from installs at scale to targeting high-value players. We were truly impressed by how Consumer Acquisition took our 2D assets and brought them to life. The creative process was collaborative and Consumer Acquisition tested all types of concepts and art styles to ensure we found what worked best. For our official game trailer, Consumer Acquisition created compelling 3D assets from scratch under a very tight deadline and we are thrilled with how it turned out. Consumer Acquisition's commitment to creative research and rigorous creative testing was evident in the excellent results."
See the full Wooga Switchcraft case study here.