Rovio will strengthen Sega's global mobile games offering
The $776m acquisition of Angry Birds creator Rovio Entertainment by Sega Sammy Holdings bears plenty of potential. In the short term, Sega will immediately address its underwhelming mobile games performance outside Japan. Meanwhile, it gains access to Rovio's mobile development talent, a live-ops technology platform, and expertise in cross-media brand expansion. These aspects of Rovio can empower Sega on its path toward releasing globally successful live service titles based on its recognizable IP.
As part of the acquisition, Sega is set to inherit Rovio's existing portfolio of mobile titles. This would immediately strengthen the global performance of its mobile games lineup, an area it looks toward in pursuit of future growth.
Currently, Sega struggles to monetize on mobile outside Japan, owing to a lack of globally successful live-service titles. Omdia analysis of Sensor Tower data reveals that the vast majority of Sega's mobile revenue from the iOS App Store and Google Play Store in 2022 has been attributed to this single territory.
In 2022, $280m of net revenue from Sega's mobile titles came from Japan, a staggering 92% of its $305m global total for that year (see Figure 1). By contrast, North America and Europe—two regions Sega specifically intends to expand—accounted for just 4% ($12m) and 2% ($7m) of global revenue, respectively.
1. Figure 1: Sega and Rovio mobile title revenue in 2022, select geographies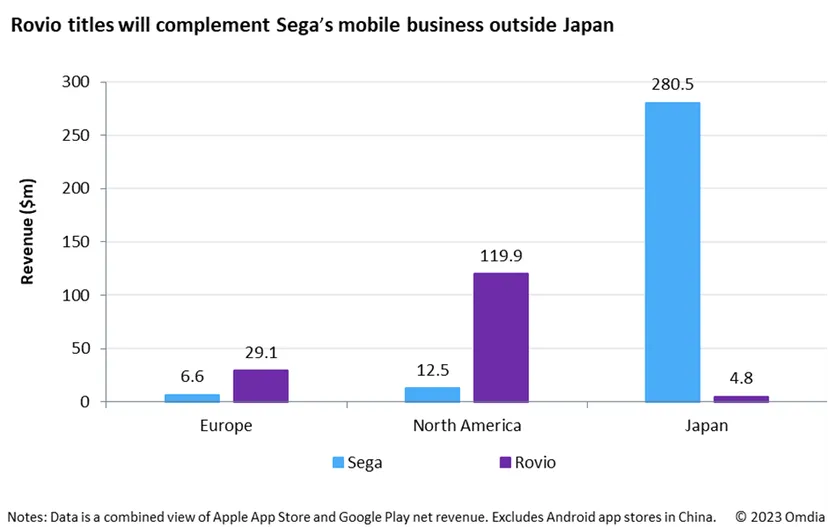 Source: Omdia, Sensor Tower
While it would be easy to suggest that Sega has failed to monetize effectively outside Japan, the truth is it hasn't released compelling content that could have formed the basis of a lucrative and engaging global live-service title. Indeed, of the company's top 20 highest-earning titles for 2022, 14 were either only available in Japan or monetizing a significant portion of their revenue in Japan only. For instance, its top-earning title in 2022, Hatsune Miku: Colorful Stage, earned 94% of its revenue from Japanese users.
Hatsune Miku: Colorful Stage illustrates the issue at hand—while it has been a successful title for Sega, its success is unique to the Japanese market. It is inherently a cross-media title that expands upon a domestically popular IP. Dozens of marketable characters and their musical performances tie in with live music concerts, music CDs and DVDs, an annual Snow Festival in Hokkaido, and a vast array of available merchandise at domestic stores such as Animate.
All these factors certainly improved the stickiness of users with the game and, subsequently, their tendency to spend via its Gacha-style monetization mechanics. But in the case of Hatsune Miku: Colorful Stage, they have not translated well for Sega outside Japan. It is worth noting that the performance of Genshin Impact and Azur Lane outside Asia proves that there is a global opportunity for live-service titles that monetize in a similar way, if the correct strategy is utilized.
With Sega currently lacking meaningful content outside Japan, Rovio's portfolio of mobile games is immediately valuable to its mobile business. Rovio titles' performance in key regions outside Japan is significantly stronger than Sega's.
In fact, in 2022, revenue from Rovio titles in Europe was four times greater than Sega titles, according to Omdia analysis of Sensor Tower data. The difference is even starker in North America, with earnings almost ten times greater than Sega's across the same year (see Figure 1). This marks a role reversal of sorts with Sega's own mobile games.
In the short term, Rovio's titles will add roughly $170m in annual revenue to Sega's own title performance, significantly boosting its presence and ability to monetize within the largest addressable segment.
Rovio's talent and technology empower Sega to grow its IP via live-service titles
It is no secret that Rovio has struggled to find success outside Angry Birds. Omdia analysis of Sensor Tower data reveals that Angry Birds titles account for at least 95% of Rovio's net revenue in 2022.
The more pressing issue is that Rovio's mobile revenue has stagnated over the past five years. Its revenue has only grown by 10% in the past five years as it struggled to replicate Angry Birds' success in new IP (see Figure 2).
2. Figure 2: Sega and Rovio net revenue from mobile titles, 2018–22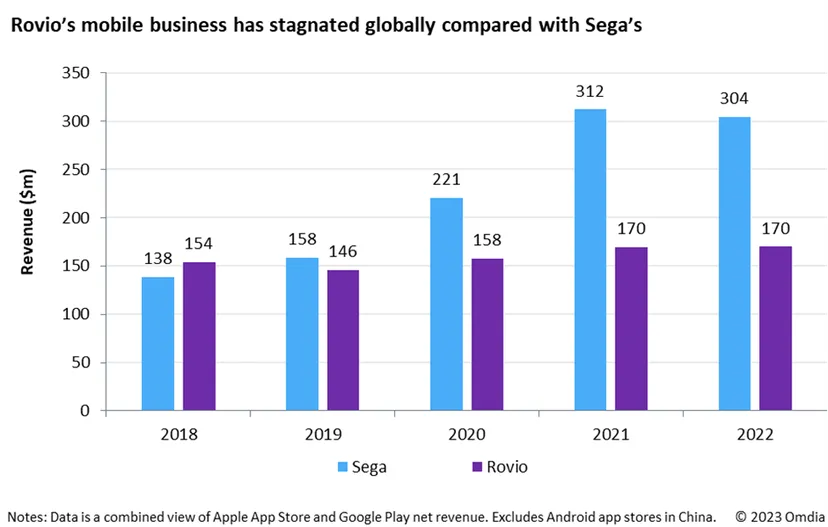 Source: Omdia, Sensor Tower
Sega is unlikely to see this dependence on Angry Birds as a liability, however, as it already holds a wide range of recognizable IP, ranging from Sonic to Puyo Puyo to Football Manager. In fact, Sega has indicated a desire to strengthen its utilization of existing IP in the run-up to the release of what it calls a "Super Game"—a global live-service title that monetizes over $600m throughout its lifetime.
This is where the Rovio acquisition comes in. Specifically, Sega stands to benefit strongly from acquiring Rovio's talent as well as its technology stack. As part of the acquisition, Sega gains access to Rovio's analytics, LiveOps, and monetization platform Beacon, which, if absorbed correctly, could become a key contributor toward its efforts in running successful live-service titles across multiple platforms globally.
According to Omdia's Games Tech Market Forecast, games companies spent a combined $10.3bn on technology across these categories in 2022, so Sega could stand to benefit considerably from having these tools in-house.
Rovio also operates seven development studios globally, with over 500 employees between them, signaling potential for Sega to expand its capability in developing new mobile games around Sega IP, particularly outside Japan, where Rovio has proven expertise in operating live services.
For instance, Ruby Games, a Rovio studio, specializes in developing and operating hypercasual games. This is an area in which Sega does not currently have expertise. And yet, wide-reaching and well-timed hypercasual titles are likely to have relevance in the future as marketing tools for Sega to drive attention toward other forms of media and games within their IP.
Acquiring the highly recognizable Angry Birds IP contributes to Sega's cross-media strategy
Part of Sega's strategy to expand its brand will involve its relationship with cross-media IP. That is, IP that spans multiple media avenues beyond just video games. This is an area where Sega has successfully executed historically.
In its home market, Sega has most recently seen success across multiple platforms in adapting other forms of media into video games. On mobile, Hatsune Miku: Project Sekai has earned over $400m in net revenue since its launch in September 2020, according to data provided by Sensor Tower. And on console and PC, Sega shipped over three million copies of Demon Slayer: The Hinokami Chronicle in 18 months.
In the other direction—expanding video games into other media formats—Sega has become increasingly involved in recent years. Most pertinently, the two Sonic the Hedgehog films are the 11th and 5th highest-grossing video game adaptations of all time, respectively.
It is here where Rovio also has expertise, having adapted Angry Birds into two films and hundreds of episodes across multiple seasons of animated TV. In fact, the Angry Birds Movie remains the seventh highest-grossing video game adaptation of all time
With both Sega and Rovio being leaders at utilizing cross-media IP, there is high potential for lessons to be learned from both sides in nurturing brands beyond the video game.
Appendix
---
Further reading
Mobile Games Report – 2H22 (February 2023)
"What a year's data tells us about Netflix's games strategy" (December 2022)
Games Tech Market Forecast 2023 (January 2023)
Games Tech Market Landscape Database (March 2023)