I'm Adolfo and I'm one of the developers/programmers making Lil' Guardsman. I've been lucky to make games for a number of years now. I acted as lead developer and game designer for three multi-platform console titles: Hunter's Legacy, Mulaka and Aztech Forgotten Gods.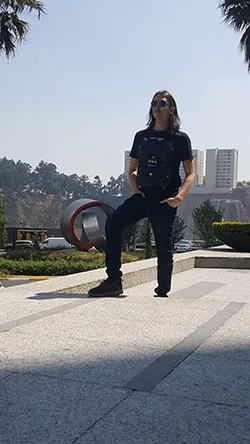 I joined Hilltop Studios last year as lead developer for their 'top secret' corporate project, which involved experimenting and prototyping new game mechanics with new hardware which was a LOT of fun! While I was part of leading that project, Lil' Guardsman was in production and I couldn't help myself from taking sneak peaks at it from time to time. As a game developer it was very intrigued by the charming and funny game the other group within Hilltop was making. Game directors Scott and Artiom, and lead developer Italo would occasionally ask me to consult on something, which definitely didn't help my curiosity and FOMO (fear of missing out)!
Fast forward 8 months and boom! I joined the Lil' Guardsman team as part of the development team! My suspicions were confirmed: contributing to this game has been a blast, and it's a project that always keeps me laughing. But like every game project I've ever been part of, it's come with its fair share of challenges.
Joining a team in the middle of production was a new experience for me. I joined the 18 month project after the halfway point. The majority of game systems were ready to go - but not all. The majority of the work remaining was the huge amount of content yet to be implemented. Lead Developer Italo Capasso did a great job with the codebase to cover the project needs, creating something flexible enough to satisfy all the writing team's demands and requirements (which were numerous - it's a surprisingly big, weird game!). Another perk of working on Lil' Guardsman is that Italo is a fellow native Spanish speaker (he's based in Colombia, I'm in Mexico) so it was a bonus to collaborate with someone in my native tongue!
I'd like to share about how I approached joining late in the game (literally!): The first thing that happened when I started was Italo gave me a 2-day intensive introduction to the project and the codebase architecture… and then I was unleashed to get to work! In the last 8 years of my career developing console games, I've gotten used to creating all game systems from the ground up, and developing the internals of every part of the project. Stepping into someone else's codebase sandbox was a big shift for me. The requirements of the situation pulled me outside of my comfort zone and provided an excellent opportunity to grow.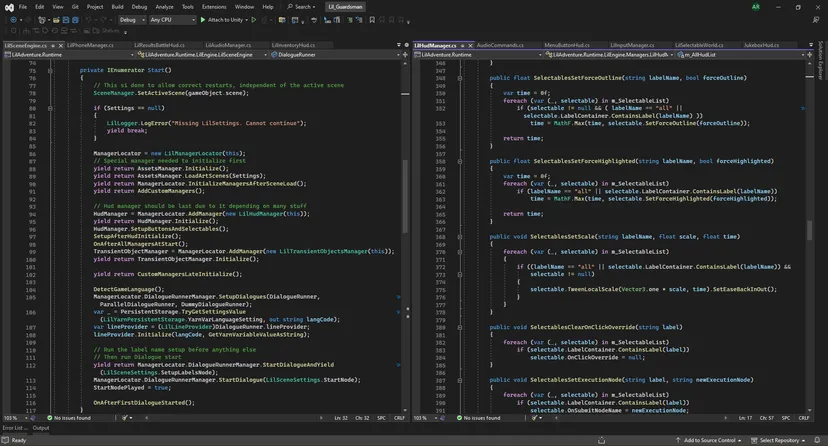 The way I worked involved constantly studying the architecture already in place, and operating within it. I consider myself adept at interpreting someone else's code, but this project definitely put that skill to test. A question I would often ask myself was: "Should I take more time trying to figure out the answer to this myself (which would cost me more time), vs. should I ask for help (which costs someone else time)?"
Figuring out which route to take between forging ahead myself vs. bringing in Italo or other team members for help was a balance I achieved. My goal was to figure out how I could best help to keep the production momentum going, and to increase the team effectiveness as much as possible.
After a month or so on the Lil' Guardsman team, it was handy that I had a great handle on the project, as my partner-in-crime Italo was able to take time away to focus on being a new dad after the birth of his son Eduardo! So it all worked nicely in the end and I got to have the experience of leading the project and help keep things driving forward.
I'm thrilled that Lil' Guardsman's release is just around the corner! I can't wait for players to experience it and to fall in love with its comedy, its charming world, its evolving gameplay and its many intense moments. I'm proud to have gotten to contribute in such a major way, and it's been an interesting adventure to have the experience of jumping into something already well on its way towards the finish line!
Adolfo Rico is a developer based in Chihuahua, Mexico. Before joining Hilltop, he was a co-founder of Lienzo. He was the lead developer and game designer on Hunter's Legacy, Mulaka, and Aztech Forgotten Gods. In his free time Adolfo plays volleyball, and enjoys hanging out with his wife Jacky and their cats Dona and Ginger.