While I initially felt too boomer to use TikTok, I gave it a try to promote The Matriarch and it changed EVERYTHING. Tiktok proved to be the best platform, by far, to gain visibility and wishlists for my game. I'm still learning how to use it and probably could do a lot of things better, but I thought sharing my experience could be useful for fellow devs who struggle to get enough visibility.
The story
Last July I started to develop The Matriarch, a Hide & Seek party game. A major mistake I did with my previous project was to market it too little & too late, something I wanted to correct here. I published the Matriarch steam page 4 months after and slowly started gathering wishlists. Despite a few decent Reddit posts, after 3 months it gathered under 500 wishlists and was clearly not on track to reach the 10k wishlist goal I set for myself before releasing the game (planned in 2022). I also posted on Twitter, Facebook, and Imgur, but without any followers, none of it got any traction.
Back then, I gave Tiktok a try and had my first videos making a few thousand views, I was simply reusing the same videos as on other platforms (and still do!) and assumed I would need to spend a significant amount of time understanding the codes of TikTok and editing videos to be more successful (I was wrong!).
I registered for the Steam Next Fest in February hoping to gain at least a couple of thousands of wishlists.
A few days before releasing the demo, I slightly reworked the trailer and posted it on Tiktok without expecting much (at this point my top video had 14k views), in the first hours I noticed it was gaining views faster than usual so I went to bed hoping it would get at least as much views as my top video.
I woke up, boom, 1M views, 100k likes, I couldn't believe it, I was so happy! I check the wishlists... +1500 in ONE day. My jaw dropped, that was 4 times more than all wishlists combined since I released the steam page! +3500 on the second day, +2500 on the third... while I felt immensely happy, anxiety quickly took over thinking of the many players who were now awaiting the demo, which I never tested outside my group of friends.
I created a discord server and released the demo. Despite a few bugs, most players were able to play and enjoy it so it was a big relief. It had around 1000 daily active users and was consistently in the top 20 demos with most players. When the festival started, The Matriarch was in the top 5 fest demos with most players.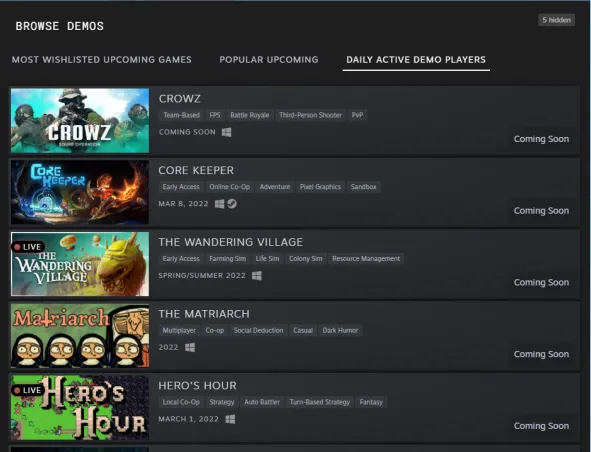 The combination of TikTok + demo + SteamFest kept up the momentum and managed to keep the daily wishlist above 300 for a few weeks. I currently have 23000 wishlists, and discord with 700 members.
What did I learn from this?
Understanding and applying the 'codes' of TikTok isn't a must-have to get high numbers. I don't pay attention to trends, and timing and I don't edit my videos specifically for TikTok (I actually started doing that with the last video), I probably should do all of that to optimize my numbers, but as someone with limited time, I can invest my time somewhere else and still get good numbers. Maybe I'm just lucky, but reading other blogs about Tiktok, I feel people might overestimate the impact of the trend/timing/music/aspect ratio. The region is very important though, if you live outside the EU/US, using a VPN might be a good idea.
Don't give up! My first videos didn't perform very well, and interestingly the one that got 7m views was almost exactly the same as the one that got 10k views. When I edited it the second time, I focused on making it more dynamic and sped up a lot of clips. Don't hesitate to iterate on a video and publish it multiple times.
Tiktok users love to make connections with stuff they know. Coincidentally, the nuns in my game die in the same bizarre way as a character from a famous anime, and it turns out there is a Roblox game with a very similar concept. And a good 20% of comments were about these 2 references (that's good for the algorithm). If your game can connect in some ways with references that are popular with your audience, that's something you can play with.
Tiktok users love to chime in. In a recent video, I asked them for new killing device ideas and got hundreds of comments with creative ideas that I will most definitely use in the future. Ask them for their opinions/suggestions!
It snowballs! A week ago I released another video that got 500k views, but it also brought another 2m views to the viral video that was stagnating, the combined views brought me another 2.5k wishlist.
I usually structure my videos the same way: Catchy description/question on top - video - call to action at the bottom. Keep it short!
Once you reach 10k followers, Tiktok allows you to switch to a business account and put a link in your description. I'm using linktree to compile multiple links. Tell your viewers to check your bio! Tiktok is a great funnel for discord, the last video brought me 300 additional users.
Keep Tiktok in mind when planning upcoming feature/content production. It's a powerful tool but you need to feed it with interesting content. I will try to produce catchy content frequently enough to guarantee original videos every week.
The me of 6 months ago would have a hard time believing it but Tiktok is actually fun to use! The huge visibility is of course very rewarding, but posting and doing quick editing is intuitive and easy, users are fun to engage with and happy when you answer them. It definitely became one of the most exciting parts of my indie dev routine.
Things I want to try next
Using the matriarch character as the 'face' of the game and showing it on all videos, so the content feels more personalized and distinctive.
Having a format more adapted to Tiktok, with more video and less text space.
Commit to 1 video per week
Focus on shorter videos, <15s is preferable for more views.
TikTok's biggest advantage is that you don't need followers for your video to gain traction. As I understand, every video is shown to a small number of people and if the ratio of comments & likes, replay times, and the number of seconds watched is high enough, it gets shown to more users.
At this point, my biggest question is if the wishlists coming from TikTok have the same quality as wishlists coming from other sources, I guess I'll figure that out when I hit the release button!