Play-to-earn market still looks a lot like the Wild West. While the model's viability might still be uncertain, some 2022 game development trends are already obvious — it's all about NFTs and metaverses. As a game developer and publisher, we also take interest in this, but from a slightly different angle: we want to focus on gameplay and replay value, and not on blockchain pet-breeding features, which is often the case with NFT games.

That's why we at Azur Games didn't start developing Axes Metaverse — a project from our partners at Whitepalms Developments Ltd — from scratch, but based on the already successful battle royale game Axes.io, which has gained more than 35 million downloads on mobile devices and consoles. The new project is still a work in progress, but in December 2021 and February 2022, we held two public presales of the first NFT characters, which sold out literally in minutes.
Next up, we're going to be talking about the metaverse, game design, game economics, and what's going on with development.
Why NFTs
NFTs (non-fungible tokens) have been gaining popularity for several years now, especially in the gaming industry — a year ago, about half of all NFTs in the world were used to purchase gaming items. The value of token-based artwork might raise some questions (mostly because anyone can copy a "unique" picture), but NFTs in a game mean that, for instance, only you own a specific weapon with its own stats, history and look.
Here's a simple real life example: two people can buy the same car model, but they will be two unique cars. Someone wouldn't necessarily want to part with their own car if they're offered exactly the same one in return. And vice versa — if the car was owned by a celebrity, then its value on the aftermarket can skyrocket. For gamedev, this means reaching a new level of collecting, sharing, trading and engagement.
Another feature: blockchain games allow you to earn real money. People used to sell spaceships for ungodly amounts of money in EVE Online even before NFTs, but the new set of rules suggests that you can get tokens for daily activities, staking (as in keeping the blockchain running by simply storing your funds in a crypto wallet), tournament results and so on. You can increase the value of the content you received by upgrading it and withdraw funds to the exchange. So, now there's the possibility to reverse-convert the in-game currency, which wasn't officially available in games before.
Interesting fact: play-to-earn is very popular in developing countries. It generally shook up Venezuelan economy: at some point, the daily earnings of the players were 10 times higher than the average rate offered by local traditional employers.
Basically, the blockchain itself only allows you to make transactions from one wallet to another, and smart contracts are responsible for the security of all processes. The parties leave their e-signatures on the digital contract, and the machine autonomously monitors the fulfillment of the terms. For example, if a user purchases a chest with an NFT character on presale, smart contract guarantees that the chest will be received or the money will be returned to the buyer.
Now let's move on to the game itself.
The conception of Axes Metaverse
The new metaverse is based on our mobile project Axes.io, which was released a couple of years ago. It's a top-down PvE battle royale game with more than 35 million downloads and 30,000 DAU, even after all this time. The project brought in up to half a million dollars in peak months — you can learn more about its history from this Game Developer article.
The game still performs very well, we even ported it to consoles. This is why Axes Metaverse's core gameplay won't be too different at the start.
In the main mode, the last one standing wins. The distinguishing feature is that the perks that unlock right during the match can not only increase damage or HP, but change the gameplay completely. For example, you start out throwing an ax and try to avoid close contact, but then choose a perk that deals melee damage. Or vice versa, you get shells that ricochet off the walls and start hiding from opponents in order to get them from around the corner. A gameplay video will explain it the best:
The armor and characters you can select before the match starts have perks as well. This way, you can get unique builds that are completely different from each other in terms of gameplay.

This added a lot to the game's collectible component and replayability, and we started to think about things that could make the gameplay more fun, as well as increase player motivation and engagement.

Making PvP the main mode of the game didn't seem like it was enough, we wanted to give the players something besides that — the feeling of actually owning unique items. With NFTs, this became possible and provided a number of other advantages. For example, items from one game can be used in another, even if they differ in genre or gameplay. So the idea to create a metaverse was born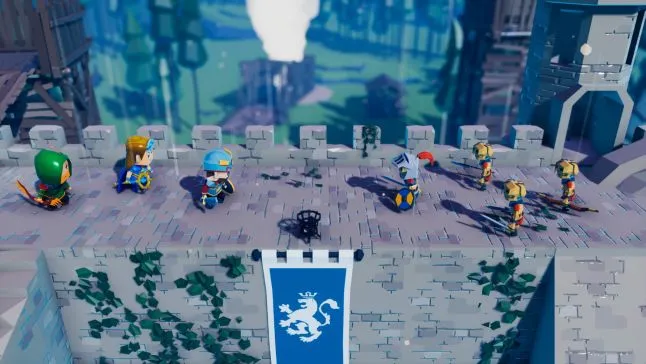 From a game design point of view, the transition from PvE to PvP was the biggest challenge. We had to take a fresh look at the balance and rework it carefully. For example, in a PvE game, the player has the opportunity to eventually create an imbalanced character setup that has the highest chances to destroy anyone they can reach. However, this approach doesn't really work when you play with real opponents — the player should always have the opportunity to win because of their skill, and not just high stats.

All seven races are playable and there are more on the way. Recently we held our first presales where we sold the NFT characters from the first two races.
Game economics and the first presale
Players will be able to withdraw the in-game currency they earned to the crypto-exchange or spend it on items/perks in the game. The owners of some assets will also be able to passively mine the Metaverse currency (mining efficiency will depend on character rarity).
The value of in-game assets and currency will be supported by a deflationary economy — for instance, you'll have to permanently burn a token to upgrade a character.
In the end of December 2021, we launched the first public presale of NFT character chests aka GAO (Game Asset Offering). 4500 chests were made public in the following proportions:
3000 chests (67% of the total) were available for purchase.
The marketing reserve was 11% (500 chests).
The remaining 1000 chests (22%) were allocated as a reserve for partners.
The first thousand chests sold out in a minute, and the entire GAO took no more than half an hour. At the beginning of February, there was a second presale that showed similar results, which means the players are definitely interested.
What's next
Giving real value to virtual objects and characters is definitely not a new concept — just think about World of Warcraft or Counter Strike. What makes blockchain-based games so different is that game assets are tied to users' personal wallets and will remain there even if the project shuts down. Hence the promising opportunities: metaverse add-ons, currency mining and farming mechanics, using your own NFTs for various purposes, and so on. In theory, this plays well for both ordinary players and companies wanting to do a crossover.
All in all, NFTs look like a promising direction. We invested $2 million in the development of Axes Metaverse and plan to expand further. That's why we're simultaneously developing other projects, and investing several times more in that direction. We'll continue to share the results and the ins and outs of development when we gather the first metrics.