[The GameDiscoverCo game discovery newsletter is written by 'how people find your game' expert & GameDiscoverCo founder Simon Carless, and is a regular look at how people discover and buy video games in the 2020s.]
So, it's quite possible that many of you are aware of the creepy-ass Choo-Choo Charles, a newly announced 'a spider-train is stalking you' game from Two Star Games, which debuted its first trailer (above) on October 1st.
And the reaction was fascinating - both the official YouTube trailer (330,000 views!) and the official TikTok post (1.5 million views, 298,000 likes) have done crazy numbers, and the mentions, re-uploads, related YouTubes, follow-on TikToks (almost 11 million hashtag views!) and third-party news stories have radiated out from there.
Gratifying, Gavin Eisenbeisz from Two Star Games (which also released the black & white outsider art-y My Beautiful Paper Smile) has been extremely transparent with the surprising - to him - blow-up of his concept. And thus we have an interview with PC Gamer and also a super in-depth analysis from HowToMarketAGame.com's Chris on the phenomenon so far.
Gavin's also a GameDiscoverCo Plus member, so we got to chat to him in our member Discord a little bit, and he shared some data. So first up, here's his Steam daily wishlist totals for immediately after launch (with annotations from him). And they're impressive, to say the least: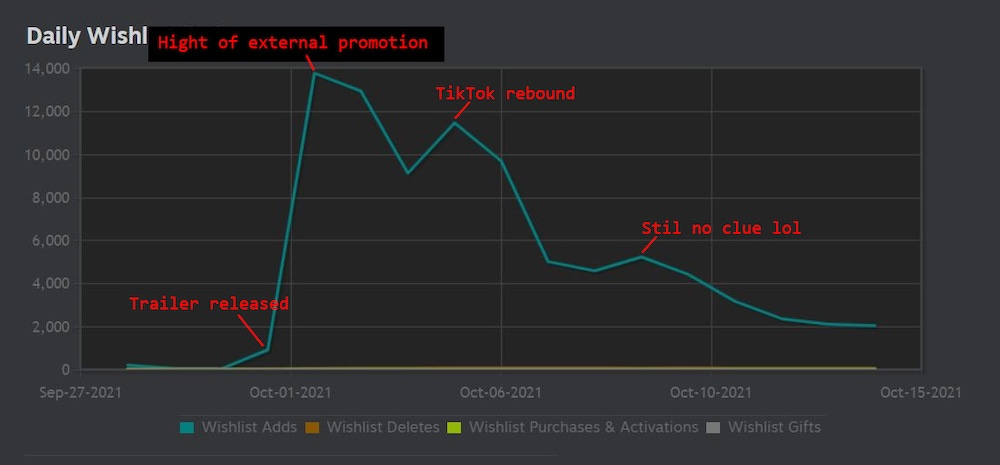 So as you can see, that tops out at amost 14,000 wishlists in one day. Even two weeks later, Choo-Choo Charles is still doing 2,000 wishlists per day, with 85,000 wishlists added in total for just that small two-week period.
Gavin also shared an annotated version of his Steam page visits/impressions (below). What's particularly notable is how the green line in the top graph - the Steam Discovery queue referrals - amps up as a result of the surge of incoming traffic:
This is a great example of what Valve is often saying. The best way to get extra Steam-powered impressions for your game? 'Just' create external traffic which the Steam algorithm takes note of. See, it's easy. *laughs*
One other thing I found interesting in Chris' write-up was that he pulled external traffic to the Choo-Choo Charles Steam page by domain name, And it read as follows (selected highlights in descending order): Kotaku, 25k referrers; Reddit, 21.5k referrers; Facebook, 20k referrers; YouTube, 14.5k referrers; PC Gamer, 11k referrers; Eurogamer, 6.5k referrers; RockPaperShotgun, 2k referrers.
(This gives you a good idea of the 'power' of some of the outlets out there in this case. But remember that some traffic is indirect - see video on TikTok, search for game on Steam, etc. So this is really just trackable traffic.)
Anyhow, I think other outlets - as well as Gavin's own Reddit r/gamedev post - have done a really good job getting into the specifics. So I wanted to focus on a couple of 'next stage' issues. Firstly, was the game intentionally designed to go this viral? And secondly, what may be the commercial results for the game when it comes out?
Virality: Thomas The Tank Engine horror ftw?
On the first point, when I saw the game's trailer, I figured the dev's thought process was: 'people like Thomas The Tank Engine-style horror memes, and various Resident Evil mods with Thomas (switching Mr. X with Thomas, see above!) are big, so why not make a whole standalone game like that?'
But when I spoke to Gavin, he said it wasn't quite that simple: "I honestly didn't know Thomas the Tank Engine memes were so big when I came up with the idea for the game. I had seen the spider Thomas memes, and that's where the spider aspect of the character design came from."
He added: "But I mainly liked that there wasn't an existing spoof on the Thomas character. Lots of horror games make childhood memories scary. But very few horror games do this with TV shows. That was why I liked this idea for a character so much."
Nonetheless, this was definitely inspired by 'creepypasta'-ish Internet horror trends, and Gavin agrees: "It was entirely designed for virality. I knew it would work well, but wasn't expecting it to blow up so soon" And what we're seeing here is virality-related interest. Which is to say, people are interested in the game, but fascinated by the idea.
[We're GameDiscoverCo, a new agency based around one simple issue: how do players find, buy and enjoy your premium PC or console game? We run the newsletter you're reading, and provide consulting services for publishers, funds, and other smart game industry folks.]