[The GameDiscoverCo game discovery newsletter is written by 'how people find your game' expert & company founder Simon Carless, and is a regular look at how people discover and buy video games in the 2020s.]
Well, it's midweek madness over here at GameDiscoverCo HQ. We're shaking off a slight cold, trying to deal with frantic pets as the water company digs up the street, and squinting quizzically at the mass of game discovery news flooding our vision.
Cook Serve Forever: modeling a big launch splash?
Some of you may have spotted that Vertigo Gaming just announced Cook Serve Forever, the fourth (aha, clever title!) in the long-running Cook Serve Delicious cooking sim series that creator David Galindo has worked on for a decade now.
The CSD series is now up to a million units sold across the three existing games. And GameDiscoverCo thought it was interesting to look at how Vertigo positioned this fourth game reveal for success, by pursuing a multi-point promotional campaign.
So we caught up with Vertigo producer Erik Johnson, and he explained all the things the team did at the same time to ensure maximum discovery interest:
In addition, of course, there were "big pushes on Twitter, Instagram, Reddit, and TikTok" for the announce, though Erik notes: "TikTok absolutely tearing it up for CSD3, but we haven't had that big pop yet for CSF." In time, no doubt.
The result? Cook Serve Forever was wishlisted more in its first 36 hours than Cook, Serve Delicious! 3?! was in its first month after announce. The game has 8,000+ Steam wishlists a week after being revealed (not bad!), with 4,200+ of them arriving on day one. Here's a Steam wishlist graph to illustrate: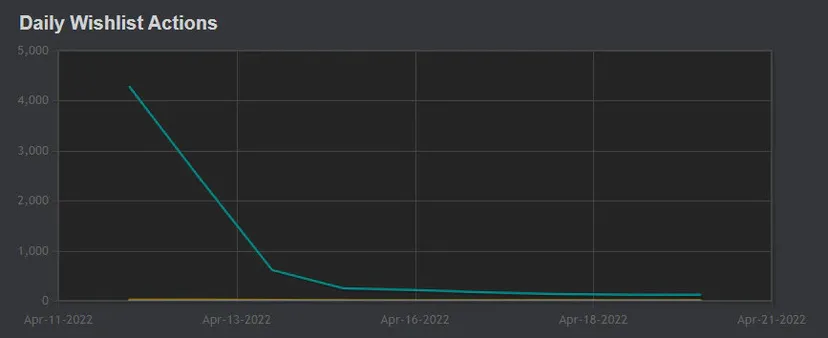 As for longer-term plans? A demo of Cook Serve Forever may appear in the last Steam Next Fest of 2022 or the first one of 2023, with Early Access release to follow sometime fairly soon after that.
Overall, we think this is a good example of a game with an existing fanbase being well-organized with an announcement. It's rare to see an indie franchise with this many sequels. (Titles often shift into GaaS and DLC updates, instead of launching brand new titles.)
But if you're going for the sequel angle, 'announce ASAP and loudly with some gameplay' is a key mantra for success - mission accomplished!
[We're GameDiscoverCo, an agency based around one simple issue: how do players find, buy and enjoy your premium PC or console game? We run the newsletter you're reading, and provide consulting services for publishers, funds, and other smart game industry folks.]