Quotes were pulled from a 2023 video interview between Colin Campbell and Joe Johnson, the Director of Operations at Nightdive Studios.
We all have dreams and desires, but what happens when time is running out, and you have one final wish to fulfill? Way back in 1994, a computer gamer slid a floppy disc into his beat-up Packard Bell SX2-50 and installed System Shock, the latest cyberpunk-style computer adventure taking gamers by storm. As Colin Campbell pushed play, the screen lit up, and he was transported to New Atlanta in the year 2072. Within minutes, he was hacking his way into the classified files of Space Station Citadel. Adrenaline rushing through his body, Campbell was hooked. Over the years, System Shock, first developed by LookingGlass Technologies, gained a cult following as players assumed the role of a security hacker who battled to stop SHODAN, a demon-like AI entity working to take control of the space station. For Campbell, System Shock wasn't just a game; it was an escape from reality, a world where he could immerse himself and forget the looming shadow of his terminal illness. As the sands of time began to run out, he decided to make his final wish known: to experience the world of System Shock in a way he never had before.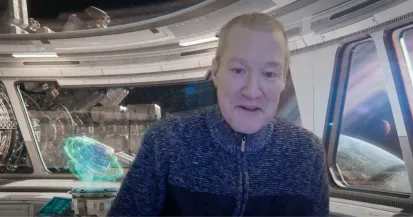 The game's intricate plot and the battles between man and machine made it a trailblazer, providing players with a unique blend of survival horror and action-RPG elements. With its immersive gameplay and groundbreaking storytelling, the game left an indelible mark on the hearts and minds of gamers around the world. The fancy-for-their-time graphics and compelling narrative left a lasting impression on Campbell.
Nearly seven years ago, Nightdive Studios embarked on an ambitious mission to revive this beloved classic, admired to this day by slightly more mature gamers. The sci-fi game has amassed a dedicated following, with fans eagerly anticipating the full remake to be released.
Nightdive started a Kickstarter fundraiser, and Campbell was one of its first and most loyal supporters. A few technical delays and time spent fundraising have delayed the game, but Campbell never wavered. Over the years, he became a prominent member of the game's community, sharing his passion and enthusiasm for System Shock with countless others.
"It was something I had no qualms about backing," Campbell said in a recent interview from London. "It was something I was really looking forward to. I was very excited to see the remake, with better graphics, better sound, and the rest of it. I knew that it could be something that truly could be amazing."
But at Christmastime 2021, another demon crossed Campbell's path. Only this time it was real. "I wasn't feeling well and went to hospital to get some tests done," he recounted. "They found a tumor in the most embarrassing place. I was diagnosed with cancer."

Campbell has had chemotherapy, radiation treatments, and lots of pills. Unfortunately, the cancer demon is winning. "Those treatments haven't had the result that was hoped for," he said. "And this, it is not something that they can treat anymore. They tell me 2023 is all I've got."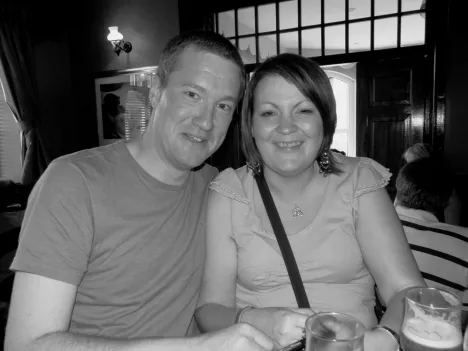 While all of us must eventually face death, it is never easy. Besides the fears of missing his wife, family, and friends, Campbell often wonders if he would live long enough to see the remake of his favorite game.
The long-awaited System Shock remake, currently in development, promises to deliver an upgraded experience while staying true to the original game's essence. The anticipation surrounding this release only served to amplify Campbell's desire to immerse himself in the revamped world of System Shock one last time.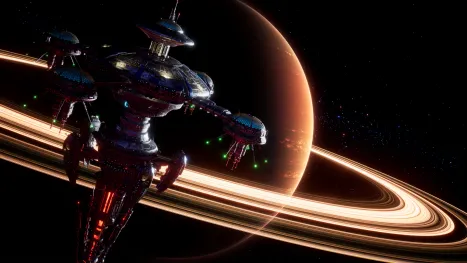 Nightdive Studios has been working overtime, not just for Campbell but the entire group of its loyal followers, to get the game ready for prime time. They recently announced the game will have its global PC release on May 30th, 2023.
In the meantime, they've given Campbell a sneak peak into some of the game's features. When Johnson recently asked Campbell if the wait was worth it, Campbell's response: "Most definitely! Absolutely. I mean it is really, really good."
Colin raves about the 3-D graphics, light simulations, sound effects, and rendering quality, especially as his eyesight has deteriorated. He hasn't been able to play the full version yet, but is very excited to try it out. "It is so much better than the original. It was definitely worth the wait."
As Campbell continues his fight against cancer, he has been grateful for the care and support provided by St Christopher's Hospice in London.
Johnson said he has "the deepest admiration for Colin and his indomitable spirit. His passion for System Shock and his commitment to the gaming community has not gone unnoticed. As we prepare to dive back into the world of System Shock, let us keep Colin in our thoughts. Let's stand united in support of Colin Campbell – a true hero both in and out of the gaming world."
Colin, meanwhile, is thankful the company gave him a sneak peek, and he is striving to be around for the world release.
Despite all that has happened and the time it took to bring forth the new version, Campbell said he is "so glad they took their time to make a quality game. I know it's been a labor of love. I see it on their faces. I'm glad they didn't rush it out and put out a mediocre product."
Joe mentioned that, "This is where we, the gaming community, can step in and lend our support. We invite those of you reading this to visit the St. Christopher's Hospice page and make a contribution, no matter how small. Every donation demonstrates our solidarity as a community. Together, we can make a difference in the lives of those who have enriched our own."
Here's the URL for the donation to St Christopher's Hospice:
https://www.stchristophers.org...