Our mobile creative factory, AdQuantum Design, started working with UE4 about a year ago and it was something amazing. It felt like we had returned to childhood and found ourselves in a toy store where everything is free! We have been testing and actively using Unreal Engine to produce ad creatives and now we are ready to share our discoveries, life hacks, and tricks for working with this tool.
Diving into history: How Unreal Engine became a marketing tool
Most major development studios today create their games in Epic Games' Unreal Engine (UE). Many of them completely stopped developing their own engines, preferring UE. For example, the CD Projekt RED game developer is now working on a new "The Witcher" title exclusively in UE5, discarding its own engine. This way, the company is going to reduce the time spent on development as UE5 allows to design an environment in the game several times faster and better.
Despite the fact that Unreal Engine is originally a game engine, you can use it to create basically anything — from 3D home design to cinematic advertising. The latter is what interests us the most. If you deal with mobile ads too or at least are curious about the topic, then buckle up!
Unreal Engine gained wide use perhaps after it was first used for the Mandalorian production. Its creators used the engine to model the environment. This helped to avoid the problem of chroma key being reflected on smooth surfaces, which caused post-production difficulties.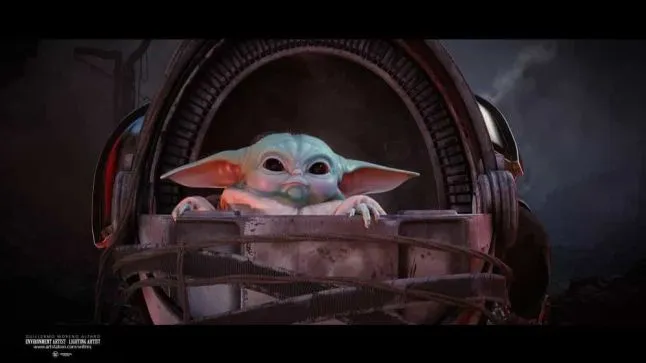 The use of UE in this vein has completely turned the industry upside down. The engine began to be increasingly used in producing films and advertisements. This is how UE made its way to mobile advertising.
Advantages of using UE for designing mobile ads
Easy to use
Quite often our client dev studios send us source files made in Unity, another game engine. The issue with Unity is that it's not as friendly to motion designers as Unreal Engine. It requires a greater need for coding knowledge which designers often don't have. In UE, all you need is just a little understanding of the logic.
Initially, Unreal Engine existed as a paid program. Over time, it became completely free, everyone is able to use it without spending a penny. There also appeared a lot of interesting free assets. Whether you choose the category "Game Development" or something to design vivid visualization, you will get two different sets of tools. UE has tools for any purpose.
Speed is especially important when designing ad creatives. When you, as a performer, receive edits from the customer in portions, you must quickly present a new version to them. This is when the speed of rendering is everything.
In our experience, we have seen that Unreal Engine turned out to be the fastest tool for creating 3D movies. For your understanding, in a standard program like Cinema 4D, it takes about 30 hours to render a 15-second video. While it's being rendered, you can simply put the computer aside, as it's impossible to even surf the Internet. In comparison, UE4 requires just a maximum of 20 minutes to render.
Another benefit is the availability of ready-made assets for every need. By default, UE contains materials with reflections, refractions, shadows, fog, etc. None of this needs to be created from scratch, you can apply a ready-made template right away.
You can set up a "baked" animation, meaning the animation is stored in the cache memory. You can take a more complex path and manually create the logic of the character's movement. But obviously, it would take much more time.
Great opportunities for creating cinematic ads
With its ease of use, in UE you can also create complex works with extremely realistic graphics. For example, there's a tool called "Metahuman". It works like this: you record facial animation on your smartphone, process it, and transfer it to the character in UE. As a result, you get a realistic character with human-like facial expressions.
UE even has tools for audio processing. You can process a pre-recorded voice and automatically model a character's articulation for it.
And this is just the beginning
Unreal Engine 5 has even more tools, assets, and features than the previous edition. Its algorithms allow the new engine to produce a realistic colorful picture. Last December, for example, Epic Games presented The Matrix Awakens demo for consoles and PC. Every frame there is pure joy.
A new Lumen lighting system has changed the response to scene changes. And another new tool is Nanite virtualized geometry, which reduces artists' workload saving up to 70% of the time for content creation.
Just imagine how many more opportunities will open up for designers and marketers to create high-quality, bright, memorable mobile advertising. Have you tried Unreal Engine for mobile ads production yet? If not, we are always there to help you, just reach out to us.