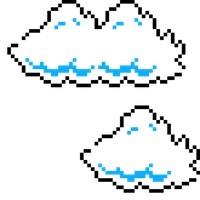 [Video Game Deep Cuts is a weekly newsletter from curator/video game industry veteran Simon Carless, rounding up the best longread & standout articles & videos about games, every weekend. This installment includes a look at HAL Laboratory's last self-published title, a poke at a famous game artwork's use of Mario's clouds, and how SOMA's patch allows you to play sans monsters.

Just packing up for a long trip to Europe here (some work, some holiday, some gadding about), so apologies for the shorter-than-normal preamble. But just remembered that I didn't mention two notable new bits of GDC 2018 (that event I help organize!)

That's both a new Vision Track of 'mini-keynotes' I'm helping to program, kicked off by Pixar on how they use real-time graphics to make their movies, and the new GDC Film Festival - get your buddies to enter their neat video game documentaries, won't you?

Until next time!
- Simon, curator.]

------------------

Frictional on designing SOMA's new monster-free Safe Mode (Andy Kelly / PC Gamer, ARTICLE)
"A year ago I wrote about Wuss Mode, a popular fan-made mod for SOMA that makes its monsters harmless. It's currently the game's most subscribed Steam Workshop mod, which suggests a lot of people want to experience its dark, twisted story without the frustration of having to play hide-and-seek with biomechanical monstrosities."

The Modern Design of 3D Platformers (ft Snoman) (HeavyEyed / YouTube, VIDEO)
"This year has been absolutely stacked with games from all kinds of genres, but the biggest and most pleasant surprise for me was just how much love 3D platformer collectathons got on a mainstream level. So let's look at the design of Yooka Laylee, Snake Pass, A Hat in Time and Mario Odyssey to see if this is a return or just a quick flash in the pan hype revival."

Why Does HAL Laboratory Only Make Nintendo Games? (Brian Crimmins / Waypoint, ARTICLE)
"Though today it is mostly known as a major partner with Nintendo, it's easy to forget that HAL Laboratory began life as a developer and publisher in the late 80s and very early 90s. It was a small studio in these early days, but even here the team found a decent amount of success."

An Interview With Ken Wong, Lead Designer of Monument Valley (Jamie Gilman / Resource, ARTICLE)
"Ryan Cash & Eli Cymet from Snowman have kindly allowed us to share highlights from episode one of their podcast Art & Craft in which they interview Ken Wong, lead designer of Monument Valley. They discuss Ken's influences, how he entered the industry and the alternative ending to Monument Valley that didn't make the cut."

Competing in America's Biggest Fighting Game Tournament: Evo 2017 (Waypoint / YouTube, VIDEO)
"Waypoint Presents: Evolution profiles the Evolution Championship Series (EVO) through the eyes of two of the best in fighting games - SonicFox of Echo Fox and Punk of Panda Global. [SIMON'S NOTE: this is a series of Waypoint documentaries that originally appeared on Disney XD, of all places, and I'll try to post the other ones, because they seem raather good.]"

PUBG's Second Big Tournament Shows It Still Needs Work As An Esport (Nathan Grayson / Kotaku Compete / ARTICLE)
"Over the weekend, 20 top PlayerUnknown's Battlegrounds teams faced off at Intel Extreme Masters in Oakland, California... When the smoke cleared, a team that didn't even get invited took top honors, besting big-name teams, without even winning the final match. This shows that PUBG has potential to be a very different kind of esport, but it's not there yet."

Atari and the dawn of video game culture (Charles Russo / The Six Fifty, ARTICLE)
"Mindful of both Atari's lasting legacy and its current anniversary, we caught up with Tim Lapetino, author of Art of Atari, a gorgeous book that not only explains the glorious 8-bit history of the company, but properly celebrates the often-forgotten — yet entirely dynamic — design concepts which made the system a trailblazing phenomenon."

Brazil's Video Game Gray Markets (Drew Scanlon / Cloth Map / YouTube, VIDEO)
"Brazil's complicated history with electronics has created an alternate universe of video games. [SIMON'S NOTE: some excellent console hardware weirdness here, starring my Video Game History Foundation Discord buddy Gus Lanzetta.]"

Portraying migrants' struggles via cellphones in Bury Me, My Love (Joel Couture / Gamasutra, ARTICLE)
"Bury Me, My Love has players following the journey of their wife, Nour, as she works her way from Syria to Europe. However, players act as the husband, Majd, only able to know whatever parts of the journey Nour chooses to text back to him."

Nier's Yoko Taro On Success, Drinking, And Death (Kimberley Wallace / Game Informer, ARTICLE)
"Best known for directing the Nier and Drakengard series, Yoko Taro reached a new level of success after teaming up with Platinum Games for Nier: Automata, which sold over two million copies. We chatted with Taro about his newfound success and what's next. Just like his esoteric games, our talk was anything but ordinary."

Stephen's Sausage Roll - The Best Puzzle Game I've Played (Joseph Andersen / YouTube, VIDEO)
"[SIMON'S NOTE: slightly late to the party on this analysis-heavy video, but it's been interesting to see the level of praise for this game, which is staggeringly difficult and more expensive than you might think - looks like it's 65% off in Steam sale right now, though!]

The complete history of Civilization (Fraser Brown / PC Gamer, ARTICLE)
"Welcome to the history of Civilization, a series that has been keeping us up until silly o'clock in the morning since the release of Sid Meier's original game in September 1991. Civ turns all of human history into a playground that you can exploit, turn by turn, to bring your chosen nation to glory."

[Post Mortem]: I thought I could ship at least 700 units to stay in business (Constantin Bacioiu / Gamasutra Blogs, ARTICLE)
"I'm not having the best of time writing this post but I feel like I have to. I have been warned against going full time indie by everyone on the internet and by my friends and family. I believed I could make it, all I had to do was ship just 700 units of my game on steam. I'm not even close."

Everything but the Clouds (Patrick LeMieux / Vimeo, VIDEO)
"In didactic texts, artist talks, personal websites, and private interviews Cory Arcangel describes Super Mario Clouds as "an old Mario Brothers cartridge which I modified to erase everything but the clouds."... However, attempting to reverse engineer Super Mario Clouds according to the artist's original source code... reveals that Arcangel's ROM hack does not actually contain Nintendo's ROM."

Apple Time Warp: Episode 3 - Nasir Gebelli (Part 1 of 3) (John Romero & Craig Johnston / Apple Time Warp, PODCAST)
"John Romero and Craig Johnston talk about the early days of games on the Apple ][... on this episode we have part 1 of an interview that John did with Nasir Gebelli who is very well known for great Apple ][ software and games including the hits Space Eggs and Gorgon, which were clones of Moon Cresta and Defender. [SIMON'S NOTE: this is an impossibly rare interview with Gebelli, who is also famed for programming the first 3 Final Fantasy games!]"

Animal Crossing: Pocket Camp impressions: Nintendo should be ashamed (Sam Machkovech / Ars Technica, ARTICLE)
"The series' mix of simple, bright graphics, cute animal friends, house decorations, and quick-hit daily tasks seems like perfect tap-and-go gaming fodder... But before addressing any of that, we have to look closely at how Nintendo converted this game from a fixed-price, retail offering to a free-to-play microtransaction disaster—and how that has rotted Animal Crossing's most rewarding elements from the inside-out."

Reliving the Horror: Taking Resident Evil 7 Forward by Looking Back (GDC / YouTube, VIDEO)
"In this 2017 GDC talk, Capcom's Koshi Nakanishi and Peter Fabiano explain how Capcom took the Resident Evil franchise somewhere new and different, while keeping true to the series' original concepts."

What are devs saying about the design of Super Mario Odyssey? (Joel Couture / Gamasutra, ARTICLE)
"With so many people and developers buzzing about the game and its constant array of new mechanics, Gamasutra reached out to several developers to see just what struck them about Mario's newest outing. Many are playing the game and revelling in every aspect of its design."

The case for and against loot boxes, according to developers (Wes Fenlon / PC Gamer, ARTICLE)
"I asked developers who have worked on triple-A and indie games about the process behind how loot boxes are designed and implemented, plus what the future holds for microtransactions given the current player backlash against them. Here's what they had to say."

Who is PLAYERUNKNOWN? - Noclip Profiles (Noclip / YouTube, VIDEO)
"PLAYERUNKNOWN'S BATTLEGROUNDS has taken the world of online PC shooters by storm in 2017. But who is the man behind the moniker? We sit down with Brendan Greene to talk about his love of military shooters, his journey into mod development and the success of his first game."

------------------

[REMINDER: you can sign up to receive this newsletter every weekend at tinyletter.com/vgdeepcuts - we crosspost to Gamasutra later on Sunday, but get it first via newsletter! Story tips and comments can be emailed to [email protected] MINI-DISCLOSURE: Simon is one of the organizers of GDC and Gamasutra & an advisor to indie publisher No More Robots, so you may sometimes see links from those entities in his picks. Or not!]