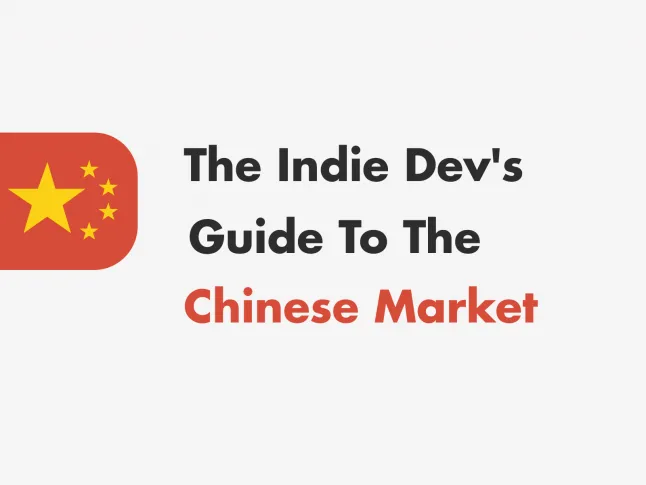 This article was originally published on Level Up Translation's blog
Have you ever considered localizing your game for Chinese audiences?
If not, think again: according to a 2018 study, the Chinese market ranks FIRST worldwide, with 619.5 million players and $37.9 billion in revenue.
The vast majority (94%) of the Chinese gaming audience enjoys spending money on in-game items or virtual goods.
It's time to learn how you can tap into your piece of the pie too.
Article outline
1 - Characteristics of the Chinese gaming market
2 - Four ways to reach a Chinese audience
3 - Anatomy of a game designed for the Chinese market
1 - What You Need To Know About The Chinese Gaming Market
Chinese gamers don't follow the same trends as western gamers.
For starters, 95% of gamers play mobile games in China. That equates to a total of 598 million people in 2018, and it's predicted that 728 million people will be hooked into mobile games in 2023. And remember, this is just in China!
The PC audience is a bit smaller, but still significant at 312.4 million players—a number that's predicted to rise to 354 million in 2023.
Popular games include battle royale style games, MMOs, and sandbox games. In recent years, there has also been a boost in popularity for games that are oriented towards female audiences.
However, the Chinese market is not a free-for-all zone. There are strict regulations in place that you must follow if you want to access traditional sales channels.
Your game must avoid political issues, obscenities, display of extreme violence, drug use, gambling, blood, and horror.

If you include historical details in your game, they need to be factually accurate.

You need to stay respectful of all religious beliefs.
Keep in mind that only Chinese companies can apply to get a game certified. Without this certification, your game cannot be published in the Chinese market.
Media channels in China
Using Google to market your indie game may work anywhere else in the world, but in China, all Google services are unavailable. And yes, that means no YouTube, Gmail, or even the Google search engine!
Marketing on these channels with Chinese audiences in mind is a waste of time and money.
Instead, Chinese media platforms include Youku, Bilibili, and QQ.
2 - Four Ways For Your Indie Game To Reach A Chinese Audience
Now that you know a bit more about the Chinese gaming market, here's how you can make sure your indie game reaches these audiences.

1. Localization for the grey market
China has something known as the "grey market." These are unauthorized sales channels that are not technically illegal.
You can release your game on consoles and Steam from Hong Kong using this grey market, but only do so if you've taken the time to localize it.
Keep in mind that the Chinese language has over 80,000 characters, so make sure you use fonts that are fully compatible.
Alternatively, you can create yours using this font generator depending on your preferences, such as pixelated, bitmap, and more.
2. Find a Chinese partner
Because only Chinese companies can apply for game certification, partnering with a Chinese producer is the way to go if you want to:
Have local servers for your game,

Launch marketing campaigns locally,

Get your game onto official distribution platforms.
There's no other way to do it. Keep in mind that for this to work, your game must be localized and must follow all the regulations mentioned above. Even if you manage to find a Chinese partner, your game won't get certified if it doesn't follow all the rules—and if it's not localized for the Chinese market.
3. Create a "China-friendly" game
At the moment, free-to-play games are the most popular game type in China, with 61% of players preferring free-to-play over paid games.
This means you'll have more chances of creating a successful game if you adopt the free-to-play model.
Additionally, in order to best engage with Chinese players, make sure you localize everything in your game so it's adapted to the region and isn't just word-for-word text.
For instance, take a good look at all the references you make in your text, or even using your visual assets and audio files. Are you making pop culture references that won't make sense in China? If so, you should localize these and include relevant alternatives. Otherwise, you'll end up with some confused audiences.
For example, if you launch a mobile free-to-play game with special events, consider creating events and collectibles for days such as:
Chinese New Year,

Lantern Festival,

National Day,

Winter Solstice,
Don't keep references to western-style events/holidays such as Halloween and Christmas.
Additionally, does your game include jokes or references related to western television programs? In your localization plans, make sure your translators find relevant equivalents that your Chinese audience can relate to.
4. Create a game designed exclusively for the Chinese market
If you want to maximize your chances of making it big in China with an indie game, then the best way to go about it is to craft a game—from the ground up—that's geared to this audience.
First off, perform a deeper market study to get an idea of the other games out there. From there, you'll be equipped to make a game that's relevant to Chinese gaming culture, as well as gaming culture as a whole.
3 - Anatomy Of A Game Designed For The Chinese Market
A game for the Chinese market needs to include social elements that allow these players to interact with one another.
Facebook and Twitter are banned in China, but WeChat is more popular, and games like Fruit Ninja are implementing it directly into their game exactly for this purpose.
That's because 36% of Chinese gamers say their biggest motivator in terms of playing mobile games is to compete against friends or other people, while the second-biggest motivating factor is the quality of the game.
So focus on the quality of social engagements above all else. And if you must choose between increasing the quality of the social engagements or the quality of the game, choose engagements!
Chinese players also care more about competition than any other audience around the world. On average, Chinese gamers care 75% more about competition than other gamers worldwide, but don't care as much about being immersed in a compelling game world and elaborate story.
If you're going to make a game for a Chinese audience, make it multiplayer or at least allow such players to compete for scores against one another if it's a puzzle game, for example.
Chinese players prefer playing with each other to interacting with fictional casts of characters. Focus your resources on maximizing the competitive aspects instead of creating a fleshed-out, immersive story with multidimensional NPCs.
Chinese players also love the completion aspect of gaming! Make sure to include mechanics that appeal to completionist players, such as:
Point systems,

Trophies,

Quests,

Achievements.
If you're still not sure what type of game to go for, consider the following:
The most popular types of mobile games for male gamers are MOBAs, at 45%;

For female gamers, it's puzzle games—at 52%.
This should give you a good starting place for what key points to hit when designing your indie game for a Chinese audience.
Make Waves In The Chinese Market
The Chinese gaming market is much too big to be ignored.
If your game already contains some of the China-friendly elements we've discussed, like a free-to-play model and social elements, consider localizing your game for Chinese players. The same goes if you have a game that would not require too much editing effort to make it China-friendly!
We can help you get there. Get in touch with us if you need traditional or simplified Chinese localization!