The world of Horizon Zero Dawn is one that blends the far-flung future with the ancient past. Set one thousand years from now, the version of Earth our heroine Aloy inhabits is one where primitive tribal societies and advanced machines co-exist in (near-perfect) harmony.
It's a unique setting, and one that's downright gorgeous. But Horizon's expansive neo-prehistoric world didn't win our hearts on its visual prowess alone. The game's emotive soundtrack and immersive sound design are also responsible for breathing life into every scene and sumptuous vista, pulling us deeper into Horizon's universe and the mystery that surrounds it.
To find out how the score was created, we caught up with co-composers Joris de Man, who's previously worked with Guerilla on Killzone, and dynamic duo Joe Henson and Alexis Smith (a.k.a. The Flight), who you might remember for their work on Alien: Isolation.
Gamasutra: Horizon's world is unique in that it feels very much like stone age sci-fi. Was it difficult creating a soundtrack that embodies those two concepts, and where did you look for inspiration?
Joris de Man:
Marrying those concepts was one of the unique challenges of composing for
Horizon Zero Dawn
and took a fair bit of time to get right. What helped a lot is that Lucas van Tol (Senior Sound Designer and our music supervisor) gave us plenty of game references, as well as a music design doc with descriptions of the various regions in the game and what the tribes would have in terms of materials and technology.
So, the Nora tribe is a very maternal tribe that does a lot with wood and leather but not metal, so that is something we could then incorporate in the music and use as a guide for our palette. But he also made the point that the music needed to very much be its own thing, and attempt to not really sound like anything we'd heard before.
In terms of game industry reference, I really liked what Jason Graves did for Tomb Raider, and the 'found sound' element was something that we also explored. Another personal favorite of mine is Mark Morgan's scores for the original Fallout 1 & 2. I especially like the more desolate pieces in that, and though the music itself wasn't really a reference as such, I just really like his approach to musical sound design, which did serve as an inspiration.
Were you given a lot of freedom to take the sound in the direction of your choosing (within the context of the game)?
"One idea we ran with was imagining how someone would play contemporary instruments they had never seen before."
Joris de Man: We had a lot of freedom, but Lucas also made sure that tonality and palette-wise, we were in the right direction for each region. However, he was happy with us experimenting away and trying things out, and wouldn't hesitate to nudge us in the right direction if it felt off.
The Flight: We worked very closely with Lucas and the audio department. Together we explored what the final sound of the score would be. We talked at length about the overall world, Aloy's surroundings, her personal journey and the tribes she meets along the way.
One idea we ran with was imagining how someone would play contemporary instruments they had never seen before. So we experimented playing instruments in strange ways: bowing resonator guitars or layering up tracks of harmonicas into an orchestra.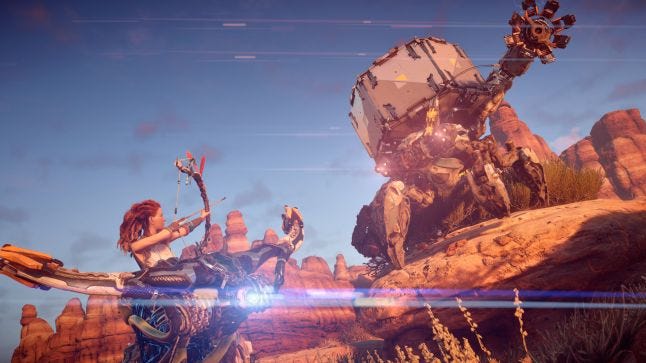 How much of the game did you get to play and see while writing the score? How did that inform your process?
Joris de Man: In the beginning we had just artwork, though I shouldn't say 'just.' There was a massive library of fabulous designs and sketches that the artists at Guerrilla had created that served as initial inspiration, and it was so rich and detailed that there was no shortage of ideas to draw upon.
"I think it actually helps when a game isn't too polished at the early stage, as you can be led by your impressions and own ideas."
The game already had an early version of Aloy running around, and it was clear that one of the first things they concentrated on was her movement. A lot of the environments were still grey boxes and untextured objects, as were the cutscenes, but when the story is that strong, it doesn't really matter. In fact, I think it actually helps when a game isn't too polished at the early stage, as you can be led by your impressions and own ideas, and we had Lucas on-hand as music supervisor to keep us on the right track.
But I have to hand it to Guerrilla and Lucas, they gave us a lot of free reign — probably more than I've had on any other title — and a lot of room to experiment. I think it was indicative of the entire creative process on this game which meant everybody was able to really let it rip creatively.
The Flight: We were lucky enough to visit Amsterdam quite regularly to play the game with Joris and the music team. This gave us the opportunity to hear the music in-game and discuss what was working or not. We were also sent regular game captures to have in our studios. We like to have these running on a loop in the background while we compose, it really helps with the mood, pace and the tone of what we create.
You've all worked on video games before, but how did your approach to Horizon differ from say your approach to Killzone or Assassin's Creed Black Flag?
Joris de Man: In my case, the Killzone franchise's musical approach was very, very different. The Killzone series was an attack on all senses — visually, gameplay-wise and sonically — and utilized a large live symphony orchestra and chorus. The pacing was also very different, where enemy encounters were around every corner, and the action rarely let up.
Horizon was all about exploration, hunting robots, and story and character development. Guerrilla were looking for much smaller and intimate sounds created with just a few solo instruments. Something that wasn't overproduced and had a somewhat drier sound. Music-wise, those titles couldn't be further apart. Horizon needed quiet moments. Music that could underscore the grand vistas, and a more emotional touch that could complement Aloy's journey with all its twists and turns.
The Flight: Every game is different, and the music must serve what it needs. We worked on Assassin's Creed Black Flag's multiplayer, predominantly an action-based score, heard in short sittings. Horizon Zero Dawn is a completely different beast: a huge game with a deep emotional back story and rich world, designed to be played for hours at a time, so the musical approach had to be different too. This meant that there had to be a much wider range of music, from exploration pieces that could be listened to for a long time without getting repetitive, to fights that had to contrast and raise the player's heartbeat.
Are there any challenges unique to crafting music for an open world? How does it differ from scoring a more linear experience? What extra factors do you need to take into consideration?
Joris de Man: The pacing is very different, and it required me to rethink how my music worked in-game. After having worked on quite a few games where the music had to be so intense and scene-filling, it was a nice challenge to take a 'less is more' approach and really pair it back to a few simple elements.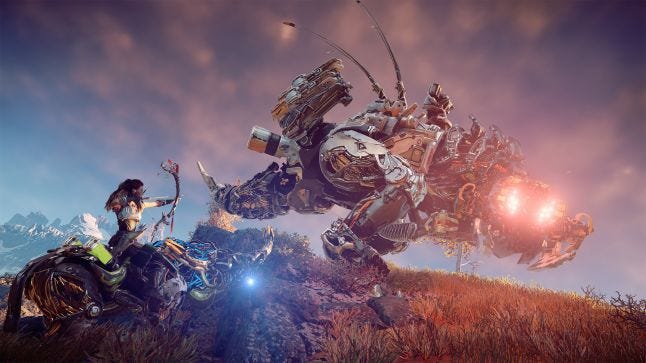 I was also aware that the game required a lot of traversing and traveling, and so the music shouldn't be too imposing or present, but at the same time it had to convey that feeling of awe when the player would witness the beautiful landscapes and vistas. Of course, we also had to keep in mind that the player would be spending a lot of time in this world, and Lucas had asked us to supply all our music in stems so that he could get extra mileage out of it.
As we wrote music in similar keys, he also started combining stems from different pieces and so we ended up with sections that were quite unique and far beyond what we imagined our music could do.
Do you have a 'golden rule' you think all composers should keep in mind? Or perhaps a piece of advice you'd give to budding composers?
Joris de Man: Personally, I'm big on themes. I think once you can establish a memorable theme for a character or story element that you can reuse in many different ways, you're set. it helps glue all the different elements together, and as a composer can help you keep consistency, especially if there's a lot of music to write.
For budding composers, advice is tricky. When I started in this industry it was very different, the pre-internet era where there were a lot less games and composers. I think the main thing is to do something you love, in a style you love, whilst at the same time not being afraid to step a bit outside of your comfort zone.
That was definitely the case on this project, where at times I felt incredibly uncomfortable because it was so different to what I'd composed before. But at the end of the day it was incredibly rewarding and I ended up with music I didn't know I could write.
The Flight: We have three golden rules. The first is to get out and meet as many people in the industry as possible. You will get further, faster if people know who you. After that, you should find a sound that is unique. It's okay to take inspiration from what you love, but try and find your own voice. And finally, be a good person. You get employed for both your skill but also for how professional you are and if you can get along with people. It's surprising how many people don't seem to realize this.