What's the difference between writing a story and composing the score for a video game? The answer, according to Petri Alanko - the soundsmith behind Alan Wake and more recently Quantum Break - is simple; there isn't one.
For Alanko, a great score should serve as a musical bridge between a player, the characters, and the world they inhabit. In the case of Quantum Break, that's a world of time-hopping action, morally grey characters, and tough choices.
A musical mixer
It was only natural, then for Alanko to kick off the scoring process by picking the brains of Remedy staffers, asking them an "annoying" amount of questions before finally moving onto what he describes as the "raw material phase" of composition.
At that point, he set about recording, sampling, cutting and manipulating instruments in "questionable ways" and quickly amassed a library of rough-around-the-edges material. Yet, as he continued to experiment he became dissatisfied with the restrictive nature of certain tools, and took it upon himself to find, and even create, more flexible solutions.
Alanko worked with Native Instrument's graphical modular music studio Reaktor. "Somehow most of those ready-built, downloadable Reaktor ensembles are always very poorly interfaced, so that led to the decision to create a set of my own," he says. "When I started collating sounds into drumsets, sample sets, and tonal instruments, I began to notice that I actually preferred some of the sounds I'd recorded in my own way."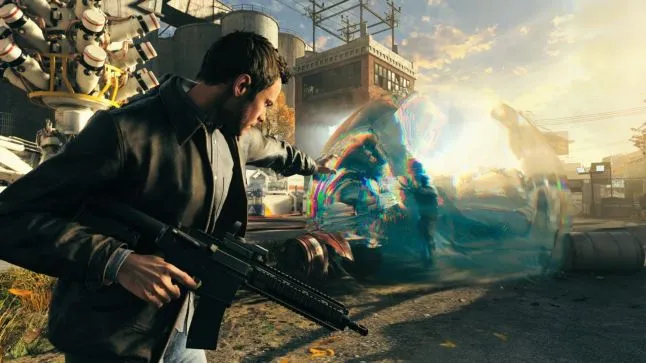 "Around then I started earmarking some ideas, just in case, but I didn't write any melodies or harmonies down until a couple of weeks had passed: if the idea survived, it would be worth writing down."
Any ideas that did survive had to resonate with players emotionally. "Games aren't linear in the way movies are," he says, which means the music has to encourage participation, and remind anyone with a controller in their hand why they picked it up in the first place.
"I avoided overly aggressive cues and music pieces, instead opting for more meandering and sublime movements."
Emotional, though, isn't necessarily synonymous with powerful, and despite Quantum Break's action-packed trappings, Alanko wanted to tap into the humanistic undercurrent that keeps players invested once the shooting's stopped.
More than a feeling
"I avoided overly aggressive cues and music pieces, instead opting for more meandering and sublime movements to support the [emotional] impact," he explains.
"The action and the sound effects were already there, so I didn't feel the need to push those forward - and the action feels more real if there's sound effect feedback."
He says his approach to creating a score that's both moving and technically fit-for-purpose and isn't too dissimilar from creating a culinary masterpiece.
Just as the great chefs must have an understanding of how flavors work together and compliment each other, composers must learn to master and understand the subtleties of their craft. Do that, he says, and you'll create something special.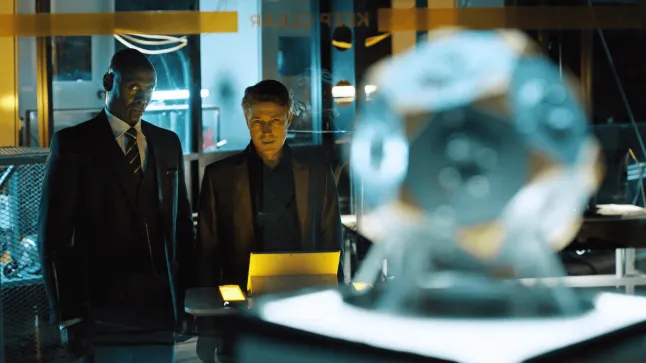 "Making a believable impact from slightly unbelievable starting points requires careful work and sparing use of emotional moments," continues Alanko. "If you eat something overly bitter, sour, sweet or salty, you get tired of it quickly, but if you deliver the goods little by little, the longevity and sense of immersion will increase."
As hard as it can be at times, it's also prudent to know when to stop. The phrase "kill your darlings" is often bandied about in the world of game development, and Alanko is no stranger to the notion of knowing when to reign yourself in.
"With longer projects, it's incredibly easy to lose control and get lost in the swamps of 'music for the dolphins.' "
"With longer projects," he says "it's incredibly easy to lose control and get lost in the swamps of 'music for the dolphins,' and to start making changes to a cue that nobody will ever hear.
"One has to be able to use the analytic side in co-operation with the creative side."
Cause and effects
Alanko was keen to incorporate some of Remedy's homegrown sound effects. The time powers are, after all, what makes Quantum Break tick, and after seeing and hearing them for the very first time, Alanko knew he had to make use of them somehow.
"I still remember the one Friday afternoon, when the environment waving effect was shown for the first time," recalls the composer. "It was sound-driven and struck me with its natural waving effect. I wanted to duplicate that in a slightly slower form, which is why sometimes the roaring basses seem to fluctuate a lot."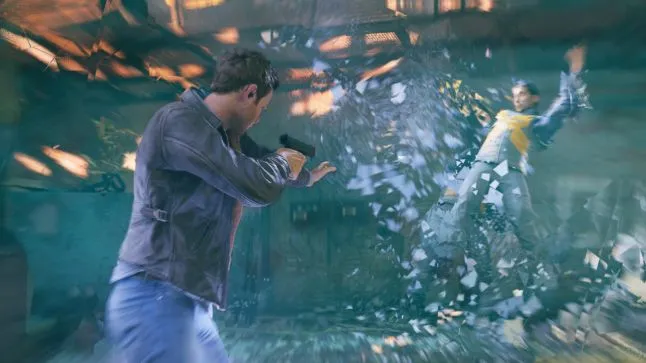 Hearing the finished product, a collection of Alanko's work laid out in the form of a 15 track, 49 minute long album, it's easy to think that's all a composer needs to do - create a prerequisite number of songs, and then walk away.
The realities of scoring a game, however, couldn't be more different. You have to take into account player actions, and subsequent in-game reactions, serving up differing cues for multiple eventualities. In many ways, it's like trying to pre-empt the butterfly effect.
"Since the audio playback was dealt with using WWise, and the audio integrator was taking care of the setup, my job was relatively straightforward: just provide enough stems to fill their needs," explains Alanko.
"It sounds simple now, but since each of the cues had to fit in with some other pieces, and they needed to be exchangeable.
"Since the changes in audio must happen instantaneously, the delay between the on-screen action and the reaction had to be very short, which after a brief consideration, was solved with a set of really short transformation fill-ins and outros."