The year is drawing to a close, and with it comes the tricky business of selecting ten game makers to celebrate as Gamasutra's Top Developers of the Year.
It's never an easy process, or a definitive one. Every year we see a fantastic array of new voices join the game industry chorus, and every year some entrenched talents achieve a new register or hit the perfect pitch.
So instead of trying to focus on who made the "best" games, or the most successful, or the most interesting, here we try to celebrate a group of creators who left an indelible impression on us and the game industry as a whole.
Each of these developers and studios accomplished something special this year. Their work inspired us to look at the art and business of making games in a new light, and gave us fresh perspective on what video games can be.
Here then, in alphabetical order, are 10 notable developers and studios (selected by Gamasutra staff) that surpassed our expectations and created something which got us talking.
Arkane Studios
Arkane Studios, with locations in Lyon, France and Austin, Texas, makes the list for keeping alive top-tier, single-player "immersive sims." Prey and Dishonored: Death of the Outsider are exemplary games released this year, in a genre that probably requires three tons of Post-It notes during the prototyping phase.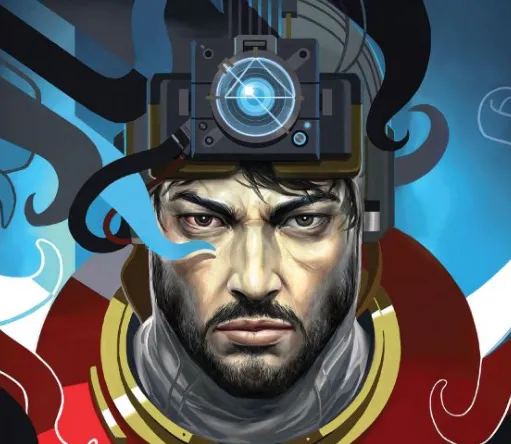 Recognizing Arkane this year is important. There's a shadow of doubt that hangs over the commercial viability of big-budget, single-player immersive sims – rumor has it, Arkane's most recent releases weren't exactly blockbusters. But if Arkane's games of 2017 are any indication of what this studio is capable of, we need them to keep making immersive sims.
The DNA of games like System Shock, Thief, and Deus Ex arguably run deeper in Arkane's games than even the recent games that bear the names of those classic immersive sims. Part of that is because key people working at Arkane also worked on the games that gave initial rise to this category of games. But it's also because Arkane is flat-out committed to improving and perfecting this important genre.
And it's a difficult genre to be in. The amount of production value that goes into these games is staggering, and, due to the non-linear nature of these games, a lot of that production value isn't even seen, let alone appreciated, by most players. It takes an incredible amount of commitment to bring these games to market, especially at this level of quality.
So for that, Arkane makes the list, not "just" because Prey and Dishonored: Death of the Outsider were among the best games of 2017, but also for the commitment to excellence and incredible execution in a genre that is challenging in more ways than one.
Christian Whitehead, Headcannon, and PagodaWest Games
This development trio came together to release the '90s inspired Sonic Mania, but the story behind how the team came together to create the refreshing homage is something worth recognizing.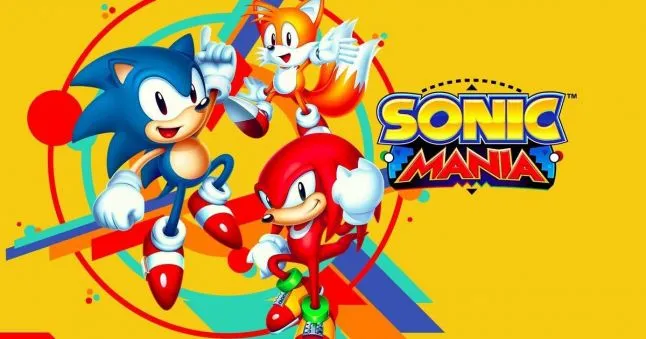 Before getting the green light to create a modern take on a 2D Sonic the Hedgehog game, Whitehead and Simon Thomley of Headcannon connected in 2009 to create a fanmade mobile version of Sonic CD and, hopefully, catch the attention of Sonic owner Sega in the process.
The sheer quality of their mobile remake did indeed catch Sega's eye and the duo went on to use Whitehead's custom-made 'Retro Engine' to bring both Sonic The Hedgehog and Sonic The Hedgehog 2 to mobile platforms on behalf of Sega.
David OReilly
David OReilly's Everything is a game that plays itself. It's made by a small team, yet seeks to encompass all of existence. It gives us room to touch, inhabit, and play with everything we can see, and in so doing reminds us -- in a way that only a game could -- that everything is made up of the same stuff. That we are all, fundamentally, pieces of the same whole.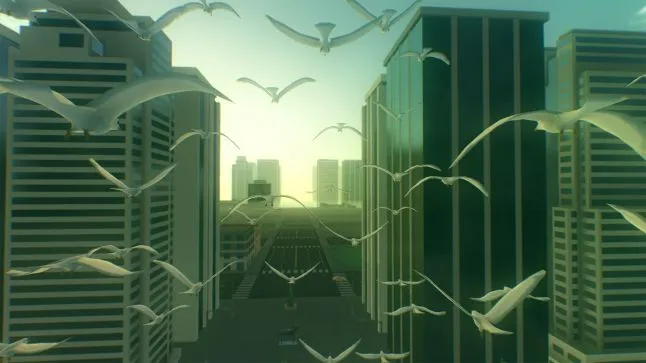 Everything is a game envisioned by someone who is interested in games, but hasn't spent a career thinking about the best ways to make them. It's a high-profile example of how the democratization of game dev tools is opening the industry up to broader spectrum of creators, and in the process expanding the scope of what games can or should be.
As we reflect on 2017, we recognize David OReilly and his collaborators not because they released the "best" or most interesting indie game of the year, but because they made explicit an implicit truth: making games, like all creative work, is an act of philosophical expression.
Giant Sparrow
Not many video games make one feel something other than the fleeting rush of being challenged and rewarded. Some games make you feel like you've fed your brain, as if you'd read a good book or short story.
Giant Sparrow is a studio that makes this kind of inspirational game, and does it exceedingly well. 2017's What Remains of Edith Finch, the follow-up to 2012's The Unfinished Swan, was the year's best example of narrative and mechanical harmony, a masterful achievement that will be studied for years to come.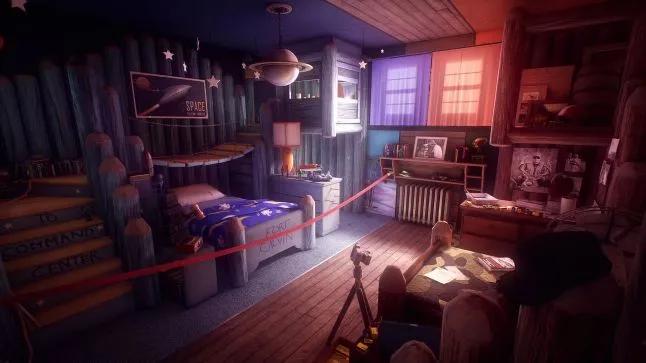 That harmony, of course, was not an accident. Speaking with Giant Sparrow's Ian Dallas this year, he explained the grueling process of making 30 different control schemes for Edith Finch's vignettes, each intuitive, and each one enabling the player to communicate through the game in a meaningful way; to feel the narrative unfold through a game controller.
While Edith Finch is noteworthy in and of itself, Giant Sparrow as a studio deserves acknowledgment. The studio managed to navigate a mid-development switch from Sony to the newer publishing house Annapurna Interactive, leave a lasting mark on this newfangled first-person storytelling genre, and sell more of this game than a lot of people expected. We're happy (and relieved) that so many other people appreciated Giant Sparrow's work, so that they may go on to create more memorable experiences.
IO Interactive
Longtime Hitman developer IO Interactive made our top developers list last year for taking a risk and breaking the latest game in its long-running series up into an episodic release. 2017, however, saw IO Interactive tasked with a different set of challenges and a unique situation that have earned the developer a spot on this list once again.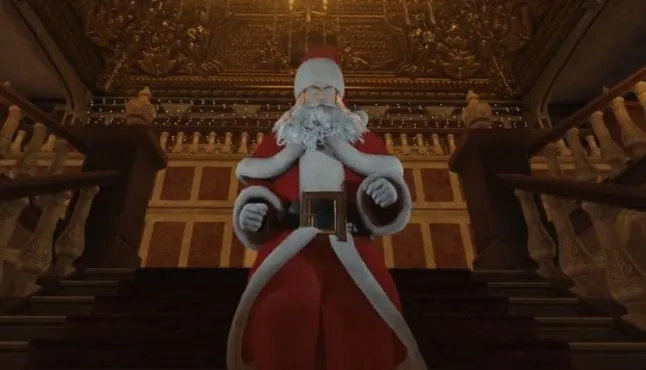 After successfully navigating its risky decision to release Hitman as an episodic, live game, news broke that Square Enix was looking to end its ownership of IO Interactive. At the time, Square was in talks about selling IOI with a number of parties, making both the studio and Hitman's future was uncertain.
Weeks later, however, IO Interactive emerged as an independent studio after agreeing to a management buyout with Square Enix. Surprisingly, the negotiations between the two companies resulted in IO retaining the rights to the Hitman series and keep its episodic game alive. Unfortunately, the transition was not a painless one and IO did execute a number of layoffs. Nevertheless, the fact that it managed to remain in business, retake the rights to its flagship franchise, and continue supporting one of the best "live" games of last year is a feat worth celebrating.
Laundry Bear Games
Laundry Bear Games (based in Toronto, Canada) made its debut with the release of A Mortician's Tale in October 2017. The game, which started out as a game jam game called Mortuary Simulator, was inspired by the work of mortician and author Caitlin Doughty and the death positive movement she helped found, which seeks to dismantle the current culture of death in western society by educating the public.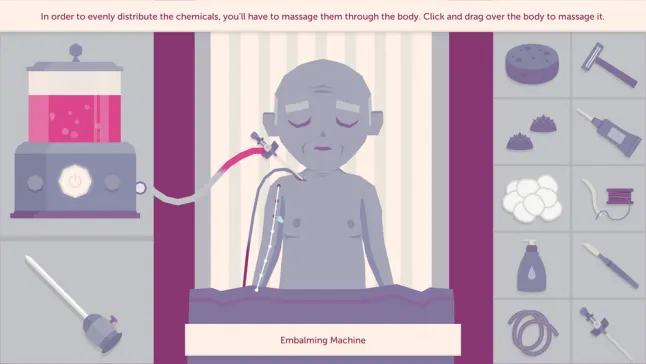 In Mortician's Tale Laundry Bear made a game that challenges the depiction of death and does so in a respectful and informative way. Players learn everything from the different ways bodies are prepared depending on which service the deceased requested, to the sometimes sinister intentions of funeral homes who seek to overcharge and take advantage of grieving families.
Video games are full of death and dying and violence at the hand of the player. Instead of inflicting harm, A Mortician's Tale asks that we take care of a corpse instead of creating one.
Dying is inevitable. The culture of silence created around it has scared us into avoiding conversations we should be have with our loved ones about death. Laundry Bear has succeeded with A Mortician's Tale because it's generated a discussion, and has developed one of the most authentic games about death.
MachineGames
It takes a talented group of developers to weave a tale about American White Supremacy into a goofy Nazi first-person shooter, and in 2017 that group of developers was Sweden-based MachineGames.
After the success of Wolfenstein: The New Order, it was going to be a tall challenge for any studio to re-capture the energy and intensity that first game work, and not only did MachineGames do that, the team crafted more human and meaningful moments than even suggested by the first game.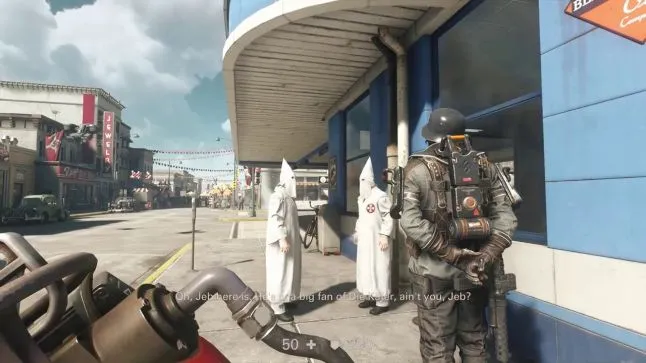 In Wolfenstein II: The New Colossus, mothers pick up guns to defend their children's future, a racist white Texan boasts about how the Nazi regime has improved his life for the better, and a soft-spoken half-Jewish child, caught between worlds, cedes leadership in the resistance so he can better use his privilege and power in the best way possible.
And all the while, MachineGames' commitment to technological achievement and innovative play delivers a set of standout levels and weapons that do justice to the series' first-person shooter heritage. The New Colossus ends with the suggestion of a third adventure for our rag-tag heroes, and we hope MachineGames gets a chance to tell one more tale in this fantastic series.
Nintendo Entertainment Planning & Development
You'd be hard-pressed to find someone in the game industry who doesn't think Nintendo is good at making games. Game design and development is, perhaps more so than any of its competitors, a critical and enduring pillar of the company's business.
But this year was something special for Nintendo. Alongside the (surprisingly strong) launch of a new console it released a fantastic array of games, from Splatoon 2 to Metroid: Samus Returns to Super Mario Odyssey and The Legend of Zelda: Breath of the Wild.
Any studio would be lucky to see a project succeed on the order of Odyssey or Breath of the Wild. Nintendo EPD shipped both this year, and in the process managed to reinvigorate two storied franchises that have, over time, grown stale and predictable.
The hard work of Nintendo developers proved instrumental in the company's 2017 turnaround, and inspired many to look to 2018 with one eye trained firmly on what, exactly, Nintendo will do next. For these reasons and more, we recognize Nintendo EPD as one of the top game developers of 2017.
The Pixel Hunt and FIGS
Newsgames. Edutainment. Serious games. These terms come loaded with baggage, and any dev who sets out to make a game about real issues must be braced to bear that weight.
Many do it well, but few this year seemed to do it as effortlessly as the developers of Bury Me, My Love, a mobile game about the experience of a Syrian refugee seeking safety far from home.
It's the first independent game from French indie studio The Pixel Hunt and French digital design agency Figs, who together manage to write and present the unfolding story of BMML in a way that feels grounded without being grave.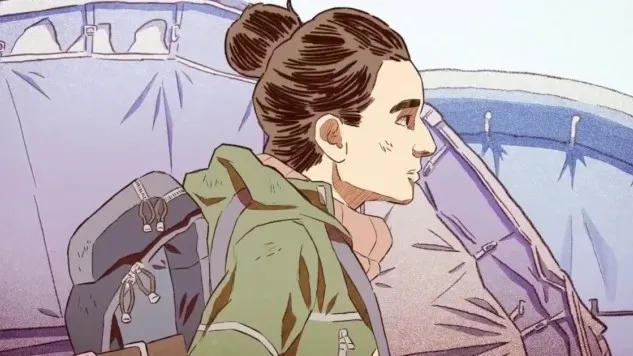 Unfolding through a WhatsApp-esque font of texts, emoji and beautifully illustrated selfies, the story of BMML hero Nour and her husband Majd is at turns hilarious, terrifying, and gut-wrenching. But most of the time, it's mundane. The player watches from the perspective of Majd, sometimes making choices on how to respond (should I use the blushing-face emoji or the zipped-lips one?) but mostly waiting for word from Nour on where she is and what she's doing.
So often, the answer is quotidian: she's trying to find a road in the dark. She's annoyed with a hotel door that won't close properly. She's stuck in a long line at a government office. Throughout the game Nour and Majd share in-jokes, awkward texts, and uncomfortable silences in a way that feels true to life. Sometimes they can be boring, or cowardly, or petty, and that's so important to see because let's be honest, so can we.
Games about serious subjects are often peppered with characters that feel like caricatures of real people, packaged for a global audience, who spend their stage time emphasizing the drama of their valiant struggles. By contrast, BMML gives players space to sit with two people and get to know them as the world pulls them apart.
It's a remarkable game, and we can't wait to see what the dev team does in the years to come.
PUBG Corporation
It's been a truly remarkable year for PUBG Corp. The studio's debut game PlayerUnknown's Battlegrounds (you might've heard of it) has become a bonafide record-breaker, trendsetter, and award winner -- and it hasn't even officially hit shelves yet.
Whether you love, loathe, or couldn't care less about the Early Access title and the wave of 'battle royale' shooters it's spawned, you can't deny the immense impact it's had on the games industry. The last-man-standing shooter has experienced nothing short of a meteoric rise over the course of the year, becoming the most-played Steam game of all time with over 2 million concurrent players and surpassing 20 million sales in the process.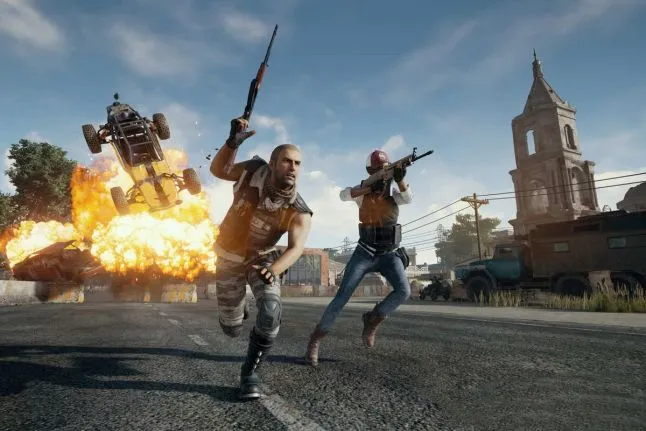 Sure, the game itself might be a little rough around the edges, but Battlegrounds has energy and personality by the bucketload. Every do-or-die match is packed with tension and memorable moments, and like a reality show for the modern age, the unpredictable nature of Battlegrounds makes it as much fun to watch as it is to play.
Success, however, breeds competition, and although PUBG Corp. will surely be watching the progress of other last-man-standing titles like Fortnite: Battle Royale with keen interest, right now it's deservedly the undisputed king of the hill. The young studio managed to shape and legitimize a sub-genre by dedicating itself to the cause, and in the process became the face of a burgeoning movement that looks set to engulf the games industry.
Winner winner chicken dinner, indeed.
Want to read more about the best of 2017? Don't miss our picks for the Top 5 Trends of 2017 and Top 5 Events that shaped the year. Gamasutra contributors also each wrote up a personal list of their top games, and you can read them here: Kris Graft, Alissa McAloon, Chris Kerr, Phill Cameron, and Bryant Francis.