This interview has been edited for clarity and contains mild spoilers for Outer Wilds and Outer Wilds: Echoes of the Eye.
The universe is a song. Life, death, rebirth. Patterns and loops repeating, evolving, and reemerging in unexpected new ways. A chaotic symphony of existence rippling across the cosmos as choices become memory, and memory becomes myth. But is anyone out there listening?
In Mobius Digital's unexpectedly moving adventure Outer Wilds the answer is a resolute "yes." The title, which asks players to unravel a mystery scattered throughout a solar system on the brink of calamity, is emotive science fiction that dwells on the nature of existence around crackling campfires. Here, cliched threats and dry exposition are replaced with lost signals and forlorn melodies that hint at what came before, and what might yet be still to come.
Motifs are woven into the very fabric of the game, serving as a guiding light as players sift through the stars using their signalscope—a multi-frequency receiver that can hone in on distant signals to help chart a path into the unknown. If the tantalizing mystery at the heart of Outer Wilds is the hook, then its mesmerizing score is the anchor—tethering players to the universe and, above all else, making it feel like home. A place worth saving.
We Have Liftoff
"Everything was created in tandem," explains Outer Wilds composer, Andrew Prahlow, during an interview with Game Developer, noting how he worked in close proximity with Mobius from the outset to ensure the score would become absolutely fundamental to the experience.
We sat down with Prahlow following the release of The Lost Reels, a deluxe edition of the Outer Wilds: Echoes of the Eye soundtrack, which recently won the G.A.N.G. Award for Best Soundtrack for an Indie Game. Prahlow explains they created The Lost Reels as a thank you to fans of the series, but notes the project also helped provide some sense of closure after working Outer Wilds for a decade.
During our chat, we asked Prahlow to turn back the clock and explain how the original title managed to quickly pull players in using banjo-infused melodies and cosmic intrigue. He explains that the core 'Main Title' theme, which some players might recognize as 'the one with the banjo,' was yanked into existence fairly quickly.
Prahlow favored the banjo because it just felt a "little bit off-center" compared, to say, a traditional acoustic guitar and was a natural companion to the campfire that serves as the starting point for players. He adds that he wanted to create a recurring theme that players wouldn't grow tired of, citing The Legend of Zelda: Ocarina of Time's "simple and repetitive" melodies as inspiration. Much like the universe itself, everything spiralled outwards from there.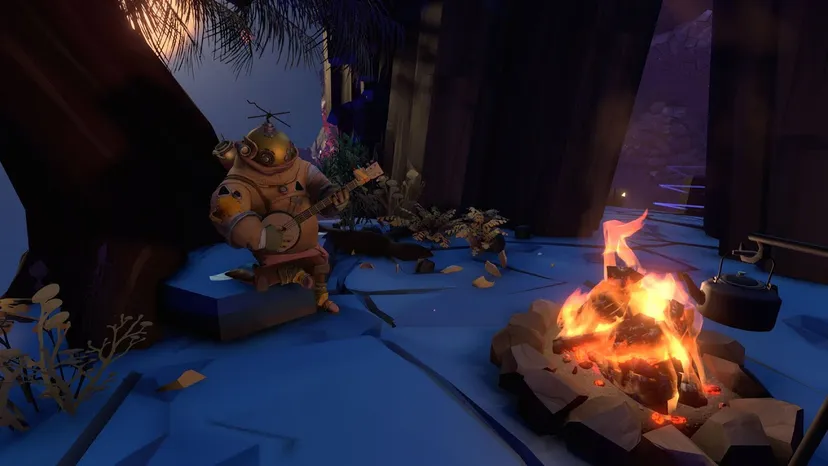 Even at that early stage, creative lead Alex Beachum had character sketches explaining how each of the other travelers (fellow instrument-toting Hearthians that players can seek out using their signalscope to learn more about the solar system) would behave and look. That allowed Prahlow to flesh out their musical sensibilities from the outset, picking instruments that matched their personality to weave a melodic tapestry with an extraordinary payoff that more than justifies the price of admission.
"We were all able to play off of each other, so when I would hear new story tidbits I was able to incorporate those into the music," says Prahlow, expanding on how that process played out on a studio level. "One exciting way of collaboration was how the initial concepts of characters were deeply woven into the writing and music as we continued to fine-tune what we were working on."
Though it took time, it allowed the team to achieve a rare sense of unity, which in his view is why Outer Wilds feels so cohesive.
"We had a lot of time to review our work and correct things that didn't help create a sense of continuity," continues Prahlow. "Compositionally—the ending of the original Outer Wilds soundtrack comes together so well because of the initial building blocks. The trial-and-error along the way helped us carve a pathway forward, and the pre-production of the score and those narrative building blocks I created allowed me to seamlessly score the last loop of the game like a third act finale."
Secret Ways
Breaking down his own creative process specifically, Prahlow explains how he'd use flowcharts to track the narrative as it became this huge, sprawling riddle set across multiple planets and interstellar objects, some of which appear to defy the laws of time and space.
"I had to keep tabs on the core musical concepts and how they could work together. There was the Hearthian concept of feeling at home and the traveller's instruments. Then there was the Nomai, based around the piano and leaning into that feeling of being a little bit off-kilter. Then there was the concept of the Eye of the Universe and the feeling of being surrounded by something completely unknown," he continues.
It was a technique that helped Prahlow when he began work on Echoes of the Eye, a slice of downloadable content slash pseudo-sequel to Outer Wilds that takes places within the game itself. Prahlow describes the add-on as a "little bit of a descent into madness," so it's easy to see why it was critical to keep tabs on its marauding narrative tendrils.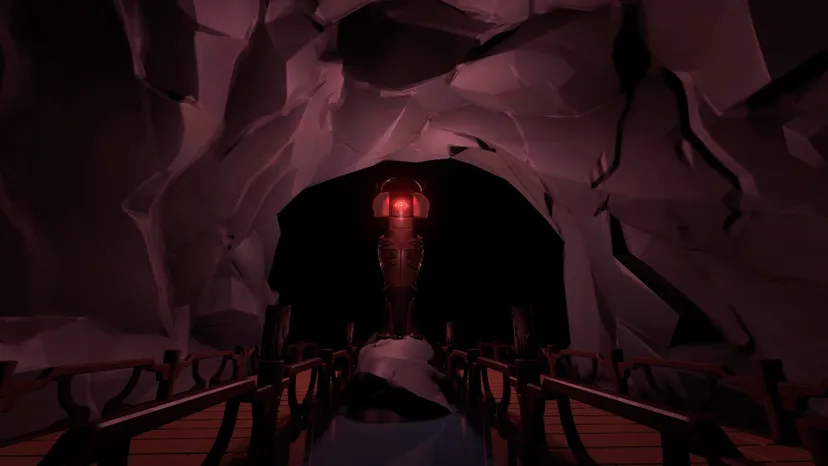 Although Echoes of the Eye is slightly darker in tone, Prahlow didn't change his creative approach. As with the original title, he recorded himself playing instruments at home and began layering clips together. The cosmic horror elements baked into Echoes of the Eye did, however, allow him to get more experimental, and he started incorporating guitar pedals and leveraging more analogue synths to really dive into that otherworldly soundscape.
"I used a Moog on both games, but on Echoes of the Eye I became captivated by the Prophet 6. Every synth has its own feel the first time you play it. It felt like the correct fit for the new alien civilization and my workflow in general. I layered everything quite extensively. The new traveler instrument that everyone thinks is a theremin is actually a Moog I mixed with a haunted slide guitar that I found in New Orleans," he says.
Prahlow begins talking about how that slide guitar seemed fated to end up in Echoes of the Eye, with the instrument catching his eye during a trip he took to New Orleans for Voodoo Fest 2019, just before COVID-19 stopped the world in its tracks.
"We had already been talking about how the new planet would be a super planet that has these expansive wetlands. It hadn't been fully figured out yet, but we knew it was going to be this ghostland area that might flip back and forth, [so it just seemed to fit]."
The Uncertainty Principle
Perhaps it was because of the pressure of succumbing to the dreaded sophomore slump, but Prahlow always felt that, for his more experimental ideas, it was essential to showcase them in a near-final compositional form. To him, it's smarter to showcase the atmospheres they evoke rather than explain them. After all, the imagination can only translate so much.
Just like in the opening to 'Timber Hearth,' he wanted to strike the right tone to really sell the tonal shift that's immediately apparent in Echoes of the Eye. He explains how his music would serve as an on-ramp for players as they set out to explore the expansion's strange new world, so it was absolutely essential that he mentally prepare them for that journey.
"When you drop players into a new experience, you need to instantly establish the tone within the first few seconds. For me personally, that meant I wanted the first tracks players hear in Echoes to have the same impact as 'Main Title' into the 'Timber Hearth' theme, because it sets expectations immediately," he says. "'Into Shadow' is essentially the main title to Echoes and 'The River' is 'Timber Hearth.'"
Hitting that mark proved challenging for Prahlow, who explains the first version of the "raft music" he wrote for Echoes of the Eye's opening sequence just didn't stick the landing. Although that track, which you'll now recognize as 'The Sound of Water,' was repurposed and used elsewhere in the game, it was too calm to be used as an opening salvo.
Beachum wanted something more frenetic. A slice of music that would prepare travelers old and new for the unexpected perils ahead, and Prahlow says it took him months to conceptualize as he worked on other areas of the game, eventually becoming one of the last pieces he wrote.
"I was on a trip out of town and had to make it back to Los Angeles, having some flight troubles, leading to a pretty frantic trip back as I was preparing to finish up the raft music. I believe I had already written what is now 'The Sound of Water,' which fit perfectly towards the end of the game, but had to take a step away to rethink the composition," continues Prahlow.

"The propulsion needed really was inspired by the trip home—bittersweet but fast paced. I honestly sat down right when I got back to the studio and once I recorded the repeating single note loop, I wrote the intro into the riff change at 0:24 seconds and knew I had something that resonated with me. I wanted to convey a change at that moment that this was about to be something new and different, but you still haven't forgotten who you are as a traveler."
Prahlow suggests that being forced to take a leap of faith and plunge into the unknown actually provided him with the spark needed to imbue a track with that same feeling of being overwhelmed.
"I've found that imaginative pre-production can be of great value for the tracks in the game that could be considered 'singles' on the album. I didn't want to start 'The River' early on because I felt it was more important to compositionally focus on the story-driven plot points of Echoes," he continues. "After completing a lot of the slide reels and the 'Elegy for the Rings' portion, I had written about 60-70 percent of the soundtrack. I believe it was around then when I finally wrote 'The Sound of Water,' 'The River,' and 'River's End.' I had been holding onto the 'River's End' riff for a while before officially recording it because I wanted to find a perfect magical moment to have it appear towards the beginning of Echoes.
"The in-game arrangements of 'The River' and 'River's End' can fade seamlessly between each other. Everything felt fluid and I had a great feeling about it when I showed it to the team."
Final Voyage
After being sat opposite Prahlow for the best part of an hour, listening to him reel off tales from the development trenches, it's clear the musician has a deep, unyielding affection for the universe he helped create. Curious to hear how he feels about taking a step back after almost a decade, I ask him to expand on the inspirations behind The Lost Reels and how he's been dealing with the challenge of tearing himself away from a project that has become such a fundamental part of his professional and personal life.
"When Outer Wilds first launched on Steam, I released a reprise that essentially served as my own personal reflection on the original game. That was just one track, and so for this one—because it's been hard to let go of this world, it's like losing a bunch of friends—I really wanted to create not only a reflection on Echoes of the Eye, but the entire project," he says.
"I asked 'What if Outer Wilds was actually real? What if we had our own signalscope and we could hear these weird transmissions off in the distance?' I'd been working on it for months—building flow charts of connecting themes both melodically and story-wise, and figuring out a way to reorganize it and have it be cohesive. Once everything felt right, I recorded 'Last Dream of Home.' It set the tone for what was to come after, and at that moment, I knew it was going to be an album I was very proud of and personally connected to. I almost felt as though I was venturing into the wilds myself."
"The Lost Reels helped me feel complete. I'll always be willing to go back to Outer Wilds and work on it, but I also think the game is in a special place after a decade. I tear up a little bit when I think about not being able to ever work on it again, but with The Lost Reels, I feel happy that I've been able to share my reflection with everyone on what it means to me, and how special it was. To anyone reading this, I'm always ready to go back."
In many ways, Prahlow's final contribution to Outer Wilds' cosmic rhapsody mirrors the ending of the game itself. It's about moving on, while also acknowledging that nothing ever truly ends. For every person finishing their journey through Mobius' beautiful, hazardous solar system, there will be another wide-eyed traveller preparing to take flight for the very first time. The universe is a song, and who knows who'll be listening next.