"What's beautiful about music is that real instruments still prevail. ... Whereas on the animation side of things... [2D animation is] not dying, but it's definitely being pushed away as a real medium."
- Cuphead lead artist Chad Moldenhauer
A great new interview over at Time with Cuphead lead artist Chad Moldenhauer dives deeply into how the game's classic 1930s-style animations work with its 16-bit style play mechanics and modern technology, including a nuanced discussion of framerate.
One topic of discussion is animation loops, which were a big part of the animation industry during the time period which has so clearly influenced Cuphead's visual style:
"Almost every game has looping animation, and modern games try to hide it by having multiple paths to choose different loops and animations, so it seems much more natural. But it just happens to coincide that the style of retro game that we want and 1930s cartoons, the looping lends itself beautifully and fits the era perfectly. The reason they had a ton of loops was just as you said, budget and time. It was only in later Disney years that they didn't reuse as many things," says Moldenhauer.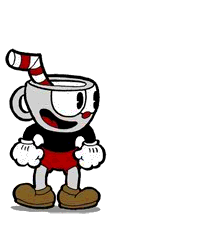 The lead character's idle animation
This discussion of framerate is particularly nuanced, as it splits the rate at which the game's animations play (24 frames per second, which is the speed of film) from the actual framerate the game runs (and plays) in, 60 frames per second:
"It feels more cinematic to watch 24 frames per second, like the picture's removed from the world. ... that's why we purposely run all of the animation at 24 frames per second. But our gameplay is at 60 frames per second. So it's technically the most responsive gameplay, except you don't have to look at visuals that are too smooth," Moldenhauer says.
"Yes, it holds frames. When you hold right and watch your character run, that group of animation is actually moving across the screen at 60 frames per second, which is technically slightly different from cartoons of the era, because they'd be moving at 24. But the animation on top of that runs at 24 frames per second."
The full interview is full of more insight into the game's development, observations about the indie space, and explanations of why it'll never come to the PlayStation 4 (it's due on Xbox One and PC.) Take a look.